ASEAN Literary Festival has a permit: Police
The Jakarta Post

The Jakarta Post
Jakarta |

Fri, May 6, 2016

| 05:05 am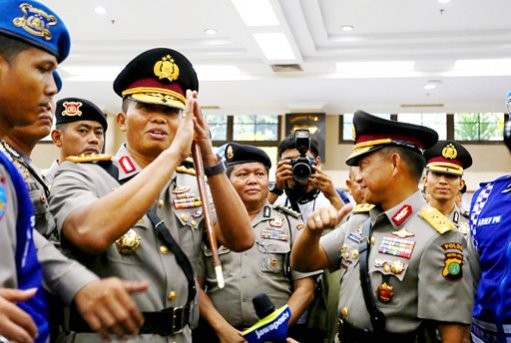 Jakarta Police chief Insp. Gen. Moechgiyarto (hands joined) and his predecessor Insp. Gen. Tito Karnavian (right) after the former's inauguration in March at the National Police headquarters. (JP/Wienda Parwitasari)
Jakarta Police chief Insp. Gen. Moechgiyarto says organizers of the ASEAN Literary Festival 2016 have been granted a permit to hold the four-day event from May 5 to 8 at Taman Ismail Marzuki in Cikini, Central Jakarta.
"There is no problem with the permit. There was just a small misunderstanding between organizers and police yesterday," Moechgiyarto told reporters at Taman Ismail Marzuki, or TIM, on Thursday.
The annual literary event, that started in 2014, has been protested against by several NGOs, including the Alliance of Muslim People and Students that staged a rally in front of TIM to demand that police cancel the event.
Sahril, representing the protesters, assumed the organizers had untoward interests, such as disseminating ideologies not in line with the nation's character.
"We believe that the organizers have a disguised agenda to champion communist ideas, provoke separatism and promote freedom of expression for lesbian, gay, bisexual and transgender people," Sahril said as quoted by tempo.co.
Police chief Moechgiyarto said the event organizers had been asked to revise their proposal, which had to then be filed with the National Police instead of the Jakarta Police, as they had invited foreign speakers and therefore the event was an international event. "That's where the miscommunication has taken place," he said.
Moechgiyarto asserted that police had no intention to ban the event since it would not disturb the public interest. "The event is all about discussions. This is a democratic country," he asserted, adding that he only went to TIM to ensure that the situation was under control.
The third ASEAN Literary Festival is scheduled to feature top Southeast Asian writers, including Nobel Peace Prize winner José Ramos-Horta. Foreign Minister Retno LP Marsudi is also scheduled to give opening remarks at the event.
The complete event schedule can be seen at the event's official website: aseanliteraryfestival.com. (dmr)
Topics :
You might also like :
Comments