Transportation regulation must address consumer needs: Analyst
Elly Burhaini Faizal

The Jakarta Post
Leipzig, Germany |

Thu, May 19, 2016

| 01:22 pm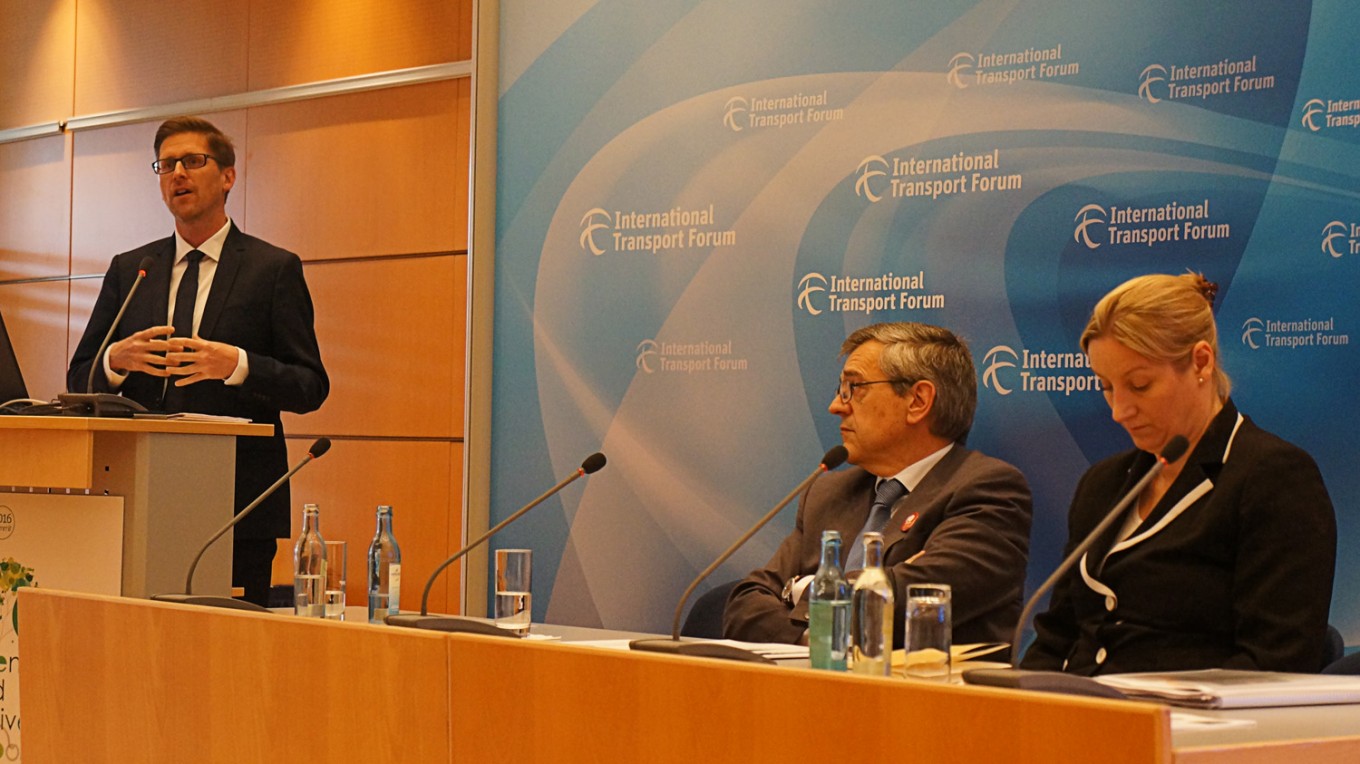 Transportation innovation -- International Transport Forum (ITF) economist Philippe Crist (left) discusses the rapid rise of commercial transportation apps during a press conference at the 2016 ITF Summit in Leipzig, Germany, on Wednesday. (thejakartapost.com/Elly Burhaini Faizal)
An expert has said policy on for-hire passenger transportation should enable innovation, which can contribute toward achieving policy objectives, namely equitable access, safety, consumer welfare and sustainability.
International Transport Forum (ITF) economist Philippe Crist said any efforts conducted by governments in re-examining regulatory frameworks in place today for for-hire passenger transportation services must ensure the fulfillment of consumer needs.
"The government should bear in mind they must keep the needs of consumers first and foremost, not the industrial sector but the citizens," he told thejakartapost.com on the sidelines of the 2016 ITF Summit in Leipzig, Germany, on Wednesday.
He was responding to the ongoing conflicts triggered by the rapid rise of commercial transportation apps such as Uber, which challenge long-established rules in the for-hire passenger transportation market.
Founded just seven years ago, Uber has recorded 1 billion rides. Such rapidly growing popularity of the new commercial transportation apps indicates that these platforms provide greater consumer benefits. In many countries, including Indonesia, commercial transportation apps have often fallen outside existing regulations, however, which eventually brings them into conflict with established transportation providers. One of the conflicts is a sharp price difference between regulated and the unregulated modes of transportation, which has lured consumers to choose app-based platforms.
"If you say people are responding positively to low ride-hailing app prices and they use it more often, I suspect this is a good thing because these households may not need to buy a car if they want to achieve broader convenient access to the city," Crist said.
"If the issue here is that taxi fares are highly regulated, in Jakarta, for instance, taxi fares cannot go below what has been set in regulations, one thing we should think is what is the fair fare policy that we need to have for the street-hail sector, for the dispatch sector?" he went on.
Crist said the transportation sector was always evolving with technology, thus, the presence of app-based transportation services could not be avoided. In fact, many traditional taxi operators increasingly offer transportation apps.
"This has made a regulatory distinction between app-based platforms and taxis less relevant, although street-hailing warrants special regulatory treatment," the economist said, citing one of the key findings of the "App-Based Ride and Taxi Services: Principles for Regulation" report launched by the ITF on Wednesday.
He further said taxis and commercial transportation app services were converging as they increasingly adopted similar technology.
Talking transportation – Denmark Transportation and Building Minister Hans-Christian Schmidt (center) speaks during the 2016 International Transport Forum (ITF) Summit press conference in Leipzig, Germany, on Wednesday afternoon. (thejakartapost.com/Elly Burhaini Faizal)
The report, which was based on a workshop initiated by the ITF's Corporate Partnership Board (CPB), reveals commercial transportation apps provide better consumer value than most existing services. The platforms also provide flexible employment. It further says regulation of for-hire passenger transportation services is still necessary, but it needs to adapt to foster innovation while ensuring public safety, consumer protection and tax compliance.
"The key is whatever the outcome, we as the government must ensure consumer protection, safe travel and consumer value," said Crist.
As many as 1,077 participants from 71 countries are attending the three-day-summit, which will end on Friday. Dozens of ministers from 57 ITF member countries, as well as non-members such as Mongolia, South Africa and Thailand, are participating in the summit.
You might also like :
Comments