Bantaeng to have Indonesia's first cryo-integrated LNG terminal
Arif Gunawan S.

thejakartapost.com
Jakarta |

Mon, May 23, 2016

| 02:16 pm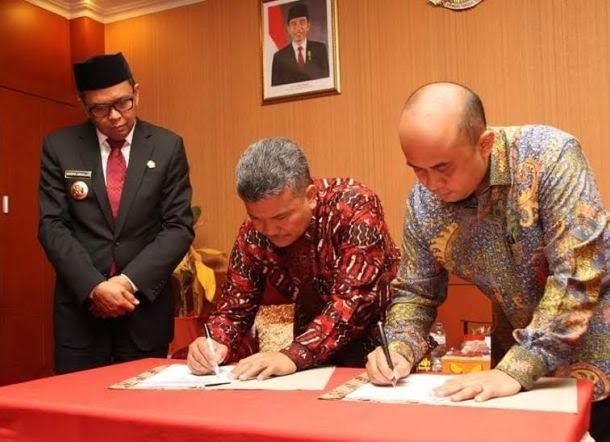 Bajiminasa Bantaeng president director M. Taufik Fachtuddin (center) and Pasifik Agra Energi president director Westana H. Wiraatmadja (right) sign the memorandum of understanding (MoU) of the integrated LNG terminal mega-project while Bantaeng regent M. Nurdin Abdullah watches. (The Jakarta Post/Harri Rossa)
Private company Pasifik Agra Energi has committed Rp 7.5 trillion (US$550 million) in investment to build the first cryogenic energy-integrated liquefied natural gas (LNG) terminal at an industrial park in Bantaeng regency, South Sulawesi.
Pasifik Agra president director Westana H. Wiraatmadja said a feasibility study for the megaproject had been conducted with a Japanese energy company since February, and was set to be completed in August.
"After that, we will start the detailed engineering design, then followed by the construction. The terminal is set to meet demand at the industrial park, as well as in eastern and central parts of Indonesia," he said on Saturday.
The LNG terminal, he explained, would be the first in Indonesia to integrate LNG and gas with the utilization of LNG cold energy. Thus, it would create efficiency. It will be the first LNG terminal in Indonesia to apply cryogenic energy.
The project is in accordance with Bantaeng's policy to build clean, green and environmentally friendly industry. Therefore, the Bantaeng administration has issued a principle permit for the project.
Bantaeng Regent M. Nurdin Abdullah said Bajiminasa Bantaeng, a firm owned by the local administration, would be the gas distribution agent to industrial markets and power plants, while Pasifik Agra would supply the LNG either from local markets or imports.
"The gas terminal can support the development of gas-based power plants. The government can help prepare the infrastructure to transform Bantaeng into a city-gas based region," he said.
In the future, Nurdin continued, the administration would build a network to pipe gas to households. Bajiminasa Bantaeng will work on the gas transmission projects.
Bajiminasa Bantaeng president director M. Taufik Fachtuddin said he was optimistic that the gas terminal would accelerate the development of industry in the region. In the first stage, the firm will clear 20 hectares of land, from a total of 50 hectares needed.
"Some of the land has been cleared," he said. (ags)
Topics :
You might also like :
Comments