Sex education must be taught in schools: Child protection commission
Liza Yosephine

The Jakarta Post
Jakarta |

Thu, May 26, 2016

| 11:02 pm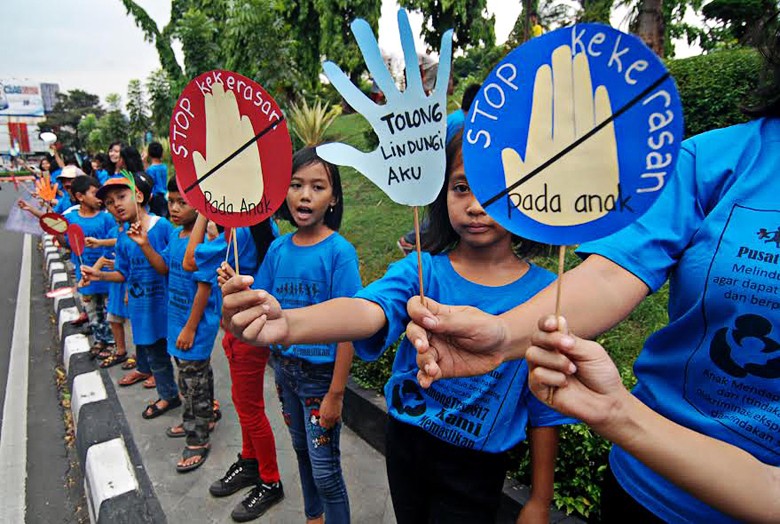 Protect us -- Children participate in a rally to spread public awareness around the need to prevent violence against children. (Tempo/-)
A civil society group has called on the government to include sex education in the school curriculum starting from this year to prevent wrong and misguided information on sexuality from shaping children's views, often leading them down dangerous paths.
Erlinda, a commissioner with the Indonesian Child Protection Commission (KPAI), said the government had to facilitate sex education because parents did not have a comprehensive understanding of the topic so could not inform their children adequately.
"We are hoping that in 2016, sex education gets included in the school curriculum. It will be helpful as many parents don't understand this topic," Erlinda said as quoted by kompas.com on Thursday.
Erlinda said the KPAI had proposed the inclusion of sex education in the school curriculum since 1999. The reason for the delay was rooted in people's perceptions of sex education, with many simply interpreting it as a lesson that taught children how to have sex. She said this incorrect mindset was not only prevalent among the public but also within government branches.
"This is a very pressing issue," Erlinda stressed.
The commissioner said sex education had to be taught from a younger age and should no longer be thought of as something taboo.
"If it is not taught, children will be confused. When they go through puberty they could get the wrong information, which can be very dangerous," Erlinda said.
She said the curriculum could include various supporting elements in the sex education course, including religious values and appropriate ethics and norms.
"It could be taught that [each student's] body is a highly valuable gift from God, [so students should] not only maintain cleanliness but also guard it from people just touching it," said Erlinda.
Integrated Services Center for Women and Children (P2TP2A) deputy chair Margaretha Hanita said education institutions had an important role in delivering sex education. She agreed sex education should be included in the school curriculum.
Margaretha said that to prevent children from obtaining the wrong kind of information, it was important that information on sexuality came from an education institution, or from a formalized system of some sort.
"I think it's already very urgent and mandatory that the government [act on this]" she said.
However, Margaretha said, parents still had an important role to play in teaching children how to protect their bodies, so, the government would not be walking alone in its efforts. (ebf)
You might also like :
Comments