Indonesia, Japan relations at crossroads
Ina Parlina and Haeril Halim

The Jakarta Post
Tokyo and Jakarta |

Fri, May 27, 2016

| 08:40 am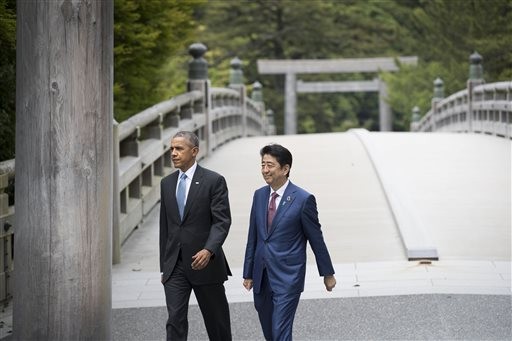 US President Barack Obama (left) and Japan Prime Minister Shinzo Abe walk over the Ujibashi bridge as they visit the Ise Jingu shrine in Ise, Mie prefecture, Japan on Thursday. (Pool Photo via AP/Doug Mills)
As signs abound that Indonesia's current administration harbors little affection for Japan and amid China's economic assertiveness, another bilateral meeting between Indonesia and Japan is expected to set the tone for more cordial relations.
The meeting is being held on the heels of fresh concern from Tokyo over Jakarta's unclear stance on a US$1.5 billion seaport project and recent policy flop over a $22 billion gas project involving Japan's Inpex Corp.
These hurdles have emerged at a time when Japan, Indonesia's biggest creditor and one of its biggest investors and export customers, may still be struggling to swallow the bitter pill of the treatment it received last year when it lost out to China in a contest to secure Indonesia's first high-speed train project.
But as the two countries maintain a profound economic interdependency, Tokyo cannot afford to allow these impediments to undermine its relationship with Jakarta, particularly when China is already knocking on Indonesia's door offering more packages of cheap loans and assistance.
Against this background, President Joko "Jokowi" Widodo is set to meet Japan's Prime Minister Shinzo Abe, their fourth bilateral meeting since Jokowi took office 18 months ago, on the sidelines of the G7 summit of seven leading industrialized nations in the coastal area of IseShima on Friday.
While Foreign Minister Retno Marsudi remains tight-lipped on the items for discussion in the bilateral meeting with Japan, Cabinet Secretary Pramono Anung has provided a glimpse into the list of issues that are likely to be raised.
"Japan will bring up two projects that need Indonesia's attention. One is on the Patimban seaport project and the other on developing the Jakarta-Surabaya [located in East Java and Indonesia's second-biggest city] railway," said Pramono.
"These two issues will be raised during the bilateral meeting and we have prepared the responses."
The Patimban deep-sea port project in Subang, West Java, is aimed at supporting the flow of goods to and from industrial estates in regencies east of Jakarta that are home to automotive, electronics, machinery and IT component manufacturers.
Japan has offered cheap loans to finance the project under a similar scheme to that which it provided to finance the $1 billion Jakarta Mass Rapid Transportation (MRT) rail system.
However, Indonesian officials have sent out contradictory messages, indicating Japan is not a preferred bidder as Belgium, the Netherlands and the United Arab Emirates are also interested in joining the fray.
The meeting between Jokowi and Abe is expected to provide certainty for Japan regarding the project, considered the "next big thing" for Japan after losing the high-speed train to China.
Nevertheless, Japan has not entirely lost its appetite for Indonesia's rail network as it has proposed providing cheap loans to revitalize the Jakarta-Surabaya route in a bid to double train speeds.
The loan will be used to construct underpass and overpass infrastructure to eliminate the disruption of train operations at railway crossings by motor vehicles.
Aside from these two issues, Pramono was not sure whether Japan would also raise the fiasco surrounding Inpex's investment in the Masela gas block, which appeared to indicate contempt for fair play and transparency.
Inpex, at risk of losing the $1.6 billion it spent on gas exploration in the block, was forced by Jokowi in March to alter its plan to extract gas in Maluku using offshore facilities and build onshore instead. The President provided little explanation for his decision.
The move went against an agreement between Inpex and energy authorities for an offshore plant, setting a bad precedent for the investment climate.
"Japan is traditionally a loyal investor in Indonesia. The President should explain his rationale behind the Masela block snafu in a bid to restore investor confidence," said Hikmahanto Juwana, a professor of international law at University of Indonesia.
"Indonesia has disappointed Japan in many ways. The President needs to fix that," he said.
Hikmahanto also said Japan would pin its hope on Indonesia playing a key role in maintaining ASEAN unity, particularly in response to the planned ruling in the next couple of months from the Permanent Court of Arbitration in The Hague lodged by the Philippines against China on territorial disputes in the South China Sea.
In its rivalry with China, Japan has expected Indonesia to be on its side to ensure ASEAN unity in support of the arbitration ruling, which is not thought likely to favor China.
It may be due to this rivalry that Japan has not invited China, the world's manufacturing center and second-biggest economy after the US, to the prestigious G7 Summit.
Indonesia, along with Bangladesh, Laos, Papua New Guinea, Sri Lanka and Vietnam, has been invited by Japan to attend part of the summit to provide input for G7 members Canada, France, Germany, Italy, Japan, the UK and US on what will be needed for Asia to become the driving force of world economic growth. Group of Seven ( G7 ) leaders agreed on Thursday on the need to send a strong message on maritime claims in the western Pacific, where an increasingly assertive China is locked in territorial disputes with Japan and several Southeast Asian nations.
The agreement prompted a sharp rejoinder from China, which is not in the G7 club but whose rise as a power has put it at the heart of some discussions at the advanced nations' summit in Ise-Shima, central Japan.
"Prime Minister [Shinzo] Abe led discussion on the current situation in the South China Sea and East China Sea. Other G7 leaders said it was necessary for the G7 to issue a clear signal," Japanese Deputy Chief Cabinet Secretary Hiroshige Seko told reporters after a session on foreign policy affairs.
At a news conference late on Wednesday, Abe said Japan welcomed China's peaceful rise while repeating Tokyo's opposition to acts that try to change the status quo by force. He also urged respect for the rule of law. Both principles are expected to be mentioned in a statement after the summit.
The US is also increasingly concerned about China's actions in the region.
Chinese Foreign Ministry spokeswoman Hua Chunying retorted in Beijing that the South China Sea issue had "nothing to do" with the G7 or any of its members.
"China is resolutely opposed to individual countries hyping up the South China Sea for personal gain," she said.
US President Barack Obama on China on Wednesday to resolve maritime disputes peacefully and he reiterated that the US was simply concerned about freedom of navigation and overflight in the region.
Obama on Thursday pointed to the risks from North Korea's nuclear and missile programs, saying the isolated state was "hell bent" on getting atomic weapons.
But he said there had been improved responses from countries in the region like China that could reduce the risk of North Korea selling weapons or nuclear material.
"It's something that we've put at the center of discussions and negotiations with China," Obama told reporters.
Seko, speaking during the first day of the two-day summit in central Japan, said Abe told G7 counterparts that Pyongyang 's development of nuclear technology and ballistic missiles posed a threat to international peace, including in Europe.
"It is necessary to make North Korea realise that it would not be able have a bright future unless such issues as abduction, nuclear and missile development are resolved," Abe told the group, according to Seko.
The G7 groups Canada, France, Germany, Italy, Japan, the UK and the US.
The global economy topped the agenda earlier in the day, when G7 leaders voiced concern about emerging economies and Abe made a pointed comparison to the 2008 global financial crisis. Not all his G7 partners appeared to agree.
The G7 leaders did agree on the need for flexible spending to spur world growth but the timing and amount depended on each country, Seko told reporters, adding that some countries saw no need for such spending. Britain and Germany have been resisting calls for fiscal stimulus.
"G7 leaders voiced the view that emerging economies are in a severe situation, although there were views that the current economic situation is not a crisis," Seko said.
Abe presented data showing global commodity prices fell 55 percent from June 2014 to January 2016, the same margin as from July 2008 to February 2009, after the Lehman collapse.
.(./JP)
Topics :
You might also like :
Comments