Renewable energy must be boosted five-fold by 2025: Jokowi
Ayomi Amindoni

The Jakarta Post
Jakarta |

Wed, June 22, 2016

| 07:44 pm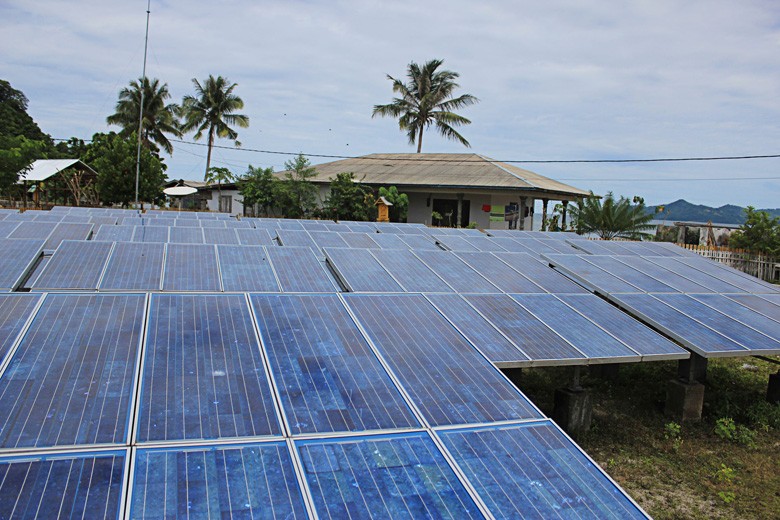 Solar panels are installed in a residential area on Ponelo Island, North Gorontalo. A solar power plant with a capacity of 2 megawatt-peak (MWp) has begun to operate in East Sumalata district, North Gorontalo. This is the biggest solar plant in Sulawesi. (thejakartapost.com/Syamsul Huda M.Suhari)
President Joko "Jokowi" Widodo has underlined the importance of clean energy development and energy conservation in the nation's roadmap of energy development up to 2050.
At the National Energy Board (DEN) plenary meeting at the Presidential Office, he called for an acceleration of renewable energy development five-fold so that clean energy could reach 23 percent of the total energy mix by 2025.
"Please, no more sectoral egos. It's a national commitment, our mutual commitment. I want the establishment of a general plan for national energy, or RUEN, to encourage aggressive development of clean energy and energy conservation," he said in Jakarta on Wednesday.
Jokowi said now is the time for Indonesia to set a more comprehensive roadmap of development in the energy sector as the guideline for the central government, local administrations, state enterprises and stakeholders to work hand-in-hand in a long-term partnership.
"I hope the general plan of national energy can answer the energy problems we face today and can anticipate global energy problems in the future," the President said.
He also said that Indonesia should use the persistent downward trend of global oil prices as an opportunity to reform the energy sector, from the upstream to the downstream side. (ags)
Topics :
You might also like :
Comments