Tribunal says Indonesia responsible for genocide in 1965
Liza Yosephine

The Jakarta Post
Jakarta |

Wed, July 20, 2016

| 10:08 pm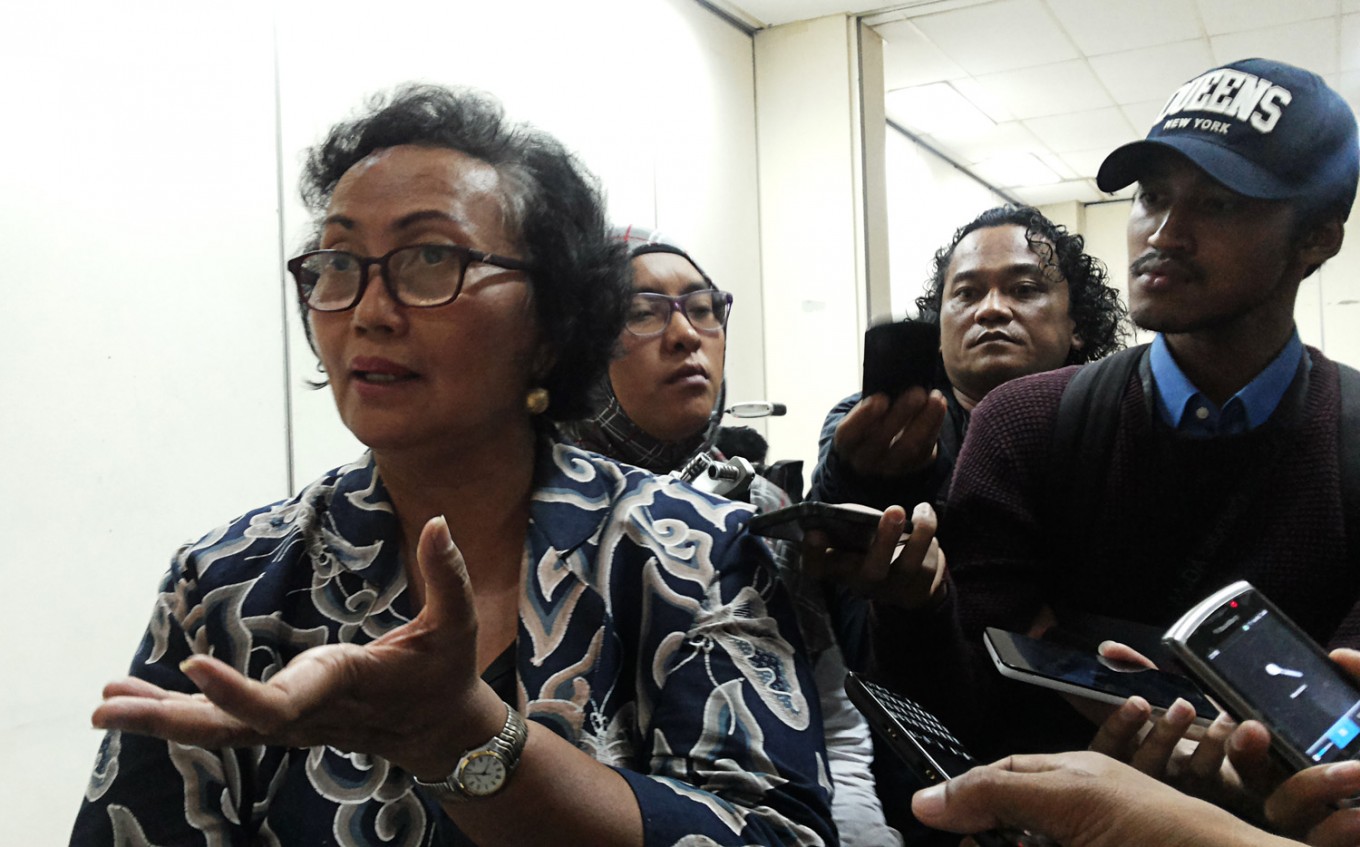 Seeking the truth - Nusryahbani Katjasungkana speaks to journalists after the reading out of the tribunal's ruling in Jakarta on Wednesday. (thejakartapost.com/Liza Yosephine)
The International People's Tribunal on the 1965 Crimes Against Humanity (IPT 1965) concluded on Wednesday that the Indonesian government had committed acts of genocide, as stipulated in the 1948 International Genocide Convention, during the 1965 communist purge, which reportedly led to the death approximately 500,000 people.
"The facts brought before the tribunal by the prosecution include acts that fall within those enumerated in the Genocide Convention," said Presiding judge Zakeria Yacoob at the IPT, as he read out the tribunal's final report via a video presentation recorded from Cape Town, South Africa.
Yacoob said Indonesia was bound by the 1948 Genocide Convention under international law.
He said the acts committed by the state had targeted a significant and substantial section of the Indonesian nation, which should have been protected according to the Genocide Convention.
Yacoob further said such acts were conducted with the "specific intent to annihilate or destroy that section in whole or in part".
The conclusion comes as an "unexpected" addition from the nine count indictment against the government on human rights violations presented by prosecutors at the hearing held last year at the Hague from Nov. 10 to Nov. 13.
"In the beginning, we did not bring charges on genocide. But as it turns out, along the way, elements of genocide were found based on Article 1 of the 1948 Genocide Convention," IPT 1965 coordinator Nursyahbani Katjasungkana said.
Nursyahbani expressed satisfaction over the tribunal's conclusions although they were not legally binding in terms of extending justice or compensation to the victims. However, she said human rights violations committed by the state could be sanctioned Law No. 26/2000 on Human Rights Tribunals.
"Of course, this depends on the Indonesian government taking advantage of this opportunity," Nursyahbani said.
Coordinating Political, Legal and Security Affairs Minister Luhut Pandjaitan said the government would not apologize to the victims and survivors of the 1965 purge, or their families, because Indonesia had its own legal system. (ebf)
You might also like :
Comments