Chinese-Indonesian at center of riot under stress after blasphemy report
Haeril Halim and Apriadi Gunawan

The Jakarta Post
Jakarta/Tanjungbalai |

Tue, August 9, 2016

| 06:29 pm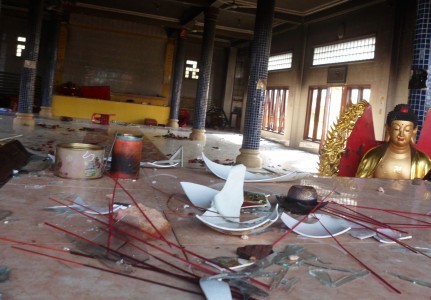 The condition of Tri Ratna vihara in Tanjung Balai, North Sumatra on July 29. The vihara was damaged after angry mobs attacked the vihara and several other Buddhist houses of worship. (Antara/Anton)
Life suddenly went steeply downhill for Meliana, a woman of Chinese descent living in Tanjungbalai, North Sumatra, when she complained about the volume of a mosque's adzan (call to prayer) in her neighborhood last week.

Blamed for causing a riot that left a dozen of temples ransacked, she is currently being housed at a local police station, and has controversially been reported for blasphemy — not by residents but by the police — because of her complaint, which the police have deemed was the trigger for the riot.

The children of the 41-year-old woman have also been forced to leave town for fear of being attacked by angry neighbors, leaving her husband as her sole support at the Tanjungbalai Police office.

She was reported as being physically fit as of Monday, but it appears that she is suffering severe stress after being evacuated from her home when the furor erupted over a week ago.

It remains unclear how long Meliana will have to stay at the police station and there are fears she will be detained after the police collect evidence to name her a blasphemy suspect.

"She looks very depressed, unlike her husband who appears to be bearing up," Tanjungbalai Police chief Adj. Sr. Comr. Ayep Wahyu Gunawan told The Jakarta Post, adding that the police had sheltered Meliana and her husband to protect them from being attacked by a mob.

None of Meliana's relatives have had the courage to visit her at the police station. Only the National Commission on Human Rights (Komnas HAM) and Tanjungbalai Mayor M. Syahrial have paid her a visit.

In their move to charge Meliana, the police will summon experts from North Sumatra University to determine whether her complaint constituted an act of blasphemy.

Meliana, who has been living in the port city for eight years, has expressed remorse and apologized to local people for her actions. She hopes that she can return home and live harmoniously with followers of other religions in her neighborhood.

The police's decision to report Meliana for blasphemy has led to concerns that they are trying to placate angry Muslim residents, as those arrested and charged for their role in the rioting, which saw the burning and looting of several viharas and pagodas, are thought to be mainly Muslims.

Meanwhile, in a surprise move the police released on bail 19 people suspected of looting and torching temples during the riot, after receiving requests from their families, although two suspected provocateurs remain behind bars. Seven of the 19 released are underage.

"The legal process against the bailed suspects is still ongoing," said Ayep, who denied that the release was made after the police came under pressure from local people, local legislators and members of the House of Representatives. "It is justified under the law that a suspect does not have to be locked up during the investigation period," Ayep added.

Local residents reacted angrily against Meliana after she complained about the mosque's loudspeaker volume, allegedly in an inappropriate manner. Angry mobs decided to burn temples after they were prevented by the police from ransacking Meliana's house.

Indonesian Ulema Council (MUI) chairman Ma'ruf Amin deplored the fact that local people chose to burn temples to express their anger against Meliana, adding that it was acceptable to lower the volume of loudspeakers if people in the neighborhood were bothered. "Although [Meliana] expressed her complaint angrily, such an act should not be replied to with anger. Both parties should sit together to discuss her concerns," Ma'ruf said.

Meanwhile, secretary-general of the country's second-largest Islamic organization Muhammadiyah, Abdul Mu'ti, said that it was important to ensure that mosques kept their loudspeakers at a low volume.

"I agree with the calls made by Vice President Jusuf Kalla, who is also the chairman of Indonesian Mosque Council, that mosque loudspeakers should be regulated," Mu'ti said.
You might also like :
Comments