MK justices want casual sex outlawed
Hans Nicholas Jong

The Jakarta Post
Jakarta |

Wed, August 24, 2016

| 01:46 pm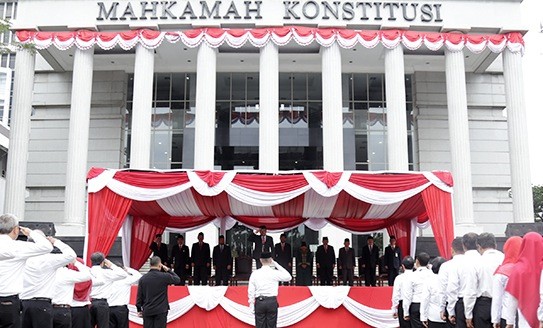 Constitutional Court justices stand on a podium during a ceremony to mark its 13th anniversary in front of the court building in Jakarta on Aug. 15. (mahkamahkonstitusi.go.od/Ifa)
Any sexual relations outside marriage could soon be outlawed in this country, with some Constitutional Court (MK) justices signaling their support for the idea, which is currently under consideration at the court.

In the latest hearing of a judicial review of the Criminal Code, which is aimed at outlawing casual sex, justice Patrialis Akbar concurred with three expert witnesses presented by the plaintiffs, who argued that Indonesia's legal system was "too liberal".

"Our freedom is limited by moralistic values as well as religious values. This is what the declaration of human rights doesn't have. It's totally different [from our concept of human rights] because we're not a secular country, this country acknowledges religion," he said.

Patrialis, a former National Mandate Party (PAN) politician, asked the experts whether or not all laws in Indonesia should accommodate religious norms.

"If the principles that have been comprehensively explained [by the expert witnesses] are not enforced in the existing law in this country, would this country be a secular country where religion no longer needed to be respected?"

After asking the question, Patrialis pointed out that the Constitutional Court was an institution that was "guided by the light of God".
Read also: Sexual activity outside marriage 'should be regulated'

Another judge, Aswanto, asked whether it was about time that casual sex should not only be punished by social norms but also by the law.

"I was a bit annoyed with what the government said, [that we should] let people commit zinah [adultery or casual sex] and not regard them as criminals. It's a little bit annoying. I believe casual sex is a crime," he said.

Aswanto was responding to a representative from the Law and Human Rights Ministry, who told the court that if the panel of justices accepted the plaintiff's demand, then hundreds of thousands of people could be criminalized.

The justices' statements seem to support perceptions that the Constitutional Court is leaning toward conservatism, raising concerns that it will eventually accept the petition filed by the Family Love Alliance, which consists of academics from the nation's top universities.

During Tuesday's hearings, the expert witnesses focused on attacking the concept of universal human rights, saying that it was not applicable in Indonesia because the country was built on religious norms.

"The application of universal human rights has to consider the special situation in a country," Padjadjaran University law professor Atip Latipulhayat said.

Therefore, the concept of universal human rights would be dangerous if it was applied without considering religious norms, he added.

Atip told the court that the LGBT (Lesbian, Gay, Bisexual and Transgender) community did not have the rights of other Indonesian citizens.

"For Indonesia, LGBT is not [a human] right. The right of the LGBT people is to be humanized with Indonesian values because our law clearly stipulates that a marriage is between a man and a woman," he said.

University of Indonesia (UI) constitutional law expert Hamid Chalid, who also testified as an expert witness, said the current Criminal Code was too liberal as it was drafted by the Dutch.

"Our country has silently legalized sex outside marriage, rape of men and sex between same-sex couples. Our law has been so liberal because we have allowed it to be like that for too long. Is that what we want?" he said.
You might also like :
Comments