Teen angry at military court decision against his abuser
Arya Dipa

The Jakarta Post
Bandung |

Wed, August 24, 2016

| 05:51 am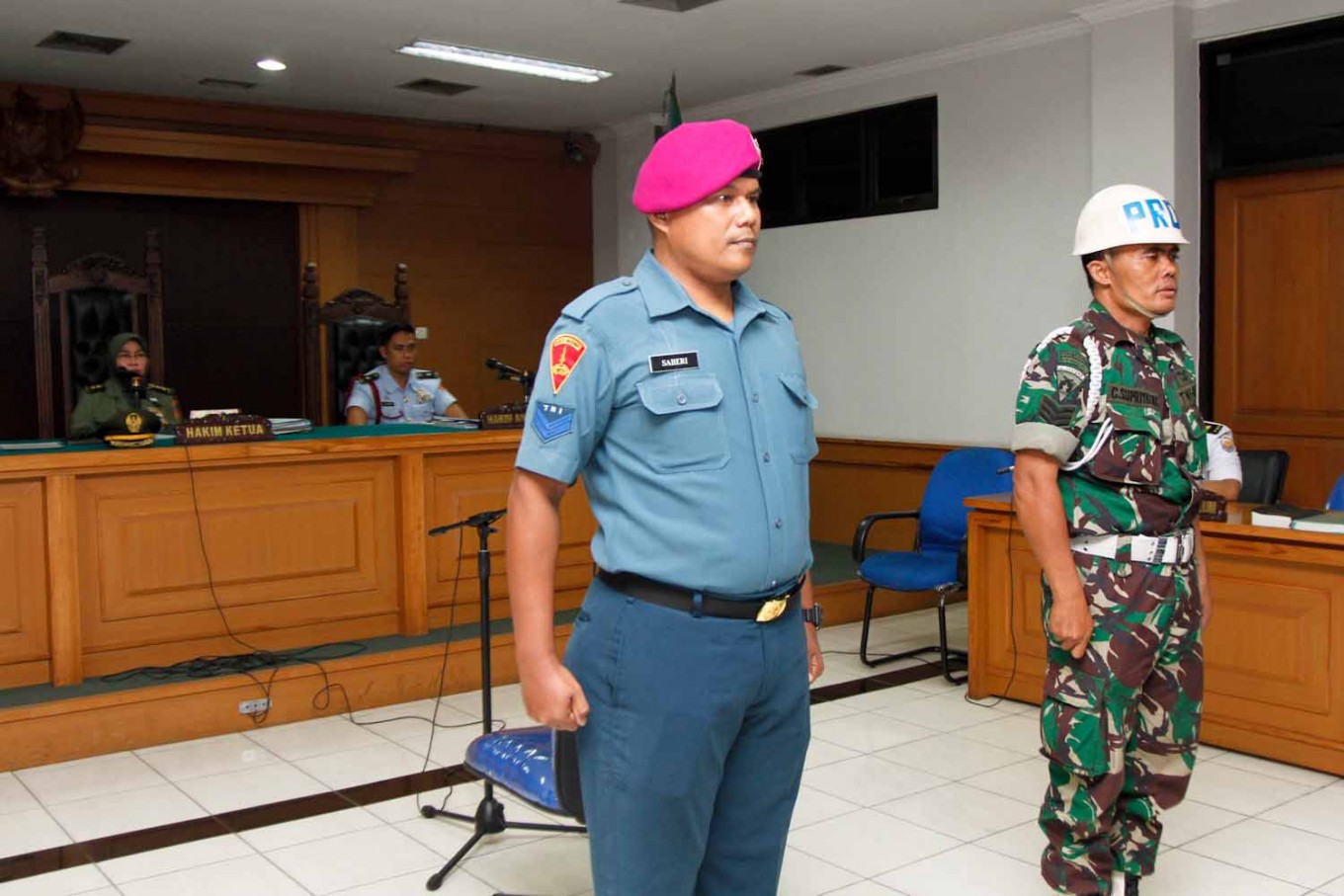 First Corp. Saheri stands during a military court hearing in Bandung. Saheri was sentenced to eight months in prison for violating the child protection law after he beat two teenagers in December last year in Cibinong, Bogor, West Java. (JP/Arya Dipa)
A 13-year-old boy, identified only as HA, cried after the Bandung Military Court II-09 delivered its decision Tuesday against First Corp. Saheri, who was found guilty of beating him and his friend SKA in December last year. HA felt the sentence, eight months in jail, was unjust to the victims.
"Why only eight months? For beating a child?" HA asked, crying.
Harjoni, HA's father, said the decision was unfair to them. "I've been pursuing justice also for the past eight months. I expected a heavier punishment," Harjoni told The Jakarta Post.
The head of the judicial panel, Lt. Col. Nanik Suwarni, said the she and two other judges, Maj. Kus Indrawati and Maj. Dahlan Suherlan, agreed to give Suheri a heavier sentence than what was demanded by the military's team of prosecutor team, which asked for only four months' imprisonment.
Nanik said Suheri was found guilty of violating the children protection law.
The beating happened when HA and SKA, both 13, were riding pillion on a motorcycle driven by another friend, R. They passed Saheri's house in Cibinong, Bogor in West Java in December last year. The road was bumpy and when R tried to evade a hole, HA's cup of ice tea flew at Saheri's house, which was being renovated.
During the trial, it was reported that Saheri exited the house, yelled at the three boys, screaming, "Thief! Thief! Thief!" while throwing rocks at them.
In January, HA and SKA told a press conference at the Jakarta Legal Aid Institute that Suheri took them to a vacant lot near his house, tied them to trees and beat them. Locals who thought the boys were thieves also beat them, they said. (evi)
You might also like :
Comments