Fraudulent investment dressed up with religious symbols: Police
Anton Hermansyah

The Jakarta Post
Jakarta |

Mon, August 29, 2016

| 07:49 pm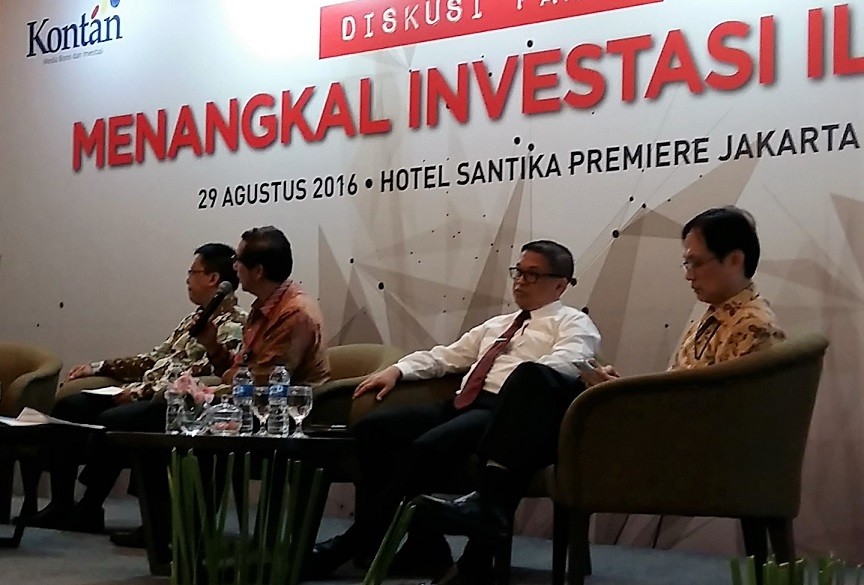 Financial Service Authority (OJK) senior researcher Irhamsah (from left to right), Futures Exchange Supervisory Board (Bappebti) head Bachrul Chairi, National Police Criminal Investigation Department (Bareskrim) director for extraordinary economic crimes Brig. Gen. Agung Setya and Prasetiya Mulya researcher Lukas Setia Atmaja feature at a Kontan-OJK discussion on fraudulent investments in Jakarta on Aug. 29, 2016 . (JP/Anton Hermansyah)
The National Police have warned the public to be on guard against fraudulent investment companies as they had evolved, with some using religious symbols and public figures to lure their prey.
The director for extraordinary economic crimes at National Police's Criminal Investigation Department (Bareskrim), Brig. Gen. Agung Setya, said investors who understood investment often fell prey to fraudsters because of greed, while other were lured by religious symbols and public figures.
He cited as an example the 2007 Gama Smart Karya Utama case and the 2012 Langit Biru cooperative case, in which the founders claimed to be spiritual leaders. "They organized spiritual trips, but in behind closed doors they held investor gatherings. Gama Smart Karya Utama even had a business license [SIUP], but in reality it was involved in multilevel marketing," he said in Jakarta on Monday.
In 2011, gold trading company Golden Traders Indonesia (GTI) presented itself as the sharia compliant GTI Syariah. It claimed to have the endorsement of then House of Representatives (DPR) speaker Marzuki Alie and then Indonesia Ulema Council (MUI) chairman Ma'ruf Amin.
"They invited the figures to an opening ceremony, but used the footage as promotional material," Agung said, adding that the victims did not immediately report the company as they still had hope that the perpetrator would return their money.
Bareskrim data show that fraudulent investments lead to billions of rupiah in losses per year. In 2007, losses amounted to Rp 16.13 trillion (US$1.21 billion), but decreased to Rp 604 billion in 2008. In 2011 and 2012, losses rose to Rp 68.62 trillion and Rp 10.22 trillion, respectively, but declined to Rp 235 billion ( 2014 ) and 285 billion ( 2015 ). (ags)
Topics :
You might also like :
Comments