State firms hunting for foreign loans to fund projects
Grace D. Amianti

The Jakarta Post
Jakarta |

Thu, September 1, 2016

| 09:45 am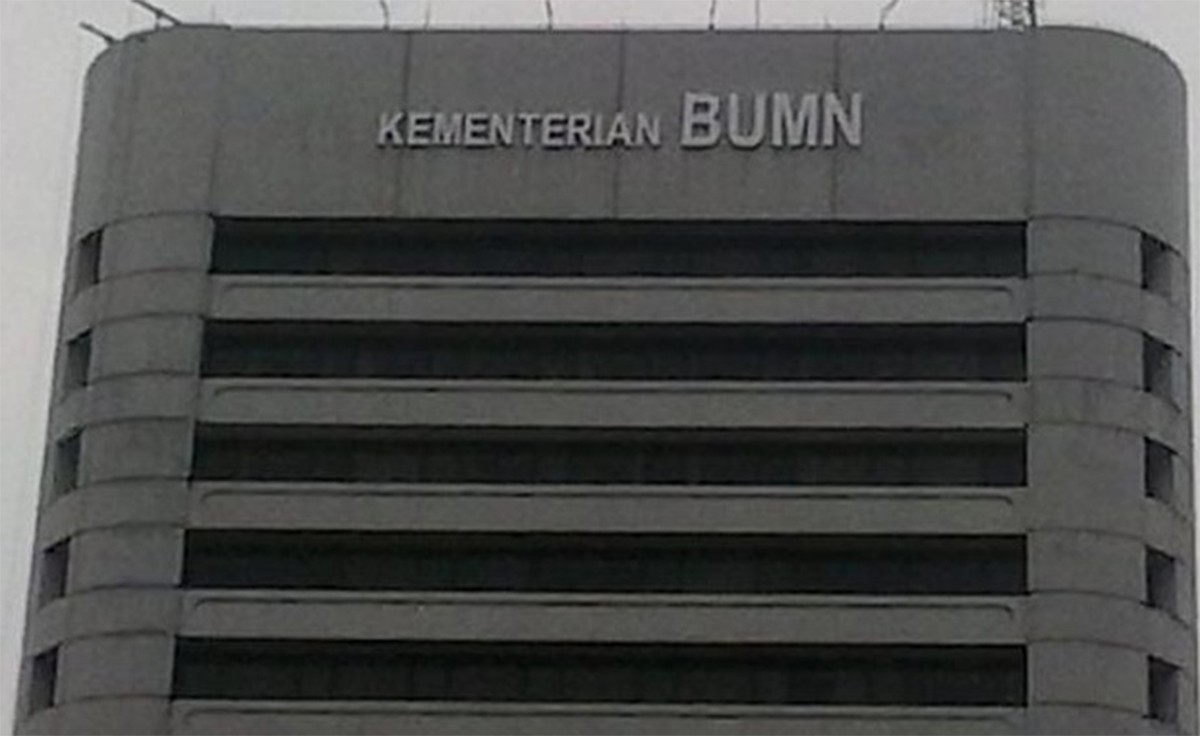 The building of State-owned Enterprises ministry in Jakarta ((kompas.com/file/-)
State-owned enterprises (SOEs) are seeking foreign loans to finance massive state projects that cannot be solely supported by local sources of financing, the SOE Ministry says.
The SOE Ministry's assistant for financial services, surveyor and consultant Gatot Trihargo, said various funding sources, including overseas ones, would play an essential role in supporting state project development, as the lending capacity of domestic banks was limited to around Rp 450 trillion (US$33.75 billion) to Rp 500 trillion.
"Of course we are planning for more [foreign loans]. A single foreign loan totaling $3 billion and foreign direct investments are still not enough," he said, referring to a previous bilateral loan provided by China Development Bank (CDB) and the Industrial and Commercial Bank of China (ICBC) to three state-owned banks to support infrastructure projects in the next five years.
As the Joko "Jokowi" Widodo administration targeted infrastructure development worth Rp 5.5 quadrillion to reach a 7 percent economic growth target, financing from various sources alongside the state budget was constantly needed, Gatot added.
Gatot said the SOE Ministry was currently assessing opportunities for loans from creditors in the US, UK, Japan and Scandinavian countries, while also confirming that it would continue to pursue new loan commitments from CDB and ICBC.
"We still need to confirm [the development progress] of proposed state projects. State-run banks, as they are publicly listed, also need to conduct prudent assessment. If they are okay, the creditors are ready to provide the loans," he said, declining to mention the creditors' names.
State-owned Bank Mandiri, the nation's largest lender by assets, would seek new loan commitment from CDB, but would only start channeling the funds next year, president director Kartika "Tiko" Wirjoatmodjo said.
Bilateral loans sought by state-owned companies could help balance financing needs to support government infrastructure projects amid spending cuts, Bank Central Asia (BCA) chief economist David Sumual said, adding that the country still had a low debt-to-gross domestic product (GDP) ratio at 36.8 percent compared to other emerging markets.
"The private sector has low interest to seek foreign loans as they are currently in the wait-and-see mode for a trigger from the government infrastructure spending," he said.
The country's external debt rose by 6.2 percent year-on-year (yoy) to $323.8 billion as of June, with $165.1 billion, or 51 percent of the total, coming from the private sector, Bank Indonesia (BI) data show.
Despite having a major chunk, the private sector's external debt declined by 3.1 percent yoy in June, compared to a 17.9 percent increase in public-sector debt. BI views the condition as still healthy, but remains vigilant about the risks to the national economy.
The previous CDB loan for the three state-run lenders was criticized repeatedly by House of Representatives lawmakers on Commissions XI and VI, who claimed the credits channeled to the banks' clients were actually of a multi-purpose nature rather than specifically for infrastructure projects.
The loans were also allegedly channeled to companies that they deemed as "undeserving" to receive credit. Among the companies receiving funds from the state-controlled lenders are pulp and paper companies Indah Kiat and Pindo Deli, cementmaker Bosowa, energy company Medco and steelmaker Krakatau Steel.
After debating the matter in several sessions, Commission VI lawmakers finally concluded on Monday that the lenders were, in fact, allowed to continue the CDB loan as long as it was for feasible projects and conducted prudently.
Topics :
You might also like :
Comments