Censorship humiliates women, says activist
News Desk

The Jakarta Post
Jakarta |

Mon, September 26, 2016

| 12:29 pm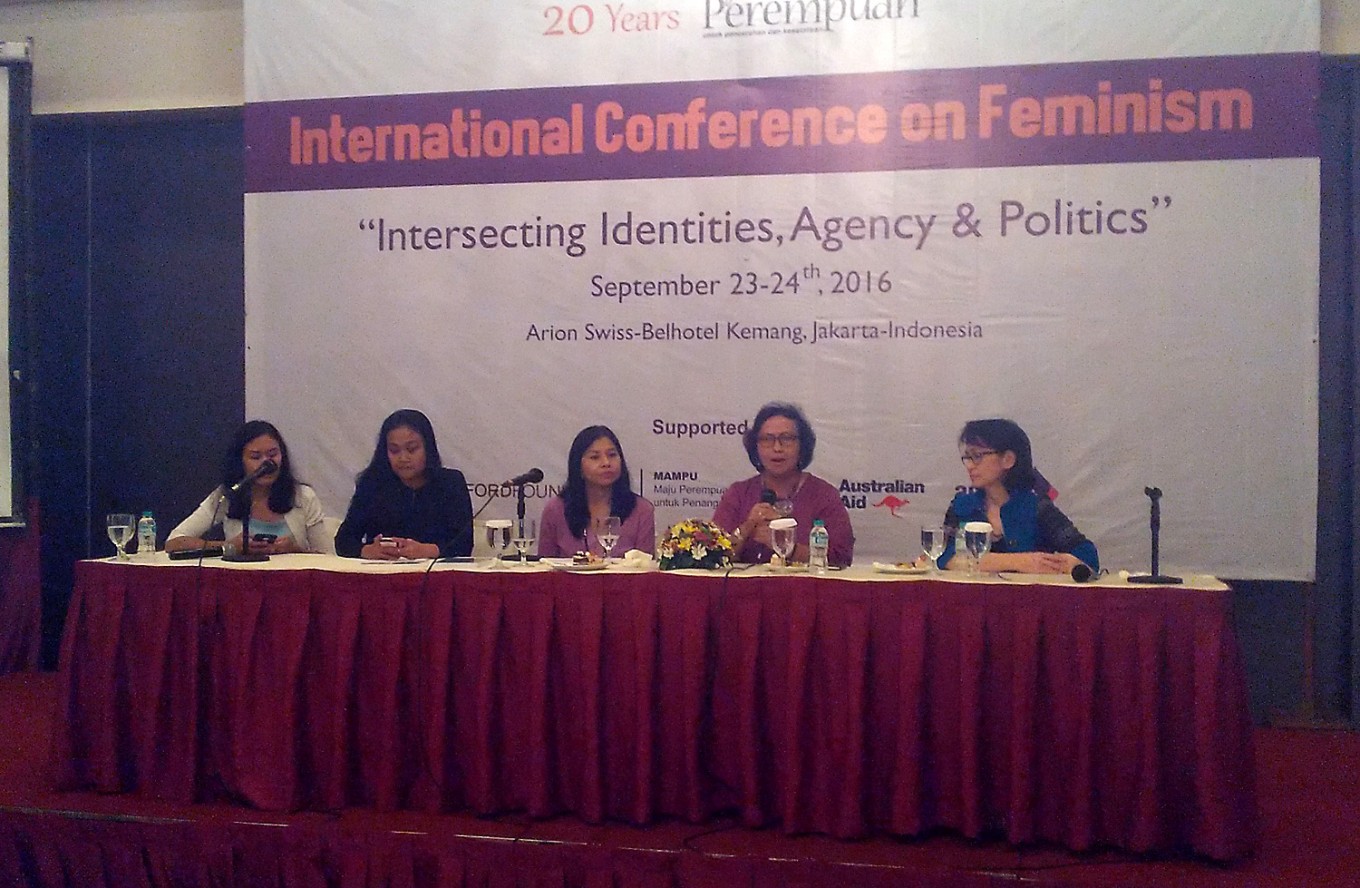 Stand for rights — Activist Gadis Arivia (center), the founder of feminist publication Jurnal Perempuan, discusses the rights of women during a conference in Jakarta on Saturday. (JP/Reza Zafiruddin)
Women's rights activist Gadis Arivia, who is also the founder of feminist publication Jurnal Perempuan, says censorship holds back and humiliates female bodies.
"Blurring some body parts of women [on TV] in fact shows no appreciation for women," she said at a conference on feminism in Jakarta on Saturday.
Gadis was responding to a question from Daniel Susilo, a communications expert from the University of Airlangga in Surabaya, East Java, who asked her opinion about censorship, including the recent blurring of scenes on animated TV series, such as the Doraemon and Dragon Ball cartoons from Japan, and SpongeBob SquarePants from the US.
On Sept. 17, news channel CNN Indonesia blurred scenes of an interview with Papuan swimmer Margaretha Herawati, who competed at the 19th National Games (PON) in Bandung, West Java. The blurred scenes of Margaretha wearing a swimsuit, which went viral on social media last week, drew sharp criticism.
Article 18 of the Indonesian Broadcasting Commission's (KPI) Public Broadcasting Guidelines and Program Standards (P3SPS) stipulates the prohibition of displaying any sexual content on TV, including genitals, thighs, buttocks and breasts, as well as sexual activity and kissing, deemed contradictory to local values, norms and decency.
Gadis criticized one of the KPI guidelines that prohibits kissing scenes, which the commission has concluded is not in line with local norms. "Kissing is an expression of love while murder, which is often displayed on TV, is criminal," she said. (rez/ebf)
You might also like :
Comments