Young minds rock Jakarta science slam
Jakarta |

Wed, September 28, 2016

| 07:12 am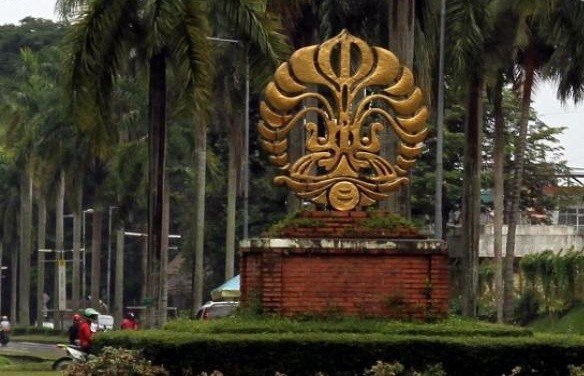 University of Indonesia's campus in Depok, West Java. (Tribunnews/Herudin)
Thirty young scholars pitted their ideas against each other on Tuesday at the "Falling Walls Lab" science slam, an event hosted by the German Academic Exchange Service (DAAD) and University of Indonesia, competing for the chance to fly to Berlin.
The participants — including Bachelor's and Master's students, PhD candidates, postdoctoral researchers and entrepreneurs — were given three minutes to present their research projects, business models and social initiatives in front of seven jury members and an audience.
They came from various fields, such as mechanical engineering, information and technology, architecture and science.
One of the contestants, Liana Christiani, who is completing her PhD at Kyushu University in Japan, flew to Indonesia just to join the competition.
She said she had joined similar competitions abroad previously in which most participants were from developed countries who were inventing ideas for the benefit of their own countries.
"Then I realized, why not me? Why am I not contributing my own research to solving problems in Indonesia?" she told The Jakarta Post.
She explained that Indonesia, as a developing country, had the opportunity to use hydrogen energy as an alternative energy source because it was a highly efficient green technology.
Fuel cell technology, which is used to convert hydrogen directly into electricity, is very efficient and can be used for a wide range of applications such as for power plants, cars and smartphones, she added.
However, fuel cells are only popular in developed countries like Japan, the US and Germany. It is still a challenge to develop fuel cells and carry out research in developing countries like Indonesia because a large investment is required, she said.
"We must find alternative component materials to reduce the price of fuel cells. For example, the fuel cell membrane makes up almost half of the whole cost of a fuel cell due to the high cost of the polymer," she said.
She showed in her presentation that she has found a breakthrough approach to making polymer membranes used for fuel cells cheaper.
Liana's hard work has paid off. The panel of jurists chose her as the first winner of the competition.
The second winner was Dian Prayogi Susanto, who showed off his automatic control devices that can obtain precise information about plants so that they can be given the necessary care.
One device, called the Habibi garden sensor, can read a plant's temperature, nutrition, moisture, light intensity and humidity. The device is connected with another called the Habibi dosing pump, which is able to provide plants with what they need.
"For example, if a tomato plant requires two microsiemens' nutrition, then the Habibi garden sensor will let us know automatically and the Habibi dosing pump will provide what the plants' needs,"he said.
The two winners will travel to Berlin to compete for a cash prize at the global Lab Finale on Nov. 8.
They will join the international Falling Walls Conference on Nov. 9 where some of the world's prominent scientists will present their research in 15 minutes.
"We are looking for young Indonesian scientists who have groundbreaking and innovative ideas that could solve various problems the world is facing now," said Irene Jansen, the director of the DAAD Regional Office Jakarta.
Uras Siahaan, a jury member in the competition and lecturer in the field of architecture from the Jakarta-based Indonesian Christian University (UKI), applauded all the participants for their ability to present their innovative ideas in such a limited time.
"I was surprised because these young people were able to present a lot of information in only three minutes. Some of their ideas are wishful thinking, but some others could actually be implemented in the real world," she said. (win)
Topics :
You might also like :
Comments