PLN, Pertamina synergy to boost geothermal development: Govt
Ayomi Amindoni

The Jakarta Post
Jakarta |

Thu, October 13, 2016

| 07:45 pm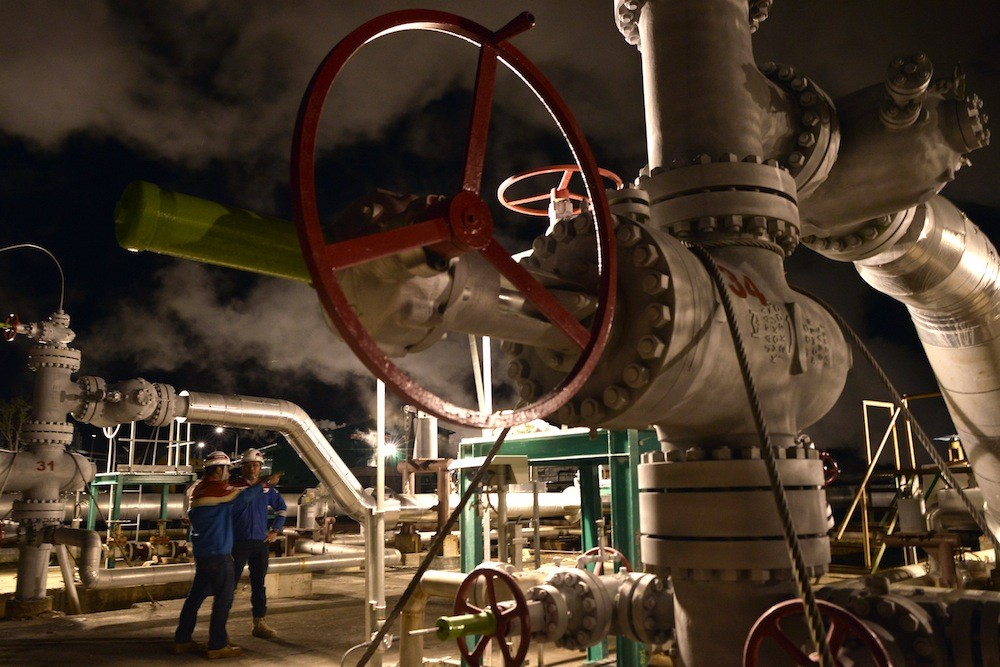 Workers check high pressure pipes at a geothermal power plant in Lahendong in Minahasa in North Sulawesi on Sept. 26. The construction of six geothermal plants with a combined capacity of 20 MW by Pertamina Geothermal Energy (PGE) has reached 96 percent. (Antara/Adwit B. Pramono)
The government plans to appoint a state-run energy firm to focus on geothermal development in a bid to meet the energy mix target, saying that the acquisition of Pertamina subsidiary Pertamina Geothermal Energy (PGE) by state utility firm PLN would make this dream come true.
Although reluctant to call it an "acquisition", the Small and Medium Enterprises Ministry's deputy for energy, logistics, regional and tourism development, Edwin Hidayat Abdullah, said the synergy between PLN and state-owned oil and gas company Pertamina would increase efficiency and eliminate duplication of investment between state-run energy firms.
"The share composition is still being discussed, but the point is we want a firm committed to geothermal development so there will be no more competition and disputes over geothermal power prices," Edwin said in Jakarta on Thursday.
For this purpose, the ministry has appointed Danareksa as financial consultant to examine the technical aspects of the acquisition. The final decision will be made before year-end.
"We haven't decided yet, but we will carefully evaluate the value of PGE and the share composition of both companies," Edwin went on.
He said the synergy would allow PGE to speed up geothermal development to meet the 7.2-gigawatt (GW) target of installed electricity by 2025, or 23 percent of the total energy mix. Currently, installed capacity of geothermal power plants is only 1.5 GW. (evi)
You might also like :
Comments