Indonesia invited to speak frankly about Rakhine
Tama Salim

The Jakarta Post
Jakarta |

Tue, December 6, 2016

| 07:47 am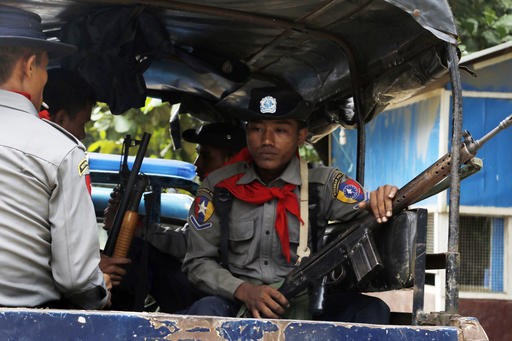 Myanmar police officers sit in a truck as they provide security in Maungdaw, Rakhine State, Myanmar, a border town with Bangladesh, Oct. 13, 2016. (AP/Thein Zaw)
Myanmar has welcomed Indonesia's continued support in the midst of harsh international criticism regarding the outbreak of violence in Rakhine state, with Foreign Minister Retno LP Marsudi flying into Naypyidaw on Tuesday to speak frankly about the facts on the ground.
Retno will head to Myanmar's capital at the invitation of its de facto leader, Aung San Suu Kyi, after repeated attempts to set a date for the State Counsellor's visit to Indonesia have faltered, Foreign Ministry spokesman Arrmanatha Nasir said.
The planned tête-à-tête represents a willingness on Myanmar's part to open up about the thorny issue, which has drawn international ire on account of allegations of gross human rights violation and crimes against humanity.
Turmoil in Rakhine erupted following a spate of attacks on police posts near the Myanmar-Bangladesh border on Oct. 9 by Rohingya militants, killing nine officers. Myanmar hit back with a crackdown in Maungdaw, placing the area under military lockdown and displacing thousands.
A Myanmar rights group released a report on Monday, providing witness accounts that implicate local security forces in the "widespread destruction of Rohingya homes, rape and sexual humiliation, torture and indiscriminate killing of civilians".
Published by the London-based Burma Human Rights Network (BHRN), the report states that at least 30,000 people in Rakhine have been internally displaced and ongoing violence worsens the shortage of food and aid for more than 70,000 people in Maungdaw.
BHRN executive director Kyaw Win urged the international community to not allow Myanmar to "continue the abuses or excuse them as part of a political transition", while accusing its military of committing crimes against humanity.
Naypyidaw has denied allegations of abuse as the situation escalates, banning foreign journalists and independent investigators from the area.
Even so, the Myanmar government is slowly starting to open up.
Retno will meet Suu Kyi on Tuesday evening to talk about the latest developments in Rakhine and Myanmar's plans to address the situation. Retno is also scheduled to speak with a number of foreign envoys based in Naypyidaw the next morning, Arrmanatha said.
"We see this as an opening for us to share our input and help as much as we can," Arrmanatha told The Jakarta Post on Monday.
"We will take this opportunity to share experiences in overcoming separatism, promoting pluralism and inclusivity, as well as cultural development and ethnic harmony."
He added that Retno was scheduled to meet former UN secretary-general Kofi Annan after a talk on Saturday.
Annan, who has been appointed head of a commission investigating the Rakhine conflict, will deliver a keynote address in the upcoming Bali Democracy Forum.
Jakarta's continued support over the years has been instrumental in bringing Myanmar closer to becoming a democracy, with the ASEAN chairmanship in 2013 underpinning Naypyidaw's continued transition.
So far, only Indonesia's measured advances and disdain of megaphone diplomacy have managed to persuade Myanmar to let its guard down.
During a recent rally in Kuala Lumpur, Malaysian Prime Minister Najib Razak thumbed his nose at Suu Kyi for her perceived inaction over the crisis, urging her to step in and stop the "genocide" of the Rohingyas.
Critics have accused Najib, already under fire for the 1MDB corruption scandal, of using the rally to win political support ahead of the 2018 elections.
"I believe Najib's stance with regard to the Rakhine situation is a political move to burnish his credentials and tell the Malay Muslim voters, 'I will defend and protect your interests in the same way I am defending and protecting the Rohingya Muslims'," Ibrahim Almuttaqi, an ASEAN researcher at The Habibie Center, said on Monday.
You might also like :
Comments