Christmas service in Bandung canceled due to protest
Arya Dipa

The Jakarta Post
Bandung |

Wed, December 7, 2016

| 04:07 pm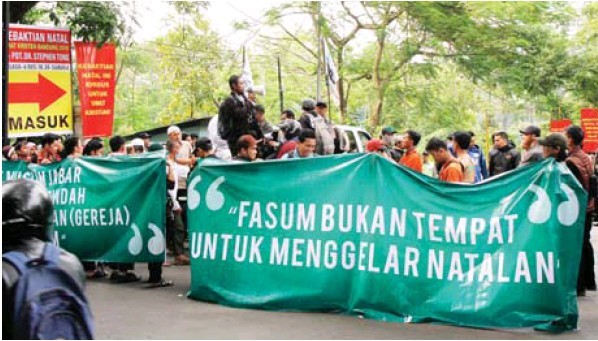 No tolerance: Supporters of Muslim organizations rally against the holding of a Mass at Sasana Budaya Ganesha Park in Bandung, West Java, on Tuesday. The Mass had been scheduled for Tuesday night before being canceled due to the protests. (JP/Arya Dipa)
The Reformed Injili Indonesia Church in Bandung canceled a Christmas service at the Sasana Budaya Ganesha building in Bandung on Tuesday after a protest by dozens of Ahlu Sunnah Defenders (PAS) members.

"Please tell us what we should do so we can [worship here]," event committee member Didi Karnadi pleaded before the protesters.

The building is popular for public events in the West Java provincial capital with the main auditorium able to accommodate up to 2,500 people.

PAS leader M. Roinul Balad denied that the group was intolerant of other religions. "Please just worship at your church, not in a public space," he said.
Topics :
You might also like :
Comments