Ahok's change in attitude increases electability: Survey
Agnes Anya

The Jakarta Post
Jakarta |

Thu, December 15, 2016

| 09:21 pm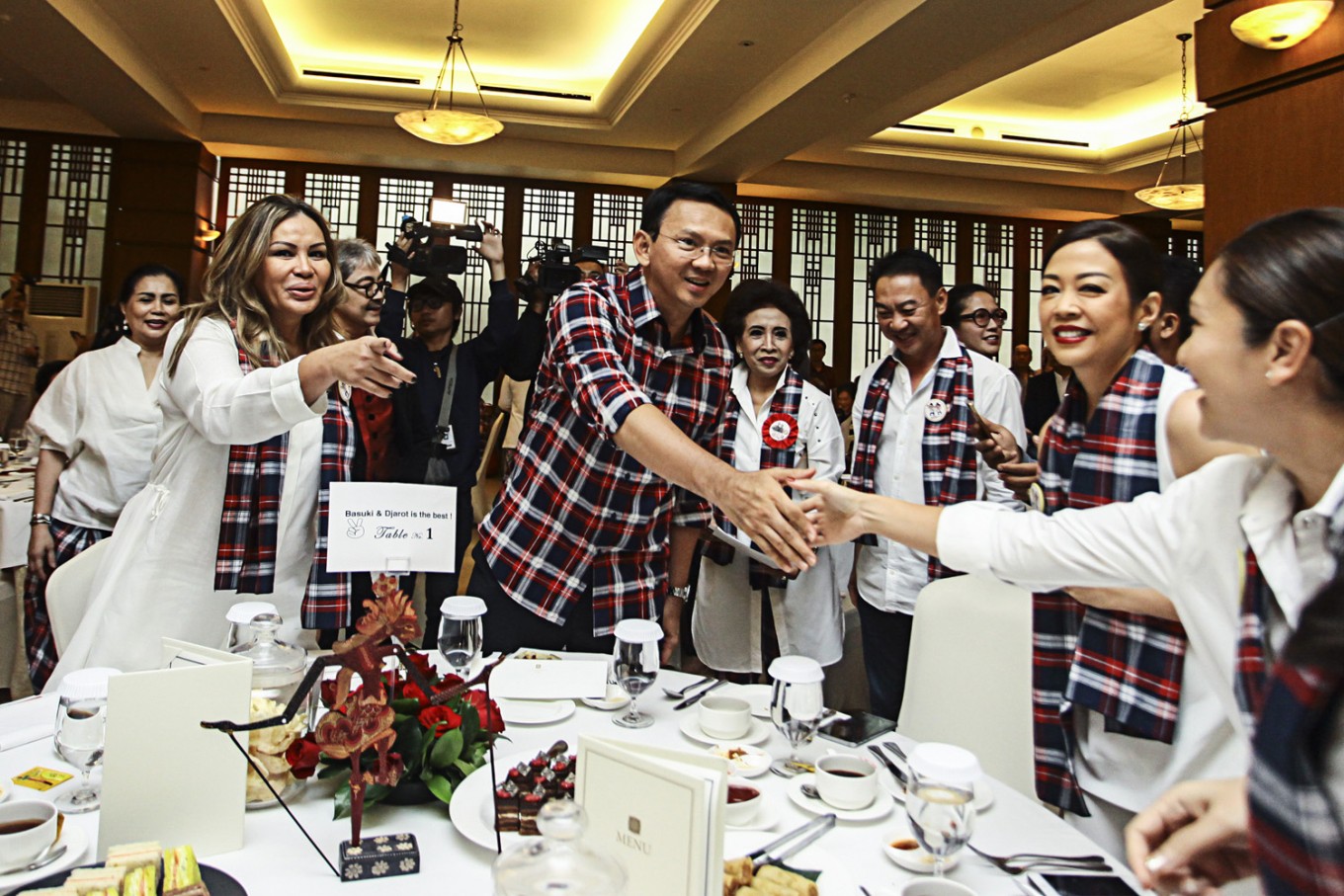 Staying firm: Incumbent Jakarta gubernatorial candidate Basuki "Ahok" Tjahaja Purnama greets his volunteers in a campaign fund-raising event in Jakarta on Nov. 27. (Antara/Muhammad Adimaja)
The Indonesian Survey Institute (LSI) has released its latest survey showing that the electability of incumbent candidate pair Basuki "Ahok" Tjahaja Purnama and Djarot Saiful Hidayat has increased by 5.6 percent—purportedly thanks to Ahok's change in attitude.
The survey, which was conducted from Dec. 3 to 11 and involved 800 participants, showed that the pair's electability in December reached 31.8 percent. The figure was higher than the LSI's November findings in which the pair only garnered 26.2 percent.
The increase is believed to have occurred from voters returning their attention to Ahok's personal qualities, as well as his work in the Jakarta administration, which has been ignored since he sparked uproar among conservative Muslim groups for his alleged blasphemous comment in relation to a Quranic verse during a work visit to Thousand Islands regency in September.
Voters had started to focus on what matters again after Ahok changed his attitude, as well as apologized for his actions, said LSI executive director Kuskridho Ambardi, better known as Dodi.
"The blasphemy case has definitely impacted the incumbent candidates, causing their electability to decline significantly," said Dodi on Thursday. "However, within a month, there has been a slight rebound [in their electability] [...] At least, the race has become competitive again."
(Read also: Ahok may not make it to second round: Survey)
The survey also showed that despite an increase in electability, Ahok was the least liked candidate.
Ahok's likeability was at 54 percent, lower than rival candidates Agus Harimurti Yudhoyono and Anies Baswedan at 66 percent a piece. (jun)
You might also like :
Comments