Staff in Jakarta malls object to Santa hats for style reasons
Agnes Anya and Liza Yosephine

The Jakarta Post
Jakarta |

Thu, December 22, 2016

| 10:44 am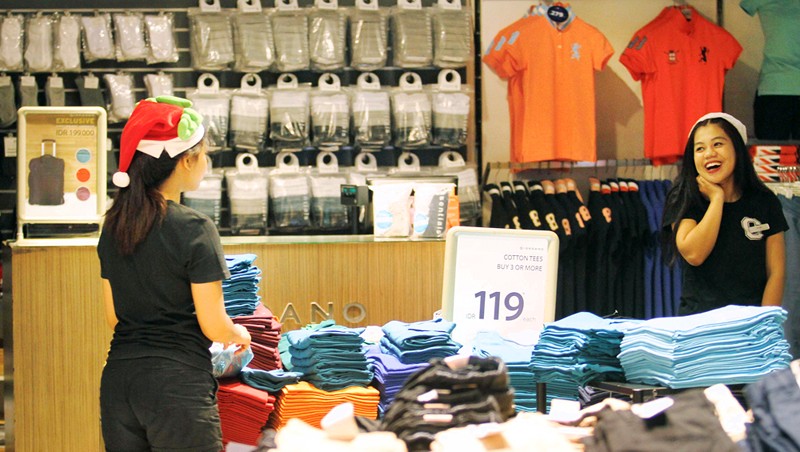 Tone it down: Two employees chat in a clothing store at Bandung Indah Plaza shopping center in Bandung, West Java, on Wednesday. Bandung Mayor Ridwan Kamil has issued a circular appealing to companies not to force non-Christian employees to wear Christmas attributes. (JP/Arya Dipa)
Despite an edict issued by the influential Indonesia Ulema Council (MUI), many Muslim employees in the capital say that appearance, rather than religious objections, is the main reason they have a problem with wearing Christmas-related paraphernalia.
A female supervisor of a department store in Taman Anggrek mall in West Jakarta, for example, said she wore a Santa hat while working at the shop's children's clothing section because she wanted to enliven the season's festivity.
The mall itself is already decorated with colorful Christmas trees along with other paraphernalia.
"I am okay with a Santa hat because I don't believe it will encourage me to convert," said the supervisor, who declined to be named, on Wednesday.
She acknowledged, however, the hassle she had to endure while wearing the hat because she needed to loosen her hair, which made her look less attractive and professional.
"Most of us actually refuse to wear them not because of the edict issued by the MUI, but because of our appearance," she said, adding that this year the department store did not request employees to wear such paraphernalia.
Similar to the supervisor, Ratna Tri Mulyani, a Muslim sales assistant at the Korean-based Lotte department store in Central Jakarta, said she did not mind wearing Christmas-themed accessories as part of her uniform. "It doesn't bother me. It's part of mutual respect for other religions," Ratna said.
However, she said, the mall management had never obliged employees to wear them since the store opened three years ago. Santa hats were provided by the management for the sales employees to wear during Christmas in 2015, she added, even though many chose not to wear them for performance reasons.
"I didn't wear one myself. I think for some SPGs [sales promotion girls], like me, we didn't wear them maybe more because we weren't sure they suited our look," she said with an embarrassed laugh.
The MUI recently issued an edict, or fatwa, prohibiting companies and business owners from forcing their employees to wear Christmas-related paraphernalia.
The council said the fatwa was drawn up after it received feedback from Muslim employees complaining that many bosses, including hoteliers, shop owners and government officials, had required their workers, including Muslims, to wear the paraphernalia.
Following the fatwa, Bekasi Police in West Java and Kulonprogo Police in Yogyakarta issued circulars instructing owners and businesses not to force their employees to wear Christmas attributes.
National Police chief Gen. Tito Karnavian ordered on Tuesday the chiefs of the two police forces to revoke the circulars, saying the fatwa was merely for reference and was not the law.
The edict also triggered raids by the Islam Defenders Front (FPI) of a number of malls in Surabaya, East Java, to prevent employees wearing Santa hats.
Such raids, however, did not occur in Jakarta perhaps because most store employees have ditched the attributes for style reasons.
Based on The Jakarta Post's observation of several malls in West Jakarta, Central Jakarta and South Jakarta, employees only wore their usual uniforms without Christmas attributes.
Ellen Hidayat, the chairwoman of the Jakarta branch of the Indonesian Shopping Center Association (APPBI), said the association had never issued any guidance suggesting stores avoid Christmas attire, even for security reasons.
The association, she said, had advised them to put up Christmas decorations, as well as providing discounts and promotions to boost their sales amid the sluggish economy.
"With the decorations, we want to improve our shopping malls, like those in other countries. Christmas paraphernalia is not always related to religion," she said.
Topics :
You might also like :
Comments