Financial authority issues regulation on fintech lending
Prima Wirayani

The Jakarta Post
Jakarta |

Wed, January 4, 2017

| 10:29 am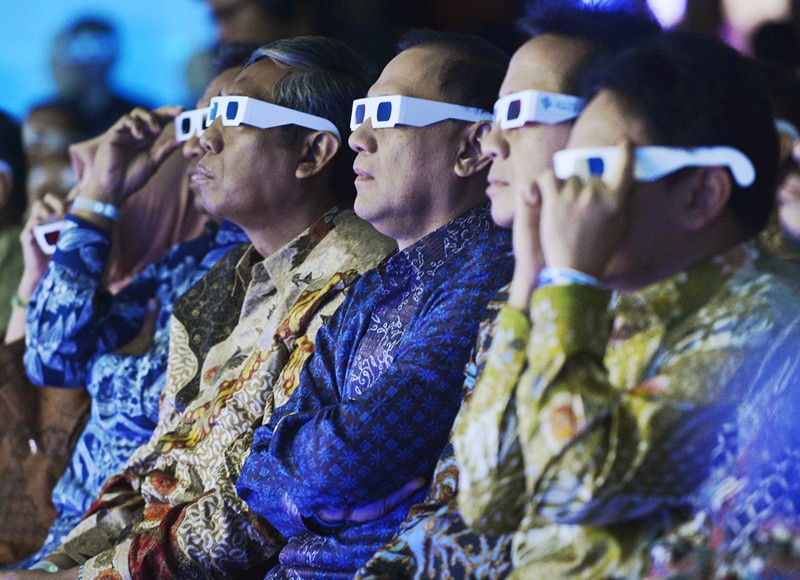 New economy: Bank Indonesia (BI) governor Agus Martowardojo (third from right), Creative Economy Agency (Bekraf) head Triawan Munaf (second from right) and Deputy Finance Minister Mardiasmo (fourth from right) wear 3D glasses at the launch of the BI Financial Technology (Fintech) office in Jakarta on Monday. (Antara/Akbar Nugroho Gumay)
The Financial Services Authority (OJK) has finally issued a regulation on financial technology (Fintech) firms that run peer-to-peer (P2P) lending businesses.
The regulation, POJK No. 77/2016, requires a fintech company to have Rp 1 billion (US$74,239) capital when it registers its business with the OJK and for this to rise to Rp 2.5 billion when it applies for a business license.
The figures are lower than the respective Rp 2 billion and Rp 5 billion stated in the draft regulation.
(Read also: Fintech lending regulation raises concerns among business players)
The regulation also does not strictly regulate maximum interest rates on loans. It only states that a fintech firm can advise its investors and customers of an interest rate by "taking into account fairness and national economic development".
OJK chair Muliaman D. Hadad admitted that the regulation was still an initial step made by the authority to regulate and supervise the business.
"What's important is they get onto our radar because we don't want to regulate the prudential aspects hastily," he said at the OJK's annual press briefing recently.
"We want to provide [business] transparency guidelines first."
The OJK also implements a regulatory sandbox, in which fintech firms can test any service they want to offer to consumers under the supervision of the authority before it issues further regulations. (bbn)
Topics :
You might also like :
Comments