Japan, Indonesia target trade revival
Stefani Ribka

The Jakarta Post
Jakarta |

Tue, January 10, 2017

| 05:46 am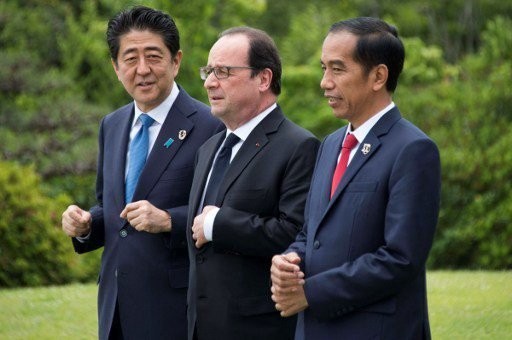 Japanese Prime Minister Shinzo Abe (left) speaks with French President Francois Hollande (center) and Indonesian President Joko Widodo (right) as they take part in the "Outreach Session" family photo with world leaders at the G7 Summit in Shima in Mie prefecture on May 27, 2016. (AFP/Jim Watson)
Japan's Prime Minister Shinzo Abe and President Joko "Jokowi" Widodo are widely expected to discuss the issue of reviving a decline in trade between the two countries in a meeting scheduled for Sunday.
Total exports and imports from the two nations have declined steadily by a total of 41 percent to US$31.27 billion in 2015 from $53.14 billion in 2011, according to data from Trade Map of International Trade Center.
Shipments of Indonesian products to Japan plunged 46.5 percent during the period, outpacing the 33 percent drop in the country's overall exports.
Such a drastic drop has triggered the government, business players and economists to call for measures to revive trade between the two countries, especially with the Indonesian-Japan Economic Partnership (IJEPA) being under utilized despite having existed since 2008.
"Trade between the two countries can still improve despite slow recovery in the global economy. I'm optimistic there's still room for us to boost exports, including to Japan. We both have complimenting products," Trade Ministry director general for international trade negotiations Iman Pambagyo said, adding that a general review of IJEPA is likely among the topics of concern.
Indonesia plans to ask Japan to lower tariff barriers for its agriculture and fisheries shipments, which currently stand at more than 10 percent, he added.
Meanwhile, Japan may discuss settlement of Indonesia's failure to lower its import tariff on cars from Japan, which as stipulated in IJEPA, Indonesia had agreed to cut its 45 percent tariff on some 3,000 cc Japanese passenger cars to 20 percent by the start of 2015.
The Sunday meeting, which will likely take place in the Bogor Presidential Palace, will also include discussions about infrastructure and investment, the two areas in which Japan is strengthening its grip in Indonesia.
Japan's government officials and business players, as well as Indonesia's Coordinating Maritime Affairs Minister Luhut Pandjaitan will join in the meeting, according to information from the Japanese Embassy.
Japan's investment in Indonesia, the second largest foreign investor in the country, steadily rose from $1.5 billion in 2011 to $2.9 billion in the first six months of 2016 — equal to the total amount throughout 2015.
The Asian powerhouse has set sights on multi-billion dollar projects that include the development of gas-rich Masela block, Patimban Port in West Java, as well as the Jakarta-Surabaya high speed railway.
Japan International Cooperation Agency (JICA) advisor Yamazaki Norio said he was personally optimistic that Japan's robust investment in Indonesia would lead to recovery in trade between the two countries.
"Japan's investment is expected to reach record highs at more than $5 billion in 2016, dominated by investment from chemical and steel firms, even higher than $4.7 billion in 2013. With that much investment, raw and supporting materials from Japan should increase," he told The Jakarta Post.
Indonesian Chamber of Commerce and Industry (Kadin) AsiaPacific Committee chairman Bernardino Vega said shipments of Indonesian products could be improved by focusing on improving exports of value-added products, something for which the Japanese are keen.
"There was deindustrialization in the past government so we depended too much on commodities and forgot about processed products," he said over the phone on Monday. "Industrialization is the solution to this declining trade."
Business groups from both countries formed an Indonesia-Japan Business Matching Support Desk (IJ-BMSD) last year, an online platform through which small and medium enterprises (SOEs) from both countries can exchange information and strategy about market access and production technology to boost trade.
University of Indonesia economist Fithra Faisal Hastiadi said local businesspeople should utilize facilities offered under IJEPA as today only 30 percent of the clauses in the trade deal have been utilized.
"The government needs to make sure businesspeople, especially at the small and medium levels, know about the trade deal and benefits, as well as how to improve their competitiveness in Japan's market," he said.
Fithra lashed out at the causes behind the declining trade, which include the decline in commodity prices, global demand slowdown, as well as Indonesia's commitment to diversify markets and the trend of Japanese investments.
"Now the Trade Ministry is not only focusing on main markets like Japan, China and the United States but also ASEAN countries' markets," he said. "Intensifying partnerships with China has also affected Japan-Indonesia trade."
The seventeenth paragraph of this article has been corrected after we mistakenly identified Fithra Faisal Hastiadi as Center of Reform on Economics (CORE) economist. We apologize for the error. - Editor
You might also like :
Comments