Fear of more local attacks as Indonesian militants fail to emigrate
Haeril Halim and Marguerite Afra Sapiie

The Jakarta Post
Jakarta |

Wed, January 11, 2017

| 09:56 am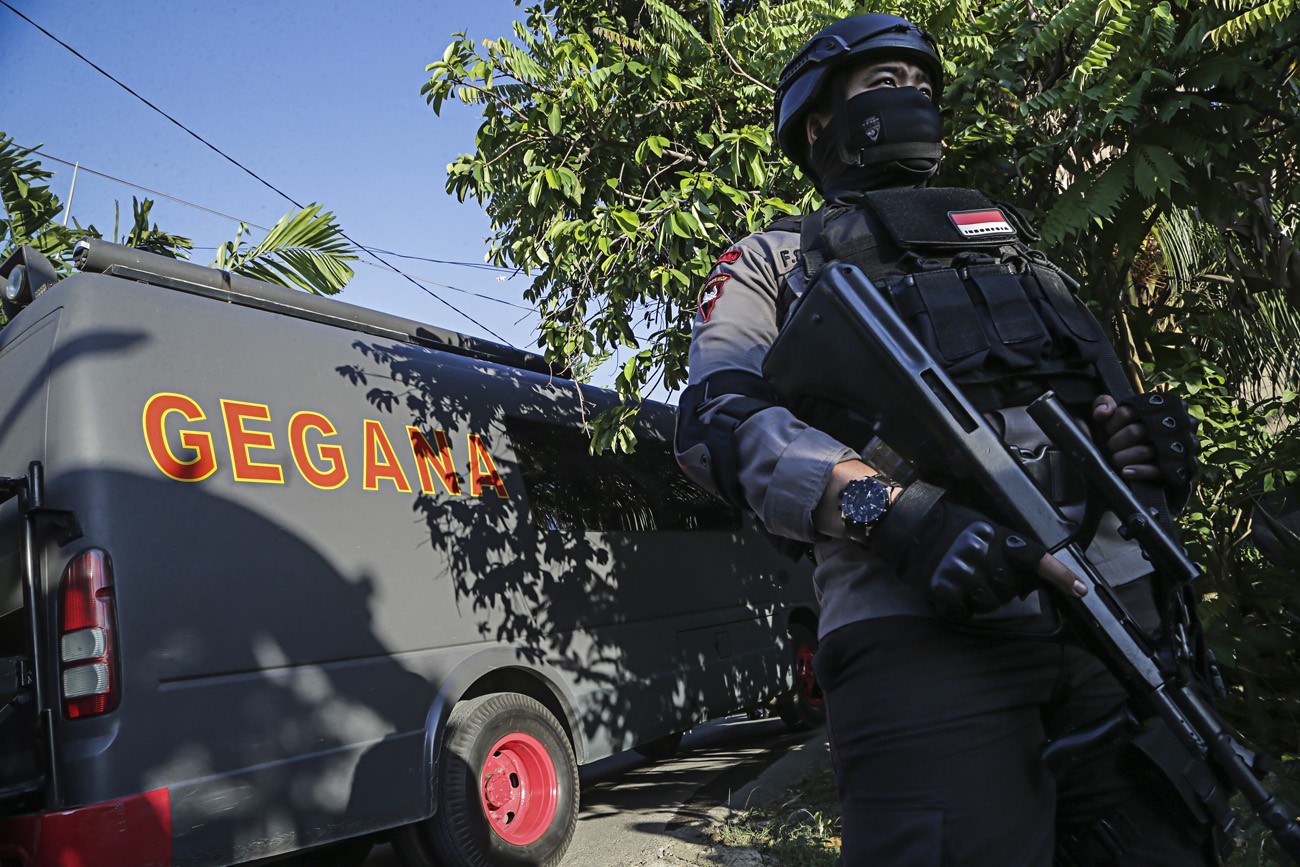 On alert – A full armed police is on guard in an area directing to the house of a suspected terrorist in Batam, Riau Islands, during a raid conducted by personnel of the National Police's Densus 88 counterterrorism squad on Dec.21. (Antara/MN Kanwa)
The National Counterterrorism Agency (BNPT) claims the number of Indonesian extremists leaving the country to join the Islamic State (IS) group in Syria has declined, raising fears they will focus on carrying out terrorist attacks on Indonesian soil instead.
The agency said it was getting more difficult for foreign fighters to enter Syria as fighting among conflicting armed groups has intensified in the war-torn country.
Bahrun Na'im, an Indonesian militant with the IS in Syria, had recently instructed Indonesian supporters of IS group to drop their plans to immigrate to Syria and carry out attacks in their home country, BNPT's deradicalization director Irfan Idris told The Jakarta Post on Tuesday. "Earlier, the traffic of Indonesians going to Syria was very high, but recently, after Bahrun's instruction was issued, the number decreased because local militants were encouraged to launch domestic attacks by Bahrun," he said, declining to provide figures.
In addition, the official said the government had stepped up efforts to prevent Indonesians from leaving the country for Syria, including by rejecting passport applications made by Indonesians suspected of wanting to join IS and by intensifying crackdowns on recruiters of Indonesian jihadists facilitating trips to the Middle East.
The police intercepted seven people at Soekarno-Hatta International Airport attempting to fly to Syria on Sept. 28 along with a recruiter identified as Abu Fauzan, who managed to fly dozens of Indonesians to Syria in early 2016. There are currently a total of 500 Indonesian militants fighting with IS in Syria, according to the BNPT. Dozens of Indonesian militants may now reside in Turkey while attempting to enter Syria.
The discovery of eight Indonesian passports in Turkey during a terror raid last week may confirm BNPT's statements on the existence of Indonesian militants in Turkey.
"We are still investigating the discovery of Indonesian passports in Turkey," Irfan said.
A spokesperson for the Immigration Directorate General, Agung Sampurno, said his office had asked the Foreign Ministry to collect copies of the eight passports to identify whether or not they were legitimate. "Our intelligence team is working to collect copies of the biographical page of the passports," Agung said.
The immigration office in Batam, one of the favorite transfer points for Indonesian militants on the way to Singapore before flying to Turkey, rejected 418 passport applications last year, mostly submitted by people wanting to go to Syria.
The immigration office in Depok, West Java, also rejected 929 similar applications in 2016.
Financial Transaction Reports and Analysis Centre (PPATK) said on Tuesday that Bahrun was now using online payment services, such as Bitcoin, a cryptocurrency that uses cryptography to make transactions anonymous, and PayPal, to transfer money to fund terror attacks in Indonesia.
"He [Bahrun] wants to avoid conventional financial systems," PPATK research division director Ivan Yustiavandana said, adding it was now a new trend that global terrorism activities were funded by money sent through Bitcoin and PayPal.
Meanwhile, the National Police said they were aware of the use of Bitcoin and other online-payment services by IS affiliates to send money to Indonesian terror cells.
"If someone sends funds [using virtual money] but the receiver does nothing, we can't do anything but watch [until the receiver uses the money to buy terror equipment]. Yet if the sender can be identified as a terrorist, we can act on that information," National Police spokesman Sr. Comr. Martinus Sitompul said.
The Thamrin attack on Jan. 14, 2016, that killed 4 civilians was the first attack on Indonesian soil claimed by IS.
The group, through Bahrun, inspired five more attacks in the following months, some of which turned deadly. An attack by a lone wolf inspired by IS angered the nation on Nov. 13 when a bomb exploded at the Oikumene Church in Sengkotek subdistrict, Samarinda, killing a two-year-old toddler, identified as Intan Olivia, and injuring three other toddlers.
The police also voided three plots to attack the State Palace, an unspecified location in Bali and a police station in Tangerang, Banten, in December after arresting 21 terrorists in West Java, Central Java, Banten, North Sumatra, West Sumatra and Batam ahead of Christmas.
Topics :
You might also like :
Comments