Young voices amplify demand for justice for past violence
Marguerite Afra Sapiie

The Jakarta Post
Jakarta |

Tue, January 24, 2017

| 02:54 pm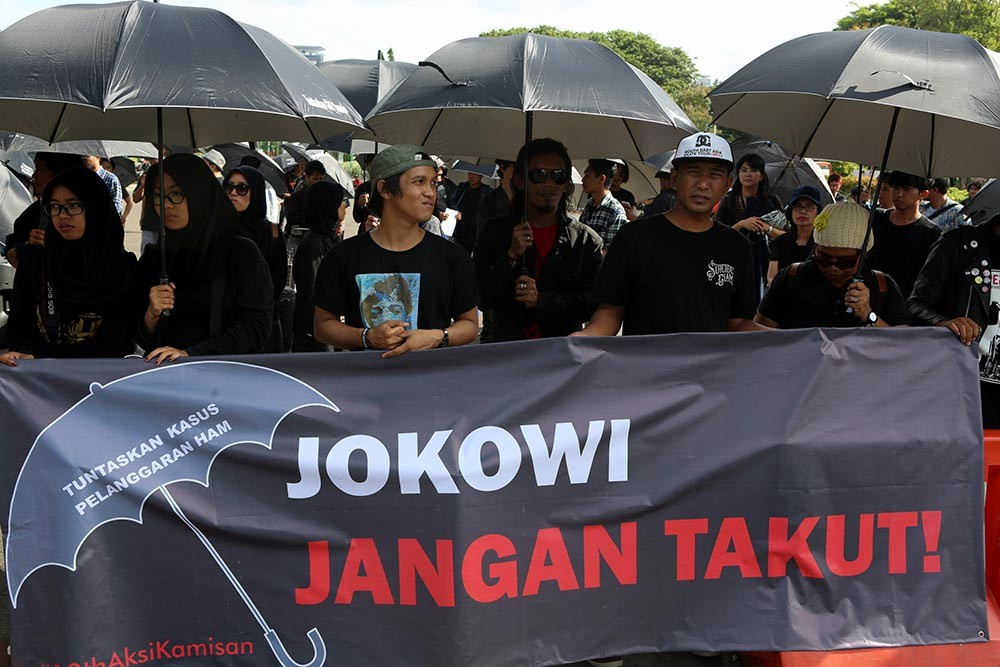 Activist participate on the 10th commemoration of Kamisan Silent protest in Front of the presidential Palace in Jakarta, Thursday, January 19, 2017. The 477th kamisan reach its 10th year since the first protest in 2007 asking the govenrment to resolve past Human Rights Violation. (JP/Seto Wardhana.)
The call is getting louder. The government may choose to remain silent or try and bury the issue with more empty promises.
But there is no stopping the demand for justice and truth for past human rights abuse cases related to 1965 and other tragedies that have taken the lives of thousands in the country.
It reverberates through generations, even among young people who now live decades after the violence took place.
Christian Evander Lesnussa, 25, said he shared a deep concern about the unresolved cases of past human rights abuses, even those that occurred before he was born.
Since 2013, Evander has regularly joined with activists and victims of human rights abuse during Kamisan, a silent protest held every Thursday to demand that the government resolve past human rights abuses, in front of Gedung Sate, the West Java gubernatorial office, in Bandung.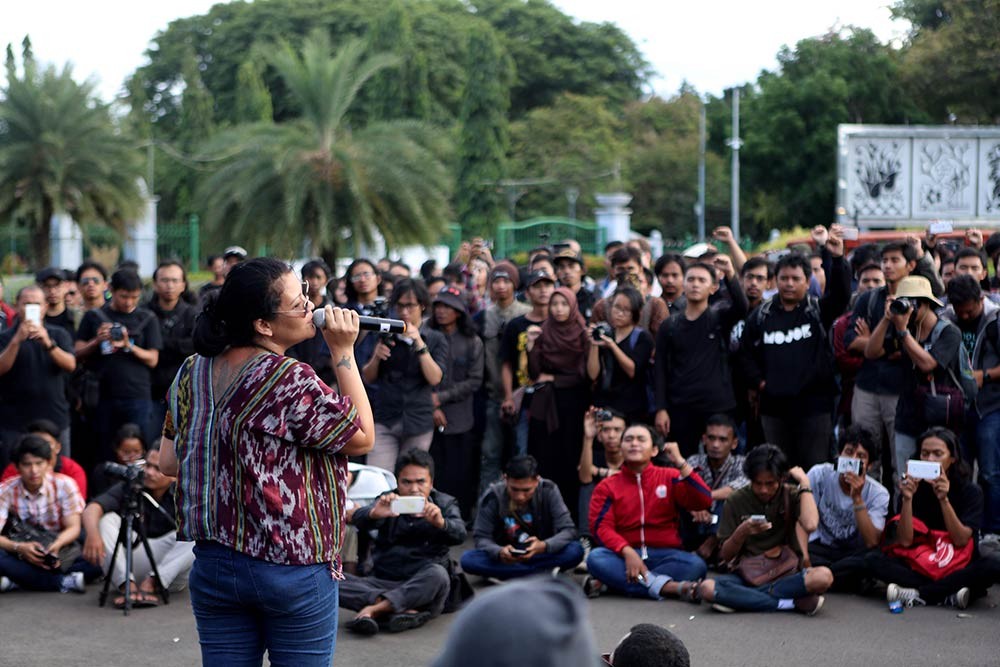 Melanie Subono sings during the 10th commemoration of Kamisan Silent protest in Front of the presidential Palace in Jakarta, Thursday, January 19, 2017. The 477th kamisan reach its 10th year since the first protest in 2007 asking the govenrment to resolve past Human Rights Violation.(JP/Seto Wardhana.)
Started in 2007 during the administration of then president Susilo Bambang Yudhoyono, Kamisan first took place in front of the State Palace in Jakarta. Within a decade, the protests — known for their characteristic silence, black attire and black umbrellas — spread to other cities.
"If not us [the young generation], who else can push the government to resolve the cases?" Evander told the Jakarta Post on Saturday.
(Read also: Digital community Ingat65 remembers 1965)
But 10 years on, the protesters' demands have largely gone unanswered, even until the current administration of President Joko "Jokowi" Widodo, who during his presidential campaign lauded activist-cum-poet Wiji Thukul, who has been missing since the 1998 riots, as part of his pledge to resolve the human rights abuse cases.
Kamisan has also inspired Usamah Zed, a university student from Bali, to always spare his Thursdays to join the protest during his visit to the capital. Usamah believes that youth can give strength to the victims and their families.
"We don't have to become victims to care about their struggles. As long as past cases of human rights abuse remain unresolved, there is always a possibility that someday I may become a victim too," the 23-year-old said.
In recent years, Indonesia has seen more of its young people become concerned about the government's sluggish efforts to settle at least seven cases of human rights abuse that Jokowi's administration promised to resolve, including the 1965 communist purge and the 1998 riots.
Imam Sukri Nawawi, 19, chose to launch his campaign by posting his illustrations, including an illustration of human rights defender Munir Said Thalib, whose murder 12 years ago remains unsolved, on his Instagram account.
For Prodita Sabarini, 34, establishing an online platform named Ingat65 (Remember 65), where young people can write and share their stories about how the tragedy affected them, is a way to raise awareness among young people who lack understanding about what happened.
"We realize that there is a lacuna in young people's knowledge about 1965. What happened in the period affected our lives and the country's political system," said the Ingat65 chief editor.
Since its establishment in March last year, Ingat65, which can be accessed at atmedium. com/ingat-65, has published more than 50 reflective and personal stories that shed light on the country's dark past.
"The platform is more like a storytelling space for young people to share what they think about it. It tries to make the issue less scary because the stories are personal," she said.
From last week, the country has also seen the screening of Istirahatlah Kata-Kata, a biographical movie about Wiji. The film narrates Wiji's life from 1996 when he was a fugitive until his disappearance before the fall of the New Order.
Director Yosep Anggi Noen said the way young people responded to the movie showed that the younger generation had grown concerned and was now eager to learn about the nation's history.
"There are many of them who are inspired and no longer show apathy," Anggi told the Post.
"It's important for young people to learn their own history. The democracy that has brought freedom for them has yet to be acknowledged as a struggle. They only enjoy it without knowing the process," he added.
Topics :
You might also like :
Comments