Police declare FPI leader Rizieq Shihab suspect for alleged Pancasila defamation
Arya Dipa

The Jakarta Post
Bandung |

Mon, January 30, 2017

| 07:14 pm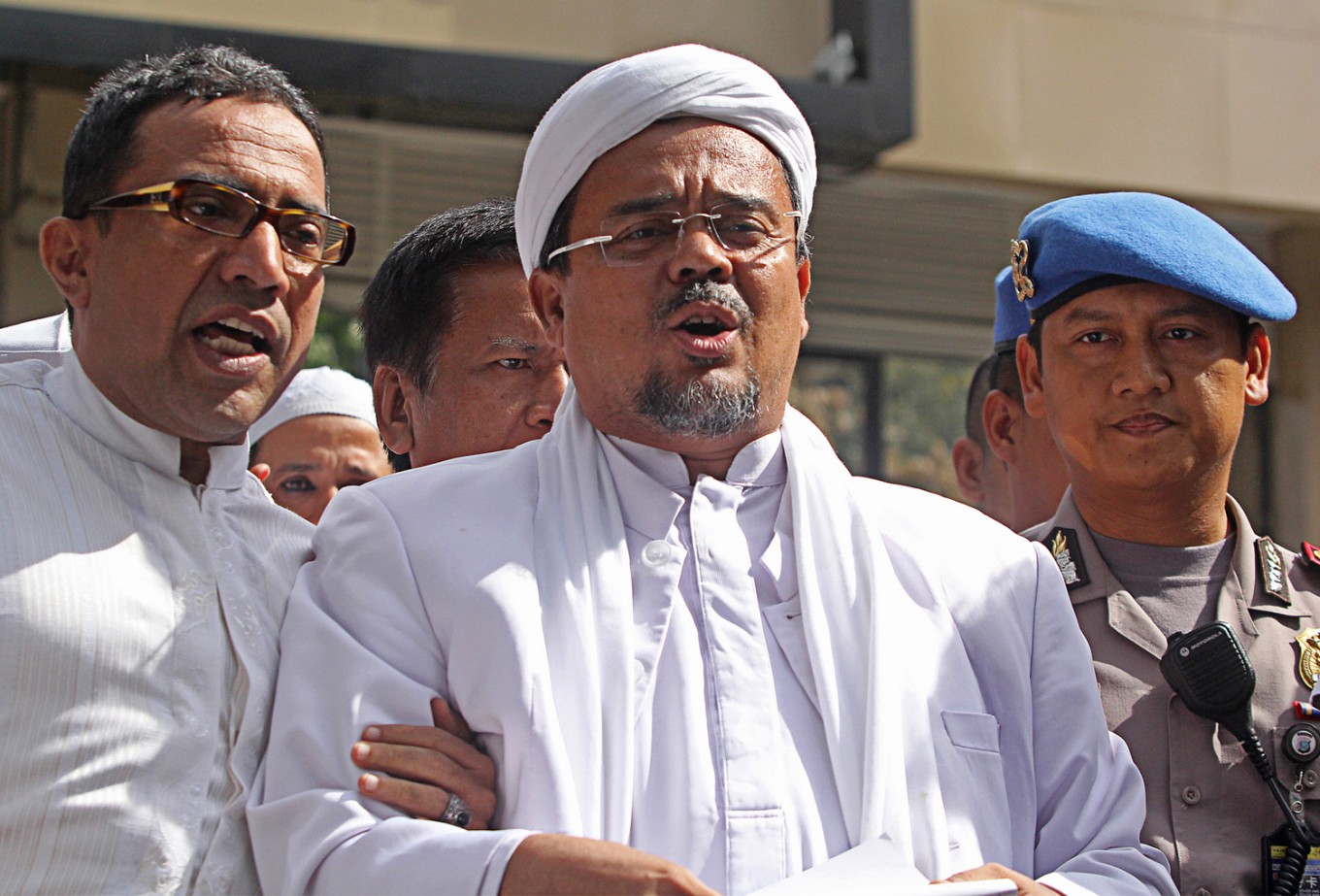 Defamation -- Islam Defenders Front (FPI) leader Rizieq Shihab (center) speaks to journalists after questioning by the Jakarta Police on Jan.23. (Antara/Reno Esnir)
After conducting a third case screening, the police named on Monday Islam Defenders Front (FPI) leader Rizieq Shihab a suspect for alleged defamation of state ideology Pancasila and first president Sukarno.
"Based on witnesses against Rizieq Shihab, we have raised his status to suspect," West Java Police spokesman Sr. Comr. Yusri Yunus said at the West Java Police headquarters in Bandung.
Yusri said Rizieq's status was raised from reported person to suspect after the case screening, which was conducted to gather more evidence against the Muslim cleric.
Rizieq was reported to the police for defamation by Sukmawati Soekarnoputri, Sukarno's daughter, in relation to a sermon he made in the province that went viral.
(Read also: Police step up investigation into Rizieq Shihab)
Rizieq is also being investigated by the Jakarta Police for allegedly defaming the national currency in his remarks that new Rupiah bills displayed communist symbols.
Rizieq, along with several conservative Muslim leaders, has been prominent recently for his success in leading massive rallies that demanded the prosecution of Jakarta Governor Basuki "Ahok" Tjahaja Purnama for blasphemy.
Ahok is currently being tried at the North Jakarta District Court for blasphemy with regard to a statement he made citing a Quranic verse in a speech in September.(jun)
You might also like :
Comments