Ahok apologizes to MUI chairman Ma'ruf Amin
Winda A. Charmila

The Jakarta Post
Jakarta |

Wed, February 1, 2017

| 06:30 pm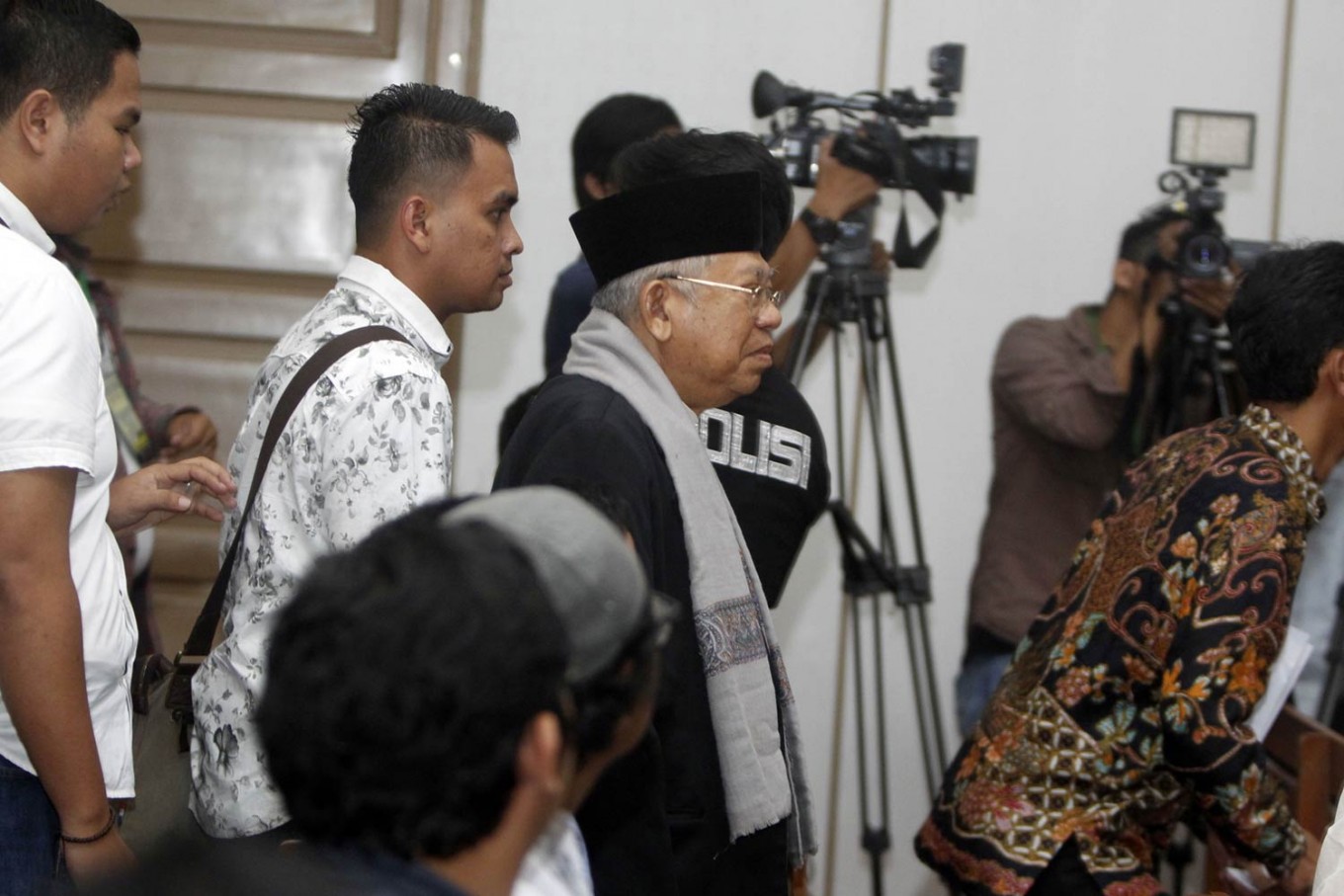 Indonesia Ulema Council (MUI) chairman Ma'ruf Amin (center) attends a hearing on Tuesday as part of Jakarta Governor Basuki "Ahok" Tjahaja Purnama's trial. (Sindo/POOL/Isra Triansyah)
Jakarta Governor Basuki "Ahok" Tjahaja Purnama apologized to the Indonesian Ulema Council (MUI) chairman Ma'ruf Amin on Wednesday for implying the cleric had succumbed to political pressure in the former's trial for blasphemy.
"I apologize to KH Ma'ruf Amin if I seemed to discredit him [when he testified at the trial] as a witness in his capacity as MUI chairman. I acknowledge that he is a Nahdlatul Ulama [NU] elder. And I respect him just like I respect other NU figures like Gus Dur [Abdurrahman Wahid] and Gus Mus [Ahmad Mustofa Bisri] – figures whom I honor and see as models," Ahok said in a statement on Wednesday.
During the eighth hearing of his blasphemy trial on Tuesday, Ahok's legal team accused Ma'ruf of bias when issuing a recommendation on the allegations against Ahok.
According to the team, Ma'ruf had been influenced by Democratic Party patron and former president Susilo Bambang Yudhoyono in the issuance of a recommendation in which the council categorized Ahok's remarks in which he cited a Quranic verse as blasphemous.
(Read also: MUI chairman forgives Ahok, calls on NU members to do the same)
The team claimed that Ma'ruf, who testified as a witness in the hearing, received a phone call from Yudhoyono on Oct. 6. The following day a meeting between NU executives and Democrats-backed Jakarta gubernatorial candidate pair Agus Harimurti Yudhoyono-Sylviana Murni took place at the NU headquarters on Jl. Kramat Raya, Central Jakarta. Ma'ruf attended the meeting.
You might also like :
Comments