Foreigners in capital hope for 'livable' city
Moses Ompusunggu

The Jakarta Post
Jakarta |

Fri, February 3, 2017

| 09:45 am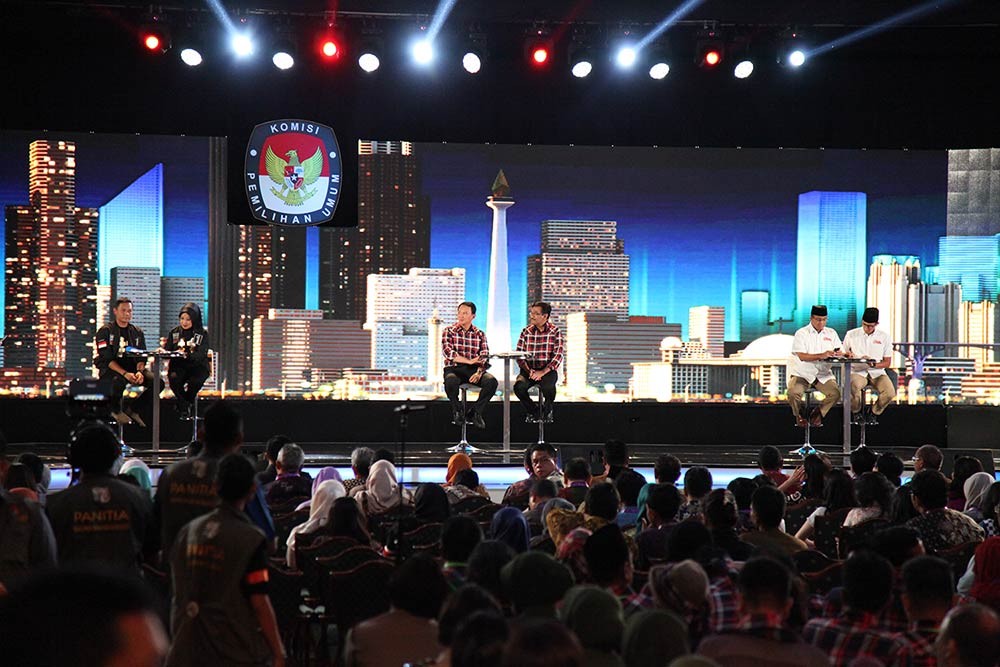 hree Jakarta governor-deputy governor candidate pairs, Agus Harimurti Yudhoyono-Sylviana Murni, Basuki "Ahok" Tjahaja Purnama-Djarot Saiful Hidayat, and Anies Baswedan-Sandiaga Uno stand at the stage during the second official debate at the Bidakara Hotel, South Jakarta, on Jan. 27. (JP/Donny Fernando)
Having lived in Jakarta for more than two decades, 56-year-old American Mark Winkel said there was one word to describe the capital: complicated.
"Many people like things to be simple in their lives, but I don't think people looking for a simple life want to live in Jakarta," Winkel, the principal consultant for public relations firm Prisma who resides in South Jakarta, told The Jakarta Post on Thursday.
A home to about 10 million inhabitants, the sprawling metropolis is bracing for the gubernatorial election slated for Feb. 15.
Although foreigners in the city have no voting rights, many of them, having lived in the city for years, even decades, have strong opinions about how the city leader should improve the capital.
During their campaigns, all three candidate pairs — Agus Harimurti Yudhoyono-Sylviana Murni; incumbents Basuki "Ahok" Tjahaja Purnama-Djarot Saiful Hidayat; and Anies Baswedan-Sandiaga Uno — have outlined a number of plans aimed at easing all the complexity of life in Jakarta, ranging from traffic congestion and bureaucracy to economic disparity.
Japanese business consultant Hiroaki, who has been living in Jakarta for 25 years, said a change in the capital's governorship would possibly affect the investment climate in Jakarta. "Foreigners may live in cities near Jakarta like Bogor, but business is always carried out in Jakarta," said the 47-yearold Hiroaki, who was born in Fukuoka.
Hiroaki, who declined to give his family name, said under the leadership of Ahok, who is currently on trial for blasphemy, he had seen improvements in several aspects of life in Jakarta, such as the bureaucratic process of business licensing.
"If a new governor is elected instead of Ahok, there are likely to be changes and that might affect potential investors," Hiroaki said, adding that such a thing was normal in any part of the world preparing for a new government.
In spite of all the complexity, some foreigners actually find Jakarta a nice place in which to live.
Often, they feel more at home in Jakarta than their countries of origin. "I feel somewhat strange when I return to my country. It is as if I am a foreigner [in my own country]," said MJ Kim, a 53-year-old South Korean and CEO of a courier firm based in Ragunan in South Jakarta.
Kim said he did not really follow the news about the Jakarta gubernatorial election but said he knew that the incumbent was seeking reelection. "In my opinion, he has good qualities, he is honest and tough."
Kim, who has been living for 21 years in the capital and currently resides in Fatmawati in South Jakarta, said that one thing the new governor needed to do was improve traffic conditions.
"A new Jakarta governor will have his work cut out for him, one task being congestion," Kim said.
Pakistani Amir Haral, who has lived in Jakarta since 2013 and works in the telecommunications sector, said he hoped the next Jakarta governorship would be an administration with "proper processes and procedures" and would provide solutions to the traffic and air pollution problems.
Kim's and Haral's opinions were also echoed by Winkel, who said he was "unwilling to sit in a car for hours to go somewhere it used to take only minutes to get to. So I think that's the biggest issue."
Winkel said whoever was elected Jakarta governor needed to focus on "making Jakarta a livable city", adding, however, that there was no easy solution to reduce the "complication of living in Jakarta."
You might also like :
Comments