Government stands firm as Freeport threatens to cut production
Fedina S. Sundaryani

The Jakarta Post
Jakarta |

Tue, February 7, 2017

| 08:15 am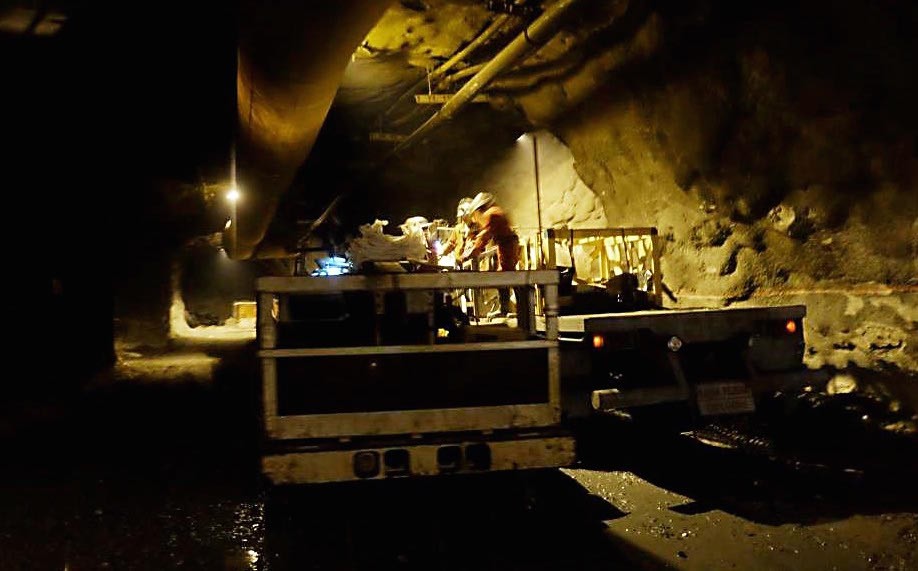 A scene of the underground activities of PT Freeport Indonesia in Tembagapura, Papua, in July. (Kompas Print/File)
The government seems set to ignore threats by United States mining giant Freeport-McMoran Inc to cut production at its Papuan mine and slash its local workforce if it does not receive a permit to continue exporting copper concentrates by the middle of the month.
Last month, the government relaxed a ban on mineral exports so long as miners still in possession of a contract of work (CoW) converted it to a special mining permit (IUPK).
Freeport Indonesia, the mining giant's local unit, has not complied, according to the Energy and Mineral Resources Ministry. The ministry's mineral and coal director general, Bambang Gatot Ariyono, said on Monday that not one mining firm had submitted an official application to convert to a IUPK.
"We have not given [Freeport Indonesia] an export permit because, as stipulated by ministerial decree No. 5/2017 and No. 6/2017, if the company has not submitted a proposal and has not fulfilled the requirements, then we cannot issue the permit. They must still submit a proposal," he said.
The conversion is stipulated in the two ministerial decrees as derivatives of the fourth revision of Government Regulation No. 23/2010 on the management of mineral and coal businesses that allows miners to continue exporting copper concentrates, certain amounts of low-grade nickel and washed bauxite.
The issuance of the ministerial regulation contravenes the 2009 Mining Law, which imposed a total ban on mineral ore exports in 2014, and stipulated that mining companies must build domestic smelters in a bid to strengthen the processing industry.
According to the Processing and Smelting Companies Association (AP3I), 32 new smelters — 24 of which are nickel smelters — have been built in the country since 2012, with a total investment of around US$20 billion.
Nevertheless, Freeport Indonesia has not shown significant progress in developing smelters, and with its status as a CoW holder, it was forced to stop exporting copper concentrates on Jan. 12.
This does not seem to bode well for either Freeport Indonesia or Freeport-McMoran, which issued a press statement last Friday demanding that the government grant it a continuation of exports or else the firm would have to reduce its production to match available domestic capacity at PT Smelting, which processes approximately 40 percent of Freeport Indonesia's concentrate production.
Freeport Indonesia said it would also be required to significantly adjust its cost structure, reduce its workforce and suspend investment in its underground development projects and new smelter.
"For each month of the delay in obtaining approval to export, PT FI's [Freeport Indonesia] share of production is projected to be reduced by approximately 70 million pounds of copper and 70,000 ounces of gold," it said.
Freeport-McMoran claims that by immediately converting to an IUPK, it would have to forgo its rights to fiscal and legal certainty and that it had "advised the government that it cannot accept these conditions unless a mutually satisfactory replacement agreement is completed". Meanwhile Bambang said converting to an IUPK would nullify Freeport Indonesia's CoW before its expiration in 2021.
Center for Energy and Mining Law (Pushep) executive director Bisman Bhaktiar said that although Freeport's production cut might hurt state revenues in the short term, the long-term benefits of forcing all CoW holders to convert to an IUPK would be fruitful for the downstream sector.
"If [Freeport] cannot export it will definitely have a negative impact in both the social and economic sense. However, that will only be for the short term and the government's task is to anticipate this and handle it quickly," he said.
Topics :
Join the discussions