If Singapore has a lion, why should Pontianak not have a ghost?
Severianus Endi

The Jakarta Post
Pontianak, West Kalimantan |

Thu, February 9, 2017

| 01:30 pm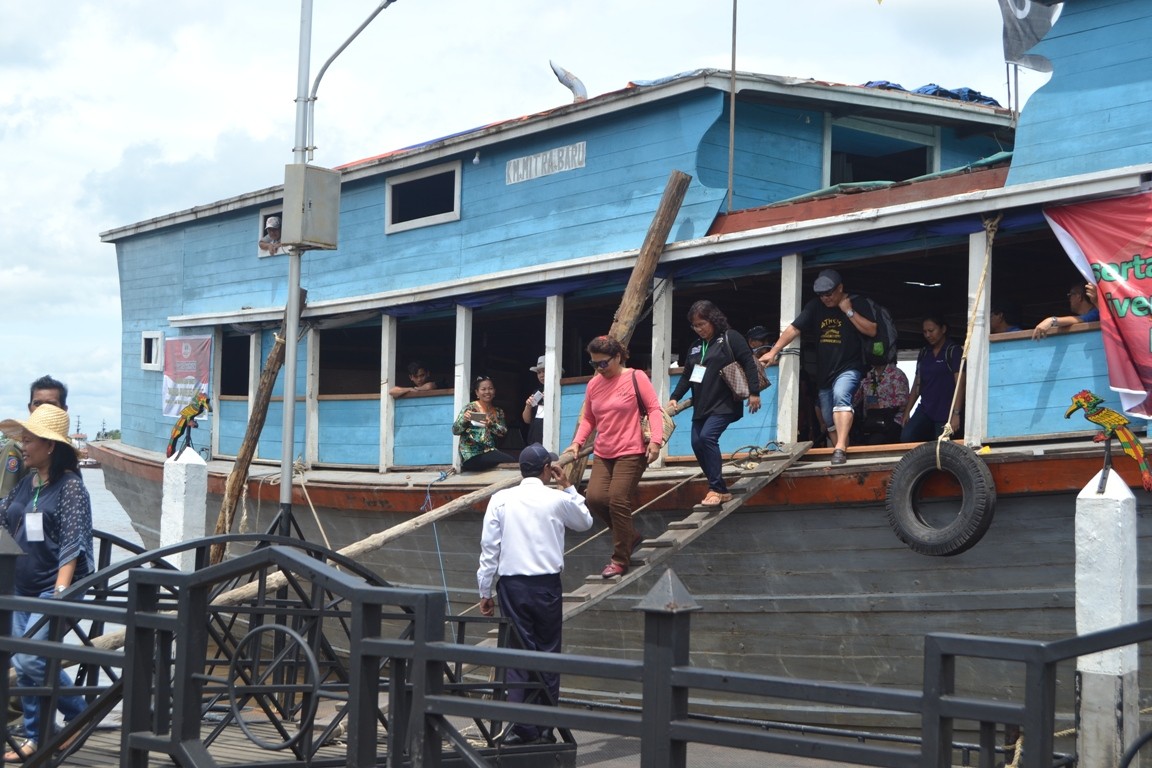 Passengers disembark from the Lake Sentarum-Kapuas River tourist boat during a stop at Kapuas square in Pontianak, West Kalimantan, on Jan. 30. (JP/Severianus Endi)
Singapore has the Merlion and Kuching in Malaysia has the Cat Statues attracting tourists to visit and take pictures.
So why should Pontianak not have its own city personification and build a statue of Kuntilanak, a mythical female ghost with long hair and a white nightgown seeking revenge for the loss of her child and her own life during childbirth?
It would be good for tourism, the head of West Kalimantan's Youth, Tourism and Sports Agency, Kartius, said recently.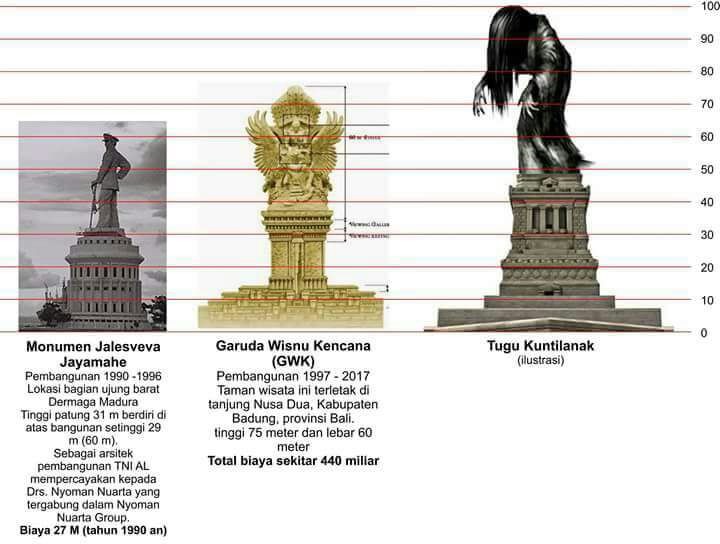 Netizens illustrate their views of how a 100-meter kuntilanak statue in the city might compare with existing statues elsewhere in the country. (Courtesy of Facebook/Meme)
"People say I'm a pagan, superstitious hillbilly [because of my idea]. Those who call me a hillbilly are the hillbillies, because they never go abroad," Kartius said. The Merlion, he said, attracted tourists and visitors to the country, who would feel they had yet to visit Singapore until they saw the statue of the mythical half-lion half-fish creature.
The same went for the Cat Statues in Kuching, he said.
In Singapore's case, "singa" means lion and in Kuching's case, "kucing" means cats.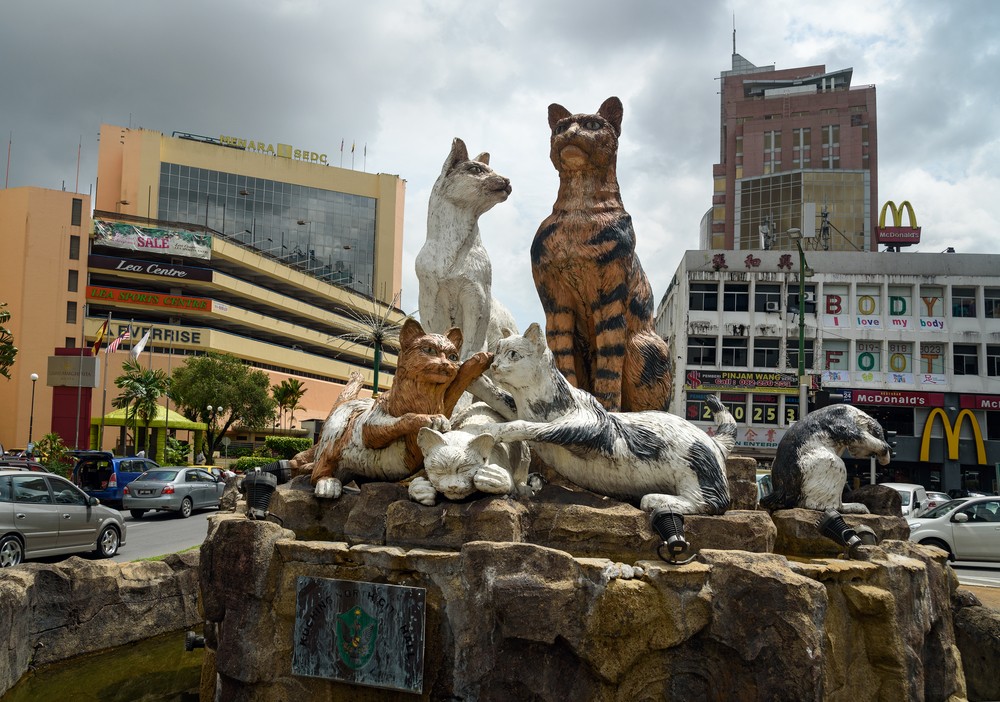 The cat monument in the center of Kuching, Sarawak, in Malaysia. Kuching means 'cat' in Malay.(Shutterstock/Elena Mirage)
In Pontianak's case pontianak is the Malay word for kuntilanak, the scary female ghost resembling Sadako Yamamura of the horror movie The Ring.
"I have never seen a kuntilanak, so if you have no idea how to make the statue, look at my face. It's alright, you may call me crazy, I'm fine," Kartius joked when asked about his idea about a 100-meter statue of a kuntilanak towering where Kapuas River and Landak River meet.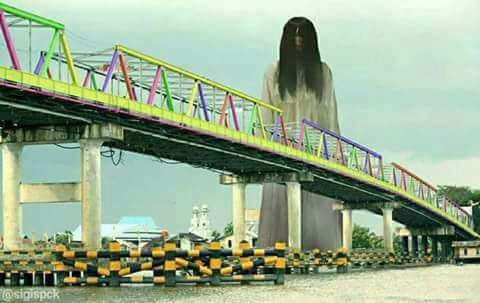 Pontianak netizens circulate illustrations of what a 100-meter kuntilanak statue in the city might look like, in response to an official's idea to attract tourists to the city. (Courtesy of Facebook/File)
The height, Kartius said, was to afford visitors a good view from the topmost floor.
Some residents are apparently less than charmed by his idea. A group calling itself Residents Movement Rejecting the Ghost Statue (Gema Topan) came to the West Kalimantan City Council building to protest the idea late last month.
Five representatives of Gema Topan were received by an official of the West Kalimantan Council, Irwan Suhandar, who said the City Council had yet to receive any official information about it from the administration.
"It's only an idea," he said.
Netizens, meanwhile, appear to enjoy the idea, creating illustrations of what such a statue might look like.
Folklore has it that when the founder of the Pontianak Sultanate, Abdurrahman Alkadrie, first came to the land to build his sultanate, he had a sighting of a kuntilanak or pontianak, hence the name.
Kartius himself does not believe he can see through his plan to attract more tourists to the city, because he will retire next year. But he said he had talked with officials at the Public Works and Public Housing Ministry, who had said the central government would help with the allocation of a special funds should the Pontianak administration decide to build the statue. "The private sector has also offered to find investors," he said. (evi)
You might also like :
Comments