Palace calls on SBY to leave Jokowi out of Antasari spat
Marguerite Afra Sapiie, Haeril Halim and Margareth S. Aritonang

The Jakarta Post
Jakarta |

Thu, February 16, 2017

| 07:29 am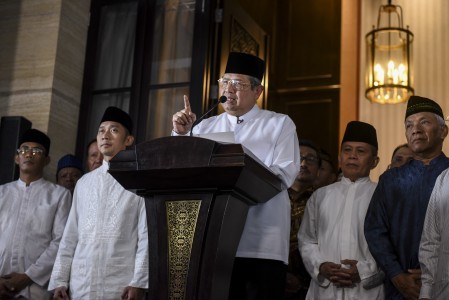 Former President Susilo Bambang Yudhoyono and chairman of Democratic Party Susilo Bambang Yudhoyono speaks at a press conference at his house in Mega Kuningan in Jakarta on Tuesday, Feb. 14. (Antara/Hafidz Mubarak A.)
The State Palace has responded coolly to allegations made by former president Susilo Bambang Yudhoyono that President Joko "Jokowi" Widodo's decision to grant clemency to murder convict and former antigraft chief Antasari Azhar was politically motivated and part of an attack on the Democratic Party leader.
State Secretary Pratikno said on Wednesday that Yudhoyono should leave the President out of his personal feud with Antasari, who has accused Yudhoyono of orchestrating the murder case against him.
Pratikno said the former Corruption Eradication Commission (KPK) leader was acting alone when he publicly accused Yudhoyono of abusing his power to criminalize him.
"Don't believe [the government] had any agenda when granting clemency. We complied with the prevailing regulations in making the decision on the clemency, including having received a recommendation from the Supreme Court," the official said.
(Read also: SBY behind murder accusations against me: Antasari)
Jokowi granted clemency to Antasari on Jan. 25. A day later, Antasari met with the President at the State Palace where the former, Pratikno said, shared his experiences as KPK leader.
Yudhoyono launched a tirade against his successor, Jokowi, on Tuesday accusing the President of using Antasari to attack him and his family. Yudhoyono's remarks were made the night before the Jakarta gubernatorial election in which his son, Agus Harimurti, was a candidate.
Agus fared poorly in Wednesday's election, garnering less than 20 percent of the vote and has been forced to quit the race.
Jokowi has yet to issue a statement regarding Yudhoyono's latest salvo.
The President has typically avoided confrontation with his predecessor, even though tensions between the two have been brewing for months, particularly since the start of the Jakarta gubernatorial race, which pitted Agus against Jakarta Governor Basuki "Ahok" Tjahaja Purnama, a close Jokowi ally.
Tuesday was not the first occasion that Yudhoyono accused Jokowi of being responsible for what he claimed were political attacks against him and his family ahead of the Jakarta gubernatorial election.
On Jan. 31, Ahok's lawyers claimed Yudhoyono had phoned Indonesian Ulema Council (MUI) chairman Ma'ruf Amin on Oct. 7, 2016, asking the latter to issue a fatwa that was later used by the police to name Ahok a blasphemy suspect on Nov. 17.
Ahok's lawyers said they had evidence of the conversation, a claim that was interpreted by Yudhoyono as indicating that his phone had been tapped by the government.
On Feb. 1, Yudhoyono held a press conference accusing the government of illegally bugging his phone and demanding Jokowi instruct law enforcement to investigate the case.
Pratikno said he was bewildered by the fact that Jokowi and the palace were always associated with anything untoward related to Yudhoyono. "We should treat things proportionally. Don't link everything to the palace and the President," Pratikno said.
Meanwhile, media and business tycoon Hary Tanoesoedibjo has denied any involvement in Antasari's murder case.
Antasari had claimed that Hary, founder of the MNC media group and business partner of United States President Donald Trump, was sent by Yudhoyono to ask Antasari not to arrest Aulia Pohan for corruption in 2009. Aulia is the father-in-law of Agus and was at the time a Bank Indonesia deputy governor. Antasari said he was charged with murdering business executive Nasrudin Zulkarnaen a few weeks after rejecting Hary's request.
"All of [Antasari's claim] is slander. I don't want to waste my time responding to it," Hary said, adding that had no intention of following Yudhoyono's lead in reporting Antasari to the police for defamation.
Topics :
You might also like :
Comments