Tjhai Chui Mie, Singkawang's first female mayor
Severianus Endi

The Jakarta Post
Singkawang, West Kalimantan |

Sat, February 18, 2017

| 09:56 am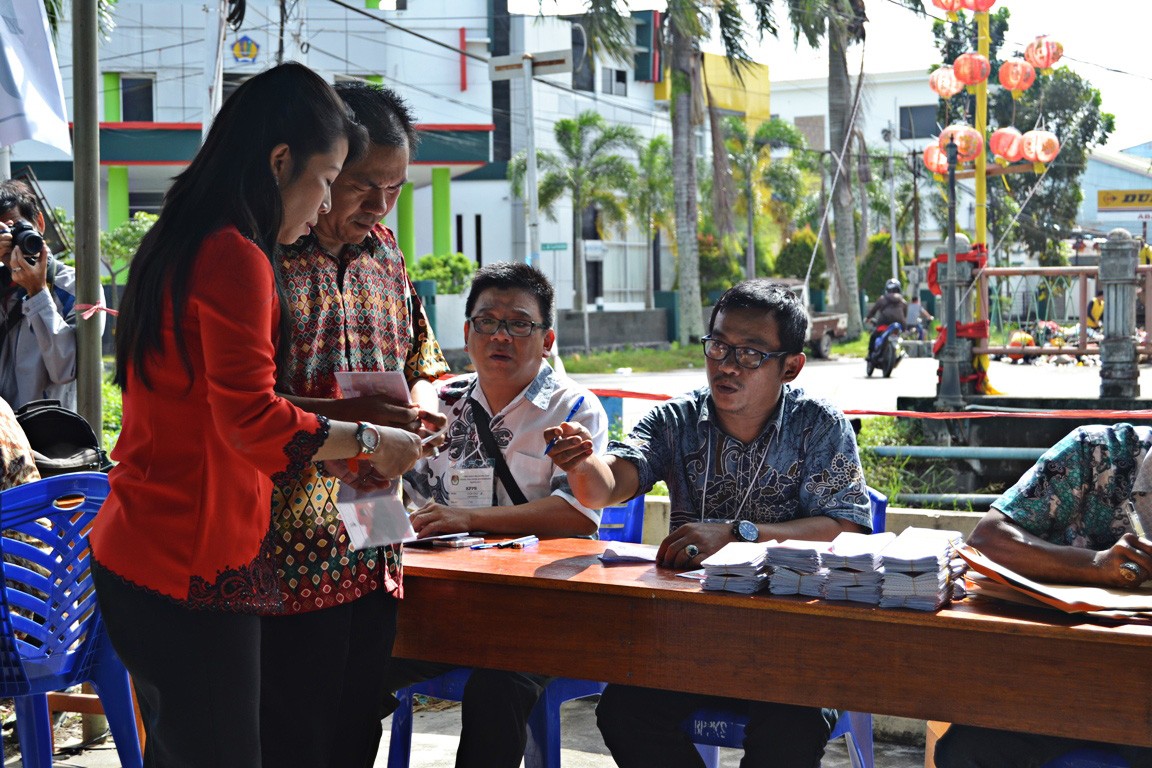 New history: Mayor candidate Tjhai Chui Mie (left) and her husband, Lim Hok Nen (second left), receive ballot papers during the voting day in Singkawang, West Kalimantan, on Feb.15. (JP/Severianus Endi)
Chinese-Indonesian Tjhai Chui Mie and her running mate Irwan are set to be declared the new mayor and deputy mayor of Singkawang in West Kalimantan after the official vote count had them leading with 42.6 percent.
Chui Mie will be inaugurated as the first female mayor since Singkawang became an autonomous region in 2001.
"Women must be equal with men. Sorry guys, women have more advantages than men. We can deal with all types of issues from domestic matters to governing a city administration," the former Singkawang Legislative Council speaker jokingly said on voting day on Wednesday.
Backed by the nation's ruling party, the Indonesian Democratic Party of Struggle (PDI-P), as well as the NasDem, Democratic and Hanura parties, Chui Mie-Irwan defeated another female Chinese-Indonesian candidate Tjhai Nyit Khim and her running mate Suriyadi.
Nyit Khim, also known as Malaika Fitri, is wife of mayor Awang Ishak. The Nyit Khim-Suriyadi ticket, which was backed by the Golkar Party, the United Development Party (PPP) and the Indonesian Justice and Unity Party (PKPI), came third with 13.5 percent or 12,217 votes.
The pair with the second-most votes was incumbent deputy mayor Abdul Mutalib and running mate Muhammadin.
Backed by the National Awakening Party (PKB), the Gerindra Party, the National Mandate Party (PAN), and the Prosperous Justice Party (PKS), they received 26.7 percent of the vote.
The independent ticket Andi Syarif-Nurmansyah came last with 17.13 percent.
During her campaign, Chui Mie promoted her program dubbed "Great Singkawang", which focused on bureaucratic reform.
"We want to eradicate corruption and illegal levies. [Bureaucrats] are paid by the state, so why remain corrupt?" she said.
Known for its large ethnic-Chinese population, Singkawang was declared Indonesia's third most tolerant city by the Setara Institute in 2015. Other significant ethnicities in the city include the Malay and Dayak.
But Wijaya Kurniawan, the chairman of the Singkawang chapter of the Chinese Customary and Culture Council (MABT), said the new mayor must remain alert for potential conflicts.
"Diversity can be sensitive but communication is the key to remain united," Wijaya said.
Dayak Customary Council (DAD) Singkawang head Aloysius Kilim, meanwhile, called on Chui Mie to treat all Singkawang residents fairly, "including those who did not vote for her."
The chairman of the Singkawang chapter of the Malay Customary and Culture Council (MABM), Edy R. Yacoub, called on the people in the city to accept the election result and remain united while continuing to respect diversity and tolerance.
Topics :
You might also like :
Comments