Police terminate investigation into UI lecturer's alleged blasphemy
News Desk

The Jakarta Post
Jakarta |

Mon, February 20, 2017

| 11:07 pm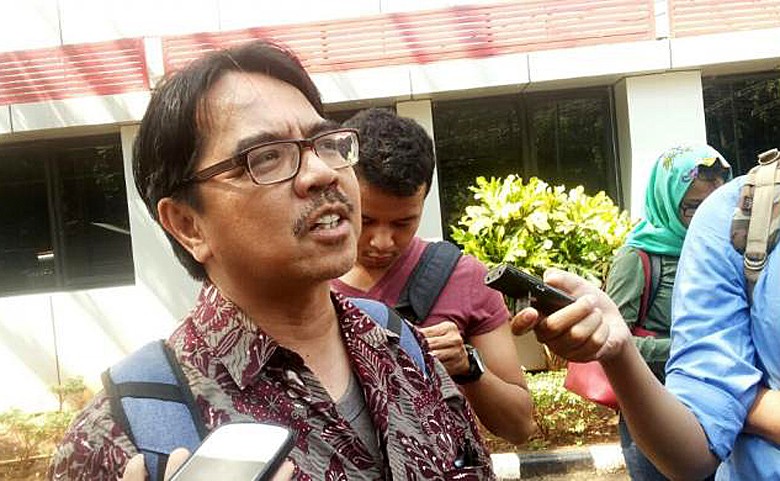 University of Indonesia (UI) lecturer Ade Armando speaks to journalists after attending a questioning at the Jakarta Police headquarters on June 23, 2016. (Kompas.com/ Akhdi Martin Pratama)
The Jakarta Police have issued an investigation termination warrant ( SP3 ) on a case of alleged blasphemy involving Ade Armando, a lecturer of Communication Sciences at the University of Indonesia (UI).
The director of the police's special crime investigation unit, Sr. Comr. Wahyu Hadiningrat, said investigators could not find indications of criminal activity in the case, which prompted them to terminate their investigation.
"The warrant was issued after we investigated several witnesses. Language, criminal law and information and electronic transactions experts concluded there were no criminal elements in the case," said Wahyu as quoted by kompas.com on Monday.
He said it was possible for the police to issue an SP3 after Ade had been named a suspect in the case.
The police summoned Ade for questioning twice, the first of which was in 2015 before he was named a suspect. "If criminal elements cannot be found, it is possible to issue an SP3," said Wahyu.
(Read also: UI lecturer named suspect for social media posts)
The case began when Ade wrote a statement that read "Allah is not Arabic" on his Facebook account in May 2015.
"On my Facebook status on May 20, 2015, I stated 'God is not Arabic. God must be very happy if His verses are read in Minang style, Sumatran style etc'," the lecturer said during a questioning at the Jakarta Police headquarters in June last year.
Ade said he made the online post in response to Religious Affairs Minister Lukman Hakim Saifuddin's plan to hold an Indonesian-style Quran recitation competition.
On May 23, 2015, a Twitter user identified as Johan Khan under the account @CepJohan reported Ade to the Jakarta Police. (ebf)
You might also like :
Comments