Prison riot erupts in Jambi
Jon Afrizal

The Jakarta Post
Jambi |

Thu, March 2, 2017

| 01:59 pm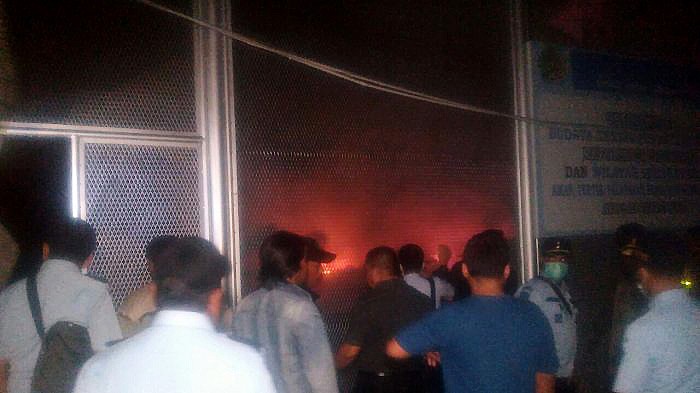 Burned down: Fires flare up inside the Jambi Class II A Penitentiary during a riot on Wednesday evening. (Courtesy of Tribunnews.com/File)
An uprising broke out at Jambi Class II A Penitentiary on Wednesday evening. Several inmates became violent, burning down the prison's canteen and meeting hall. The riot erupted at around 9 p.m. local time and lasted until midnight.
The riot began when inmates in drug and general crime blocks rejected anti-narcotics operations that would be conducted by Jambi-chapter National Narcotics Agency (BNN) personnel and attacked the officers.
The inmates later poured out of their cells and began to burn the canteen and meeting hall. Police and military personnel were dispatched to suppress the riot.
Six male inmates got shot by security officers. One of the police officers deployed was wounded by stones thrown by the inmates. Those injured were taken to a nearby hospital. Meanwhile, female inmates were moved to other rooms deemed safer.
"No injuries or fatality were reported in the riot," Jambi Police chief Brig.Gen. Yazid Fanani said on Thursday. Police and military personnel are still on guard at the location.
Yazid said mediation between representatives of the government and the prison's inmates had been conducted following the incident. During the mediation, representatives of the inmates urged the government to replace Jambi Prison warden Djarot Sugiarto.
Citing complaints of inmates in the prison, they said many of his policies, such as poor access to health care services for those who were ill, had inflicted losses upon the inmates. This was one factor that triggered a riot in January.
Acting Jambi administration's regional secretary Erwan Malik, who attended the mediation, said he would accommodate the inmates; however, certain mechanisms must be fulfilled in realizing their demands. (ebf)
You might also like :
Comments