Indonesia's war on drugs takes deadly turn
Marguerite Afra Sapiie

The Jakarta Post
Jakarta |

Mon, March 13, 2017

| 07:08 am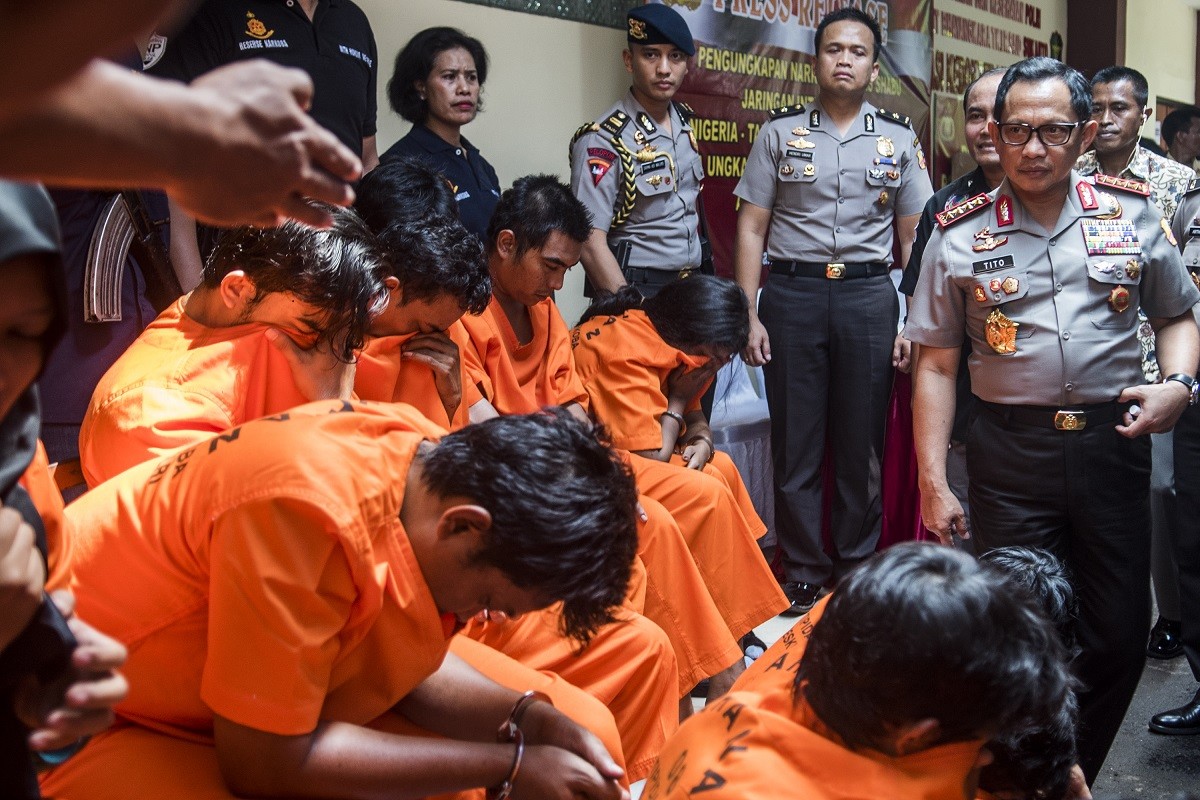 National Police chief Gen. Tito Karnavian (right) is about to brief the media following a major drug bust in Jan. 6. Police and Customs Office managed to arrest 15 suspects, including three foreigners, seizing 549 kilograms of marijuana and 610 grams of crystal meth. (Antara/M. Agung Rajasa)
Rebuffing an outcry over the previous execution of 18 deathrow inmates, most of whom were drug convicts, President Joko "Jokowi" Widodo has instructed officers in relevant agencies to hunt, arrest and "crush" smalland big-time drug dealers.
"If it [a shoot-on-sight policy] was allowed by law then I would order the National Police and the BNN [National Narcotics Agency] chief to do so, but luckily it is not," President Jokowi said in a speech to mark the International Day Against Drug Abuse and Illicit Trafficking last year.
Jokowi's words appear to have inspired members of law enforcement agencies to get tough on drug traffickers.
BNN chief Comr. Gen. Budi Waseso may have taken cues not only from Jokowi, but also Philippine President Rodrigo Duterte.
Duterte's war on drugs, which has been condemned by human rights groups for violating human rights, has killed over 8,000 people, including more than 2,500 who died in shoot-outs during raids, since the campaign started eight months ago.
A man of controversy himself, Budi has frequently told BNN personnel not to hesitate to shoot drug traffickers, dealers and users who resist arrest. He once went further by saying the lives of drug dealers were worthless, which made media headlines last year.
To put his words into actions, the BNN has procured highly lethal weapons, imported from Germany, Russia, the United States and the Czech Republic. Budi claimed that one of the four new firearm types could penetrate a reinforced wall in a single shot.
"As [drug mafias] are now using weapons, we will also use weapons to counter them. If they fight back [during arrest] we will not hesitate to shoot them. If they are killed [because they fight back], it's their own fault," Budi said in a recent interview.
The National Police have also joined the fray, with police chief Gen. Tito Karnavian instructing personnel to use deadly force against suspected drug dealers if they resist arrest during raids.
Tito, however, has made it clear that officers can only fire when suspects use weapons or pose a threat to officers and other people during their arrest, as instructed by the Criminal Code and standard operating procedures (SOP) in the form of a National Police chief regulation (Perkap).
Rights groups, which are closely watching Jokowi's stepped-up war on drugs, have been alarmed by the rising casualties.
The Commission for Missing Persons and Victims of Violence (Kontras) has revealed that the number of alleged drug dealers shot dead in raids is increasing.
Data from Kontras, which was collected through media monitoring only, revealed that since January 2016, 32 suspected drug dealers were reportedly shot dead in raids, both by police personnel following orders from the BNN and by officers working on regular operations.
"The actual figure could be higher because this is only the data we compiled through media monitoring. We don't talk about arbitrary shootings that were not covered or reported to human rights watchdogs," Kontras deputy coordinator Puri Kencana Putri told The Jakarta Post.
Data from Kontras also revealed that August last year was the deadliest month on record, with nine fatalities reported by the media. While the period between Jan. 22 and Dec. 31 saw 14 deaths, the first three months of 2017 had over half that number of casualties.
Since Jan. 6, 18 suspected dealers have been shot dead in raids.
Both the BNN and the National Police's Criminal Investigation Department (Bareskrim) narcotics division declined to elaborate on the death toll from drug raids when the Post requested further details.
(Read also: BNN Central Java foils drug smuggling from Germany)
The BNN's eradication department head, Insp. Gen. Arman Depari, acknowledged that the number of suspected drug traders shot dead for resisting arrest was likely to have increased in recent years.
The Institute for Criminal Justice Reform (ICJR), which also monitors the issue, said there could be a link between the application of capital punishment and the increasing number of fatalities in raids.
"Drug dealers know that the maximum sentence for them is the death penalty. Psychologically, they will put up a stronger fight because they know if they are arrested, they could be executed," ICJR executive director Supriyadi Widodo Eddyono told the Post.
Topics :
You might also like :
Comments