Death, torture cases reveal issues faced by migrant workers
Panca Nugraha and Luh De Suriyani

The Jakarta Post
Mataram/Denpasar |

Wed, March 15, 2017

| 09:21 am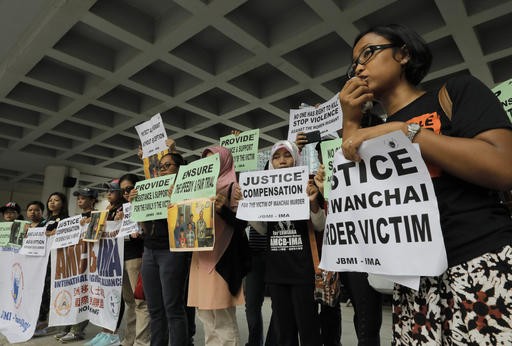 A migrant workers alliance group holds placards to protest the killings of two Indonesian women in 2014 outside the High Court in Hong Kong, Oct. 24, 2016. (AP/Vincent Yu)
Success stories of Indonesian migrant workers (TKI) also come with bitter tales, such as Sarafiyah Binti Muhammad Saleh who died after allegedly being tortured by her employer in Dubai in the United Arab Emirates.
The West Nusa Tenggara (NTB) Indonesian Migrant Workers Protection and Recruitment Office (BP3TKI) helped return Sarafiyah's body to her family in Dompu regency. Her body was sent from Dubai on Tuesday and would arrive in Mataram on Wednesday.
"We received a report that Sarafiyah died from being tortured by her employer," the NTB office head Mucharom Ashadi said on Tuesday adding that the case was being processed in Dubai.
The death case also revealed that Sarafiyah was an undocumented migrant worker in Dubai.
The agency helped return another migrant worker from Bima named Muslim Aljabar on Tuesday.
Mucharom said Aljabar died from an accident at his workplace in Port Moresby in Papua New Guinea.
Aljabar was also an undocumented migrant worker, he added.
The NTB BP3TKI office has been handling 111 cases of Indonesian migrant workers hailing from NTB facing problems abroad. The figure came from the January to February period. Of the cases, 77 were experienced by legal or procedural workers while the 34 others were experienced by illegal or non-procedural workers.
"The problems varied, ranging from light to heavy ones," the office's protection section head Noerman Adhiguna told The Jakarta Post on Tuesday.
The office would handle the cases after receiving reports from the workers' respective families.
"Mostly the families filed reports with us and asked us to facilitate their return home," said Noerman, adding that some of the illegal workers had been brought home in stages.
Besides ill-treatment, the cases usually stemmed from disputes between the illegal workers and their employers. The cases could include unfair wages or unpaid insurance claims.
The BP3TKI would help to mediate and facilitate workers' rights abroad.
Noerman said last year his office handled over 570 cases of TKI from NTB facing problems abroad, most of the cases occurred in Malaysia.
"The figure was small compared to the number of TKI from NTB working abroad, which amounts to 40,000 annually," he said.
There was another recent case of alleged torture, suffered by Sri Rabitah from North Lombok, who was in the center of alleged organ trafficking news last month. She was admitted to Sanglah Provincial Hospital in Denpasar as part of her physical examinations after she reported abdominal pain after returning from Qatar.
West Nusa Tenggara Provincial Hospital (RSUP NTB) in Mataram announced that she had not lost her kidney but needed more checks on her health. The hospital then referred her to the Sanglah Hospital, which performed abdominal surgery on her on Monday to ease the inflammation around her bladder.
Kadek Nariyantha, spokesman of the hospital, said Rabitah was in critical condition when she was referred to the hospital, but now she had regained consciousness.
The team of doctors who handled her case said she suffered from peritonitis on her abdomen.
"The patient also suffered from anemia, low hemoglobin, and she had not defecated for a week," he said.
Muhammad Saleh from the Center for Legal Aid for Indonesian Migrant Workers (PBHBMI), who gave legal assistance to Rabitah, suspected that she was a victim of human trafficking. Moreover, Saleh claimed Rabitah also suffered torture while working as a domestic worker for a family in Qatar.
Join the discussions