Foreigners eager to revisit Jakarta
Winda A. Charmila

The Jakarta Post
Jakarta |

Wed, March 22, 2017

| 08:56 am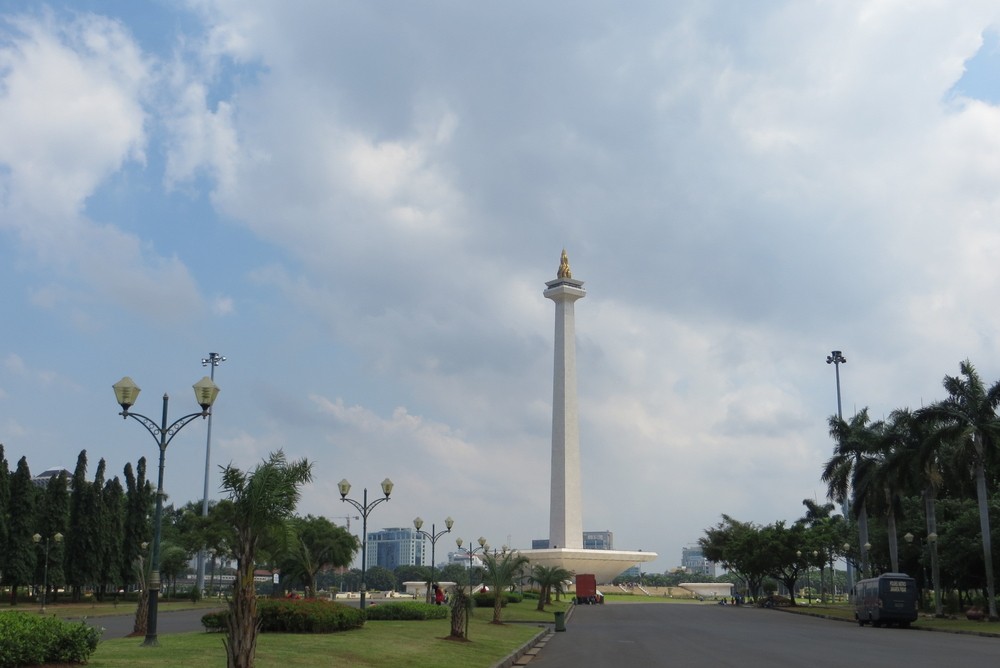 National Monument Park or Monas Square. (Shutterstock/Georgina Captures)
The idea that a tourist could fall in love with Jakarta, notorious for its traffic and pollution, so much so that they would want to revisit the capital might seem bizarre for Jakartans, who oftentimes try to escape the suffocating city.
However, it is exactly what New Yorker Paul Mentz plans to do.
Last week, Mentz was on a four-day business trip in Jakarta. As it was his first time visiting Jakarta, he decided to spend a whole day touring the megapolitan. First he visited the National Monument (Monas) along with his four co-workers. While strolling around the monument, they saw the Istiqlal Grand Mosque and the Jakarta Cathedral and decided to pay a visit.
The scorching sun that day did not curb his enthusiasm. Mentz was impressed by the fact that the mosque had been built right across the cathedral.
"Well, this is my first time here so that's interesting in itself. I was not sure what was here but I like what I saw. We went to the monument already, that was nice […] What's interesting is that the mosque is right across from a church." Mentz said recently while sweat dripped from his forehead.
Even though Jakarta was crowded and the weather was hot and humid, Paul said it was OK, as his hometown, New York, was also crowded.
The sights that the city offers is enough to make him want to return with his wife.
"I told my wife, 'if I bring you back here, we're probably going to [rent] a resort upon the water' as we like the ocean and beach. We would do that if we come back here. I told her that I would take her to Jakarta," said Mentz.
With tall buildings sprawling throughout the metropolitan, Jakarta might not be able to offer breathtaking natural landscapes for foreign tourists on vacation. However the city offers several historic sites, such as Kota Tua, a vibrant night life and an increasing number of five-star hotels and facilities for meetings, incentives, conferences and exhibitions (MICE).
According to Jakarta Central Statistics Agency (BPS) data, the number of foreign tourists visiting Jakarta increased by 5.4 percent to 2.5 million last year from 2.3 million in 2015. Most of the tourists are Chinese citizens, which account for 321,000 tourists, followed by Malaysia and Japan with 288,000 and 200,000 visitors, respectively.
Jakarta Tourism Agency head Catur Laswanto said Jakarta might offer a different travel experience as most foreigners came to the capital for business. The agency sees it as an opportunity to lure business travelers to extend their visit or revisit the city.
"Our hotels here can compete at the international level and are affordable enough," Catur said, adding that amiable services could prompt businesspeople to stay longer for non-business matters.
Mentz, for instance, was pleased with the service of the hotel where he stayed, a five-star hotel in Central Jakarta, which offers a view of the Senayan Golf Course. "We've played golf at the golf course. It's beautiful."
Besides world-class accommodation, Jakarta is also home to various music festivals, such as the Java Jazz Festival and Djakarta Warehouse Project (DWP), which attract tourists worldwide to visit the city.
(Read also: DJ performances in Jakarta to look out for in April)
The city administration will support such events by easing permit issuance, ensuring security and cutting taxes for the events, according to Catur.
The agency also plans to finish renovations at Kota Tua next year in a bid to attract more foreign tourists.
"We are upbeat that the number of foreign tourists will increase by at least 10 percent this year," Catur said.
Meanwhile, Nathan Bernfield from Sydney, who visited Jakarta in 2015, said he would want to go back to the city to have the chance to mingle with locals and attend music festivals.
"I would not want to go to any tourist attractions […] and maybe stay for a longer period of time to appreciate the city more. And probably attend some music events and visit the port in North Jakarta [Tanjung Priok Port]," he said. "As a foreigner, I simply enjoy meeting locals and getting to know a city through conversations and interactions with them."
Topics :
Join the discussions