Snake eats human in Sulawesi, under pressure of deforestation: Expert
Andi Hajramurni

The Jakarta Post
Makassar |

Wed, March 29, 2017

| 08:34 pm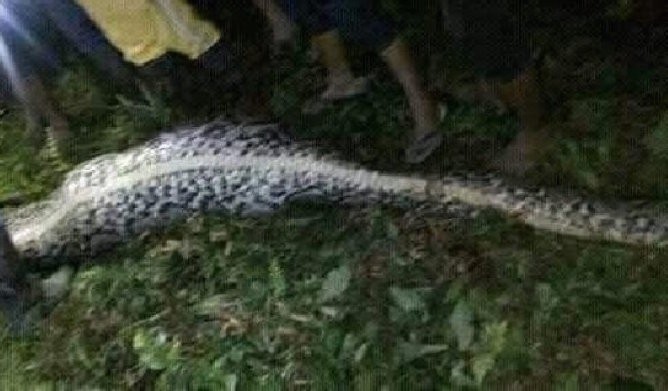 Residents of Salubiro village in West Sulawesi catch a 7-meter-long python that ate a farmer on Monday. (Tribunnews/File)
The incident of a large python eating a man in a West Sulawesi village has triggered new concern over "uncontrolled" deforestation across the country, which many believe to be responsible for the numerous incidents of animals attacking humans.
The body of Akbar, a 25-year-old palm oil farmer in Salubiro village, Karossa district, Central Mamuju regency, was found inside the belly of a 7-meter-long python near his palm oil plantation on Monday night.
Rahmansyah, an agriculture lecturer from Hasanuddin University in Makassar, said the killer snake might have had its habitat disturbed by the growing human activities in the area, such as palm oil plantations that have continued to expand.
"Because the habitat is destroyed, the snake's natural food sources are also affected. Thus, the snake went out to the palm oil plantation to seek prey," he said on Wednesday.
According to Rahmansyah, the forest was the python's natural habitat but had continued to expand into a palm oil plantation. "It's becoming more difficult for the animals to find their natural food," he said.
(Read also: Indonesian man found dead in belly of 7m-long python)
Junaedi, the secretary of Salubiro village in West Sulawesi, said the last time such a large python was found in the area was in the 1990s, when the forests started to transform into palm oil plantations.
Shocked by the incident, farmers in the village had stayed at home over the past few days when it was actually time to harvest palm oil. (bbs)
Join the discussions