House accuses KPU, Bawaslu selection team of 'poor credibility'
Nurul Fitri Ramadhani

The Jakarta Post
Jakarta |

Thu, March 30, 2017

| 08:22 pm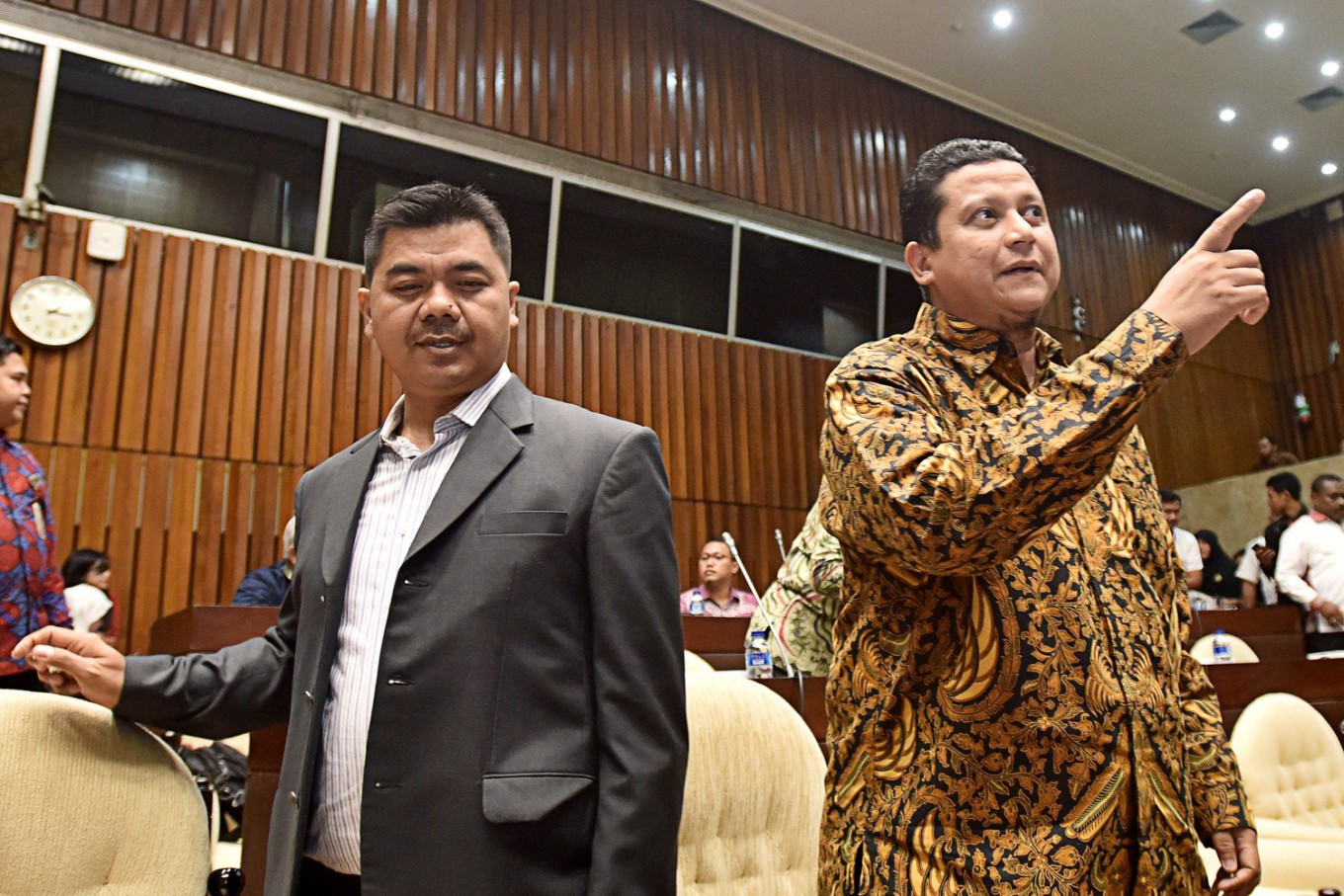 Ahead of voting day – Elections Supervisory Agency (Bawaslu) Muhammad (right) talks with General Elections Commission (KPU) head Juri Ardiantoro (left) prior to a hearing on the 2017 regional elections at the House of Representatives Commission II, which oversees regional affairs, in Jakarta on Jan.13. (Antara/Wahyu Putro A.)
The House of Representatives Commission II overseeing home affairs has said the selection team for new commissioners at the General Elections Commission (KPU) and Elections Supervisory Agency (Bawaslu) has been partial and not objective.
During a hearing on Thursday, commission II members called the capability of the team into question, saying that the 14 KPU commissioner candidates and 10 Bawaslu candidates the team had selected were incompetent.
All factions in the commission questioned why five incumbent KPU candidates were able to pass the first selection stage but Bawaslu incumbents were unable to do the same.
"Three Bawaslu commissioners, who have worked well with us, failed to pass the selection, but five KPU commissioners who have often gone against the House's wishes passed the process. That's weird," said Commission II member Zulkifli Anwar of the Democratic Party.
(Read also: House questions KPU, Bawaslu selection team over screenings)
Five KPU commissioners, namely Ferry Kurnia Rizkiyansyah, Sigit Pamungkas, Arief Budiman, Hasyaim Asy'ari and Idha Budhiati, made it into the top 14. Three Bawaslu commissioners only reached the preliminary stage. The agency's chairman, Muhammad, only reached the top 36 while Nelson Simanjuntak and Daniel Zuchron, who both are active commissioners, only passed the administrative stage.
Twenty-four candidates for commissioner positions at the KPU and Bawaslu are scheduled to undergo confirmation hearings from April 3 to 5.
While Bawaslu commissioners are widely praised as "cooperative" with the House, current KPU commissioners have tended to reject House intervention. They filed a judicial review against Article 9 of the 2016 Regional Elections Law at the Constitutional Court. The article obliges them to consult with the House before passing any KPU regulations and to respect the House's decision. (ebf)
Join the discussions