DPD speakership election violates law, experts say
Nurul Fitri Ramadhani

The Jakarta Post
Jakarta |

Mon, April 3, 2017

| 01:42 pm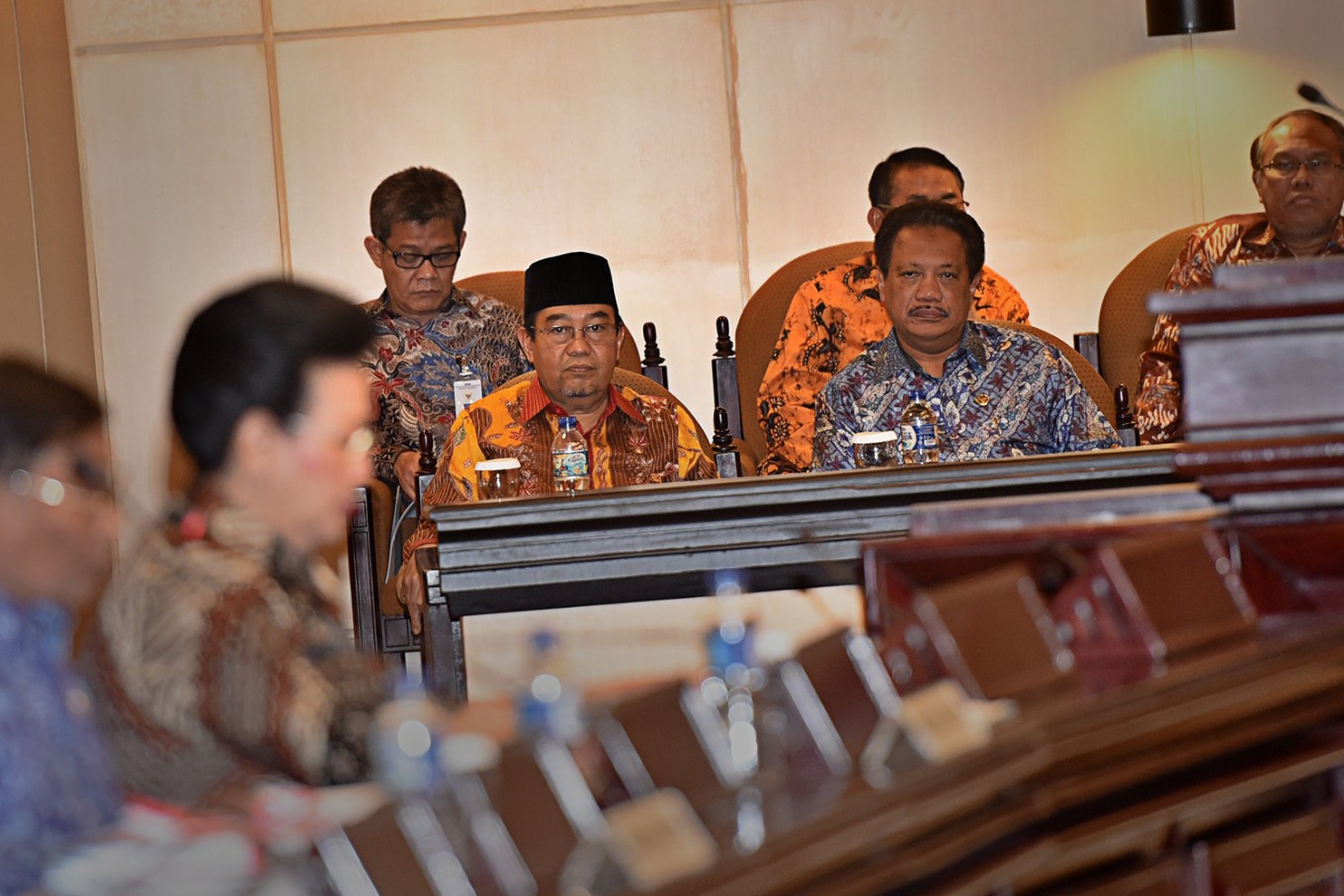 Supreme Audit Agency (BPK) head Harry Azhar Azis (front, center), and his deputy Sapto Amal Damandari (front, right) attend a plenary meeting at the Regional Representative Council in Jakarta on Oct. 5. (Antara/Yudhi Mahatma)
Experts in constitutional law have warned the Regional Representatives Council (DPD) not to hold a speakership election and instead obey a Supreme Court ruling blocking the election.
The Supreme Court has annulled the council's code of conduct, DPD Regulation No. 1/2016, which halved the tenure of DPD speakers and deputy speakers from five years to two-and-a-half years, and revoked DPD Regulation No. 1/2017, which stipulated that the new regulation was applicable for speakers serving during the 2014-2019 period.
The ruling is supposed to prevent the DPD from holding a speakership election to let the current speaker and deputy speakers go on with their tenure until 2019. But a number of councilors have insisted on pushing for the election, claiming that the ruling was not valid due to some editorial errors.
"Clerical errors have nothing to do with the substance. The councilors' attempt to ignore the court's ruling is illegal," constitutional law expert Feri Amsari, who is a researcher at the Center For Constitutional Studies at Andalas University in West Sumatra, told The Jakarta Post on Monday.
The dispute in the council, he said, was no longer about legal matters, but had morphed into a political and power struggle.
(Read also: Blocked by Supreme Court, DPD meets to decide on plan to elect new speaker)
Another expert from the university, Saldi Isra, said the DPD would violate the law if it insisted on carrying on with the election.
"What's the point of the dispute? The DPD just needs to follow the court's ruling because it's final and binding," Saldi said. (wit)
Join the discussions