When Jokowi's flattery of Saudi king strays off-key
News Desk

The Jakarta Post
Jakarta |

Mon, April 17, 2017

| 08:18 am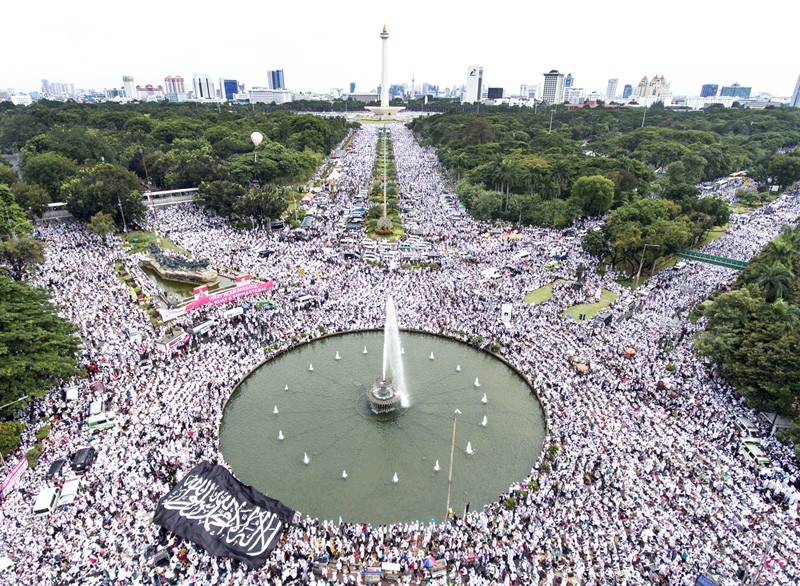 Protesters' mecca: Muslims gather near the National Monument in Jakarta on Friday as they rally against Jakarta Governor Basuki "Ahok" Tjahaja Purnama, whom the police have named a blasphemy suspect. (Antara/Sigid Kurniawan)
Amid the simmering sectarian tension in the Jakarta election that has radicalized conservative Muslims, President Joko "Jokowi" Widodo has found himself in an uncomfortable position.
While still aiming to maintain support from mainstream Muslim groups in the country, he finds his support for incumbent Jakarta Governor Basuki "Ahok" Tjahaja Purnama, who has been accused of blasphemy, antagonizing the groups.
As the groups' political movement grows, Jokowi has become concerned about the activism calling people to separate religion and politics and uphold the country's pluralism.
Only to withdraw the statement weeks later, saying that his only concern was national unity.
The Indonesian Democratic Party of Struggle (PDI-P) politician made another flip-flop about Islamic conservatism last week, by criticizing the small investment made by Saudi King Salman bin Abdulaziz Al Saud during his historic visit to the country recently.
"I even held up the umbrella for the King, but we only got a small amount. I am a little bit disappointed, just a little," the President quipped during his speech at Buntet Islamic Boarding School in Cirebon, West Java, on Thursday.
(Read also: Jokowi let down by S. Arabia's low investment)
On Saturday, he called his sour comments on the king's visit "a joke."
"Why can't we get a big investment? It's because our investment climate and investment ratings are low. Not to mention legal certainty, which needs to be improved," he said while inaugurating KH Hasyim Asy'ari mosque in Jakarta, turning the criticisms of Saudi Arabia into domestic policy issues.
Despite the flip-flop in his statements being potentially unintentional, critics say the President might want to distance himself from the growing Islamic conservatism in the country.
Robby Habiba Absor, a Muslim Scholar from State Islamic University (UIN) Sunan Kalijaga Yogyakarta said the President's remarks might indicate his discontent toward local conservative groups.
"He speaks clearly about his disappointment. This could be perceived as criticism toward conservative Muslim groups in Indonesia, which adore and admire Saudi Arabia," he said.
Broto Wardoyo, international relations expert of the University of Indonesia, said Jokowi's comments were largely harmless to conservative groups, let alone the relation to the kingdom.
"The comments convey the President's discontent of his own administration, which fails to attract investments. The criticisms are mostly of government officials," he said.
The political expert from Indonesian Institute of Sciences (LIPI), Siti Zuhro, said Jokowi's statement might have been just a joke as he clarified.
"It might have been just a joke, but I can understand if he's disappointed by learning Saudi's investment in the country was lower than in China," Siti added.
She further said that Jokowi's disappointment was purely an economic matter, and it was not related to Muslim communities.
Join the discussions