Jokowi let down by S. Arabia's low investment
Haeril Halim

The Jakarta Post
Jakarta |

Sat, April 15, 2017

| 07:57 am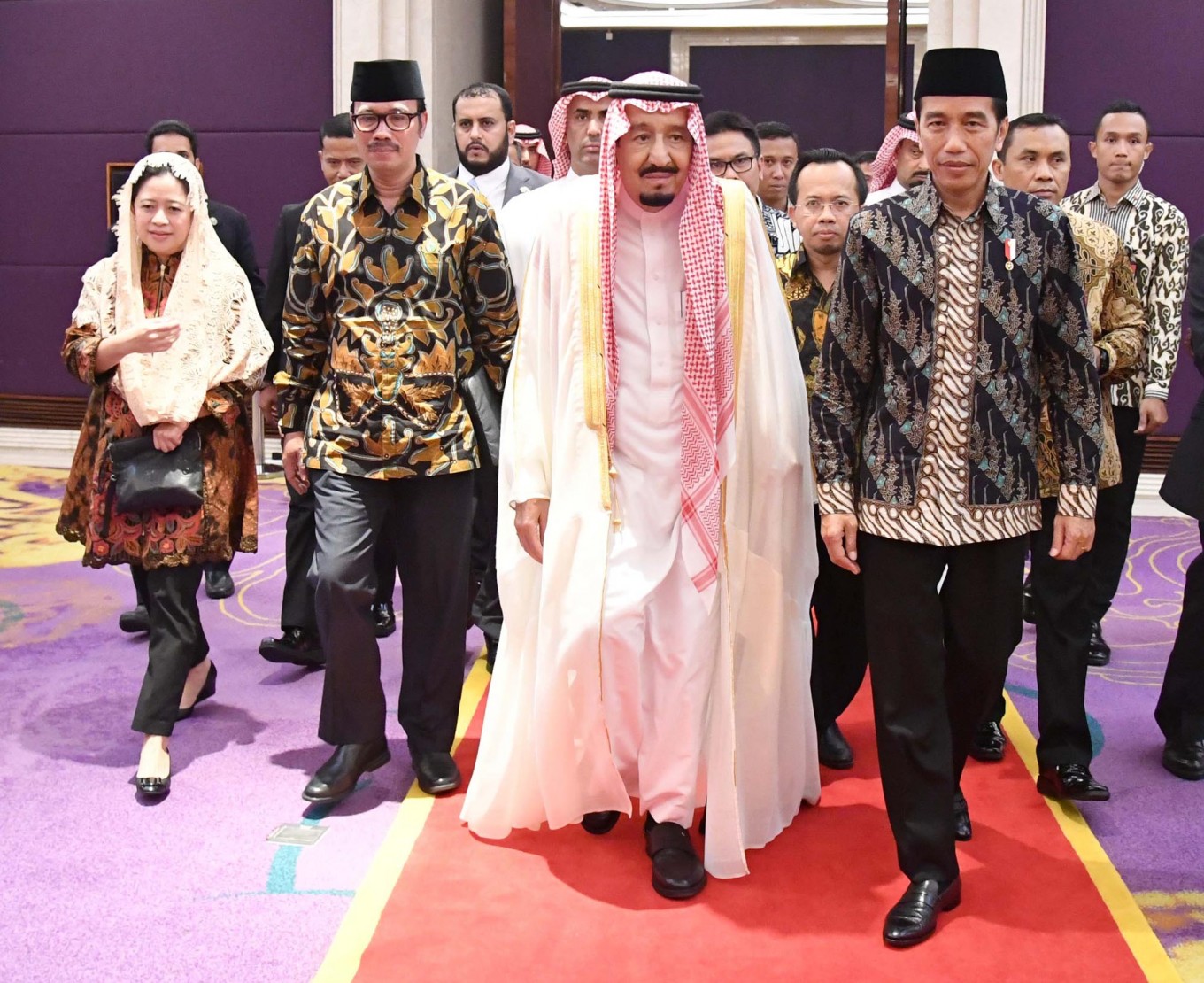 Closer ties: President Joko "Jokowi" Widodo and King Salman bin Abdulaziz Al Saud get prepared to attend a meeting with religious leaders in Jakarta on March 3. (Presidential Palace//Laily Rachev)
Everything President Joko "Jokowi" Widodo did to serve visiting King Salman bin Abdulaziz Al Saud in early March was unprecedented.
Unlike the treatment given to other visiting heads of state, Jokowi greeted the king at Halim Perdanakusuma Airport to show his highest appreciation.
The President even honored the king by emptying his schedule to accompany him in Jakarta for three days.
However, when it comes to business, unparalleled service, or even bonds of Islamic brotherhood, are apparently out of the equation.
Jokowi said on Thursday that he was disappointed to learn that Saudi Arabia had invested US$65 billion in China, almost 10 times the Rp 89 trillion ($6.71 billion) pledged to Indonesia, despite the "special treatment."
"I'm surprised that when the king came to China, he signed [contracts of over] Rp 870 trillion [$65 billion]," Jokowi said during his visit to the Buntet Islamic boarding school in Cirebon, West Java.
"I even held an umbrella for the king [during heavy downpour as the king arrived at the Bogor Palace], but we got a smaller amount. I'm a little bit disappointed, just a little," the President added.
Jokowi said he initially believed the downpour was a sign of good fortune for Indonesia, as rain was considered a blessing in Islam.
"I will call the king and Crown Prince Mohammad bin Salman Al Saud to follow up the expectation that Indonesia will receive a bigger amount than they gave China."
"Please pray [for me]," Jokowi told the audience.
Prior to the king's arrival, Indonesian ministers were optimistic Saudi Arabia would invest $25 billion.
Foreign direct investment (FDI) from Saudi Arabia only amounted to about $900,000 last year, down from $30 million in 2015, according to the Investment Coordinating Board (BKPM).
The king's stop in Malaysia, before landing in Jakarta, had also illustrated how the neighboring country seized the moment.
While Saudi Arabian oil giant Aramco invested $7 billion to buy shares in a refining and petrochemical project owned by Malaysia's Petronas, Indonesia has been left with relatively petty investments.
Much Saudi Arabian money, on the other hand, has been funneled into charities in Indonesia, particularly for the construction of mosques and religious schools.
Saudi Arabia is likely to step up its campaign to spread its version of Islam, as it plans to open new campuses for the Saudi Arabia-funded Islamic and Arabic College of Indonesia (LIPIA) in Makassar, Surabaya and Medan.
LIPIA has one campus in Jakarta. Its graduates include several hard-line figures, such as convicted terrorist Aman Abdurrahman.
International relations expert Badrus Sholeh from State Islamic University (UIN) Jakarta said oilrich countries from the Middle East opted to invest in countries that had better infrastructure, such as China and Malaysia.
"Malaysia and China are far better in terms of infrastructure than Indonesia," Badrus said.
Saudi Arabia, he said, was more interested in developing social and cultural relations with Indonesia by trying to persuade the government to allow the establishment of more educational institutions based on Wahhabism (an ultraconservative brand of Islam).
"It is possible that Saudi Arabia will seek to open high schools propagating Wahhabism in the future," Badrus said.
The king's visit received a nationwide enthusiastic response. It was considered historic, as King Salman was the first Saudi Arabian king to visit Indonesia in 47 years.
Join the discussions