Anies expresses gratitude to Islamic figures in victory speech
Indra Budiari

The Jakarta Post
Jakarta |

Thu, April 20, 2017

| 06:55 am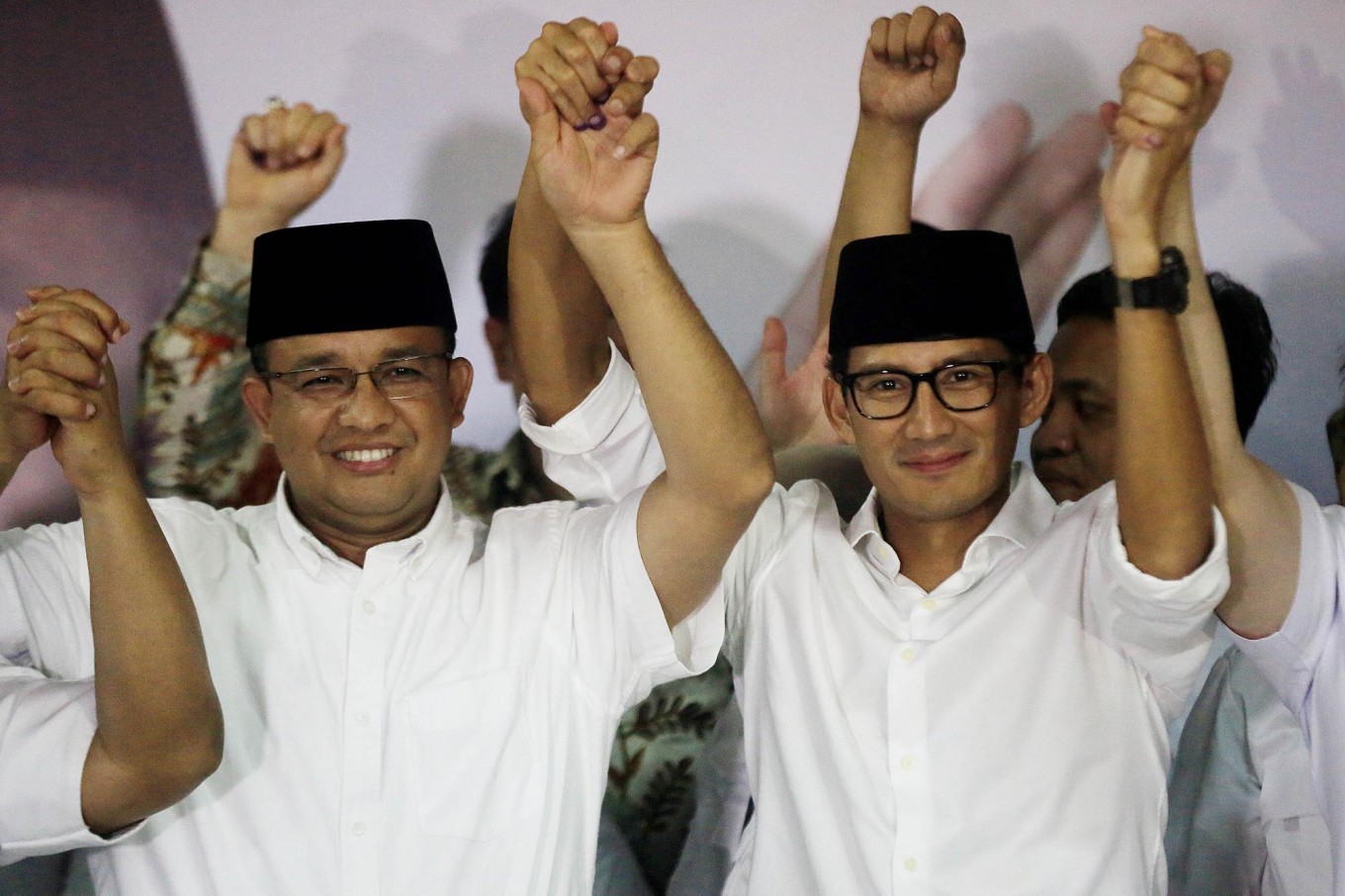 Jakarta governor and vice governor candidate Anies Baswedan (left) and Sandiaga Uno celebrate their victory in the election runoff on Apr. 19 in Jakarta following quick count results. (JP/Dhoni Setiawan)
After quick count results confirmed that the capital is going to have a new governor, Anies Baswedan's campaign team said that religious issues had played a significant role in his victory.
Anies' team leader Mardani Ali Sera described female Islamic teachers, hard-line group Islam Defender's Front (FPI) and its firebrand leader Rizieq Shihab as important "pillars of this victory".
Gerindra Party patron Prabowo Subianto, who delivered a speech before Anies' victory speech on Wednesday evening at his party headquarters in South Jakarta, also shared a similar opinion.
To hundreds of supporters, Prabowo opened his speech by saying that he would not forget support from kyai (Islamic teachers) and ulama (clerics) who had shown greater spirit than politicians in the election.
"Politicians always make too many calculations before declaring support, that is the difference between them and the kyai," Prabowo said, which was responded to by supporters with a takbir (praise to Allah).
(Read also: Ahok concedes defeat, calls on supporters to move on)
Prabowo also demanded that people stop saying that kyai and ulama were radical people who intended to commit treason, and expressed his appreciation for Islamic leaders including Rizieq, Habib Ali bin Abdurrahman Assegaf and Islamic People's Forum (FUI) leader Bachtiar Nasyir.
Meanwhile, Anies said that the first thing he would do once he was installed in office was to make sure that Jakarta's residents' unity and solidarity would be maintained. He said the victory meant "Allah had given him a way to make a change in Jakarta". (dan)
Topics :
Join the discussions