Anies rides Islamist wave
Nurul Fitri Ramadhani, Safrin La Batu and Indra Budiari

The Jakarta Post
Jakarta |

Thu, April 20, 2017

| 10:51 am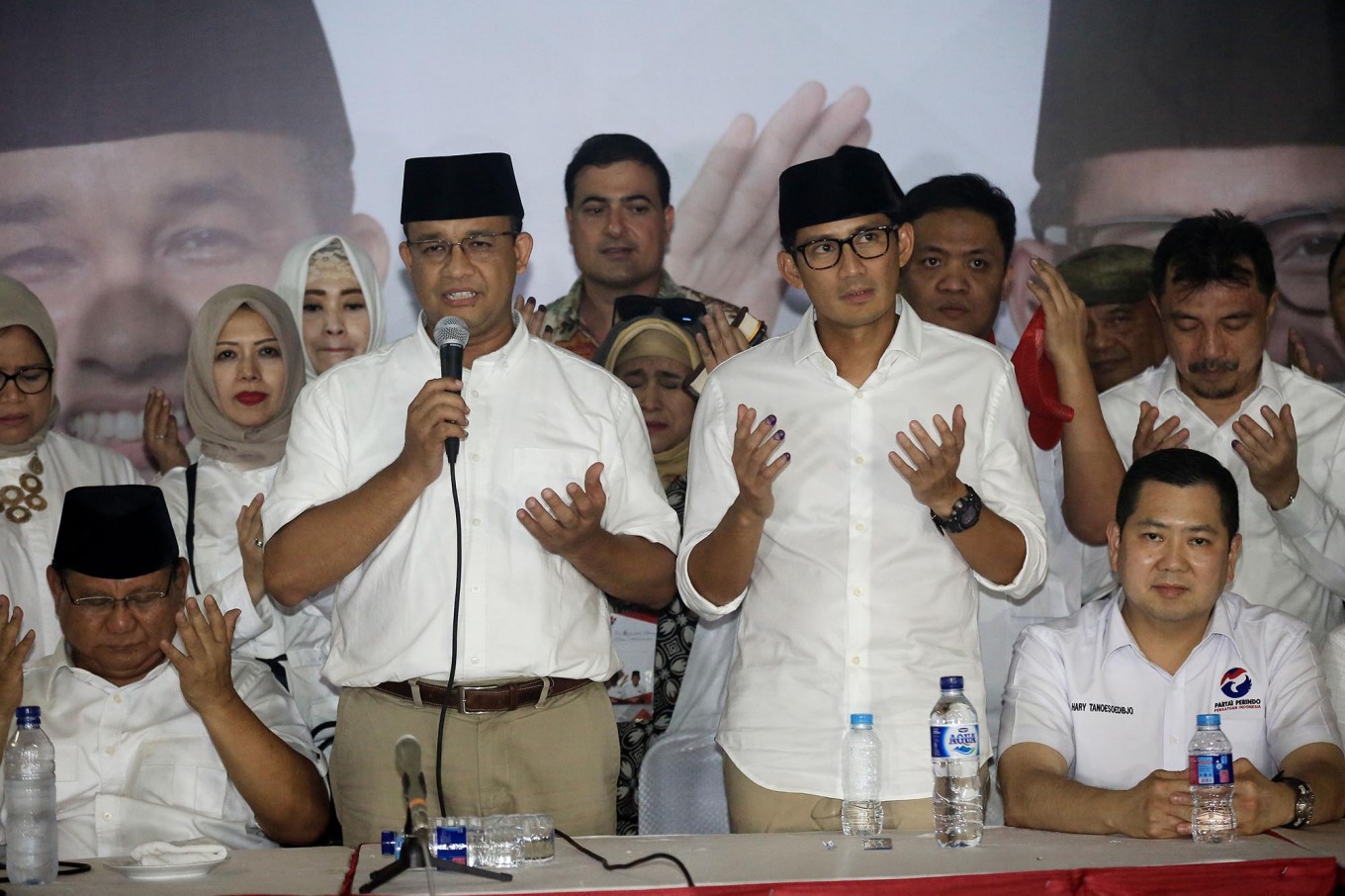 Jakarta governor and vice governor candidate Anies Baswedan (left) and Sandiaga Uno celebrate their victory in the election runoff on Apr. 19 in Jakarta following quick count results. (JP/Dhoni Setiawan) (JP/Dhoni Setiawan)
Riding a wave of growing religious conservatism, former culture and education minister Anies Baswedan won the Jakarta gubernatorial election on Wednesday, beating incumbent Basuki Thahaja "Ahok" Purnama, a political candidate dogged by allegations of blasphemy while seeking reelection.
Results of quick counts conducted by a number of pollsters showed that Anies and his running mate Sandiaga Uno, nominated by the Gerindra Party and the Islam-based Prosperous Justice Party (PKS), had a comfortable lead over their rival Ahok and running mate Djarot Sjaiful Hidayat, backed by a coalition of major political parties including the Indonesian Democratic Party of Struggle (PDI-P), the Golkar Party, the NasDem Party and the United Development Party (PPP).
At least eight pollsters projected Anies had a double-digit lead over Ahok. Jakarta-based Pollster Sjaiful Mujani Research and Consulting (SRMC) showed that Anies got 58.06 percent of the vote, against Ahok's 41.94. Pollster Indo Barometer tallied similar results, showing that Ahok was trailing Anies by 17 percent.
Meanwhile, Charta Politika, another Jakarta-based pollster known to be close to Ahok's camp, also projected a win for Anies, who garnered 57.87 percent of the vote, while Ahok only secured 42.13 percent.
The Jakarta General Elections Commission (KPU Jakarta) is expected to announce the official result from the balloting on May 1.
Pollsters' projections showed the odds were stacked against Ahok soon after he won the first election round in February.
(Read also: Anies celebrates victory with conservatives at Istiqlal Mosque)
Despite public opinion surveys projecting Anies and Ahok in a statistical dead heat, the quick-count results showed that Ahok failed to expand his base. Ahok received 42.99 percent of the vote in the first round.
Anies, on the other hand, was able to bring in more votes, especially from supporters of Agus Yudhoyono Harimurti, who finished third in the first round with 17.02 percent of the vote. Anies and his running mate Sandiaga came in second in the first round with 39.95 percent of the vote.
Anies' strategy of crafting messages directed at Muslim groups has apparently paid off, with nearly all of Agus' supporters switching over to his side. In the first round, Agus devoted more resources to woo conservative Muslim voters, while Anies made attempts to appeal to the urban, young middle-income segment. Muslims make up around 78 percent of the more than 7.2 million registered voters in the city.
Centre for Strategic and International Studies (CSIS) political analyst Arya Fernandes said Anies and Sandiaga owed their success in the runoff election to Muslim voters who decided to throw their support behind the pair, mobilized by Muslim groups, including the hard-line Islam Defenders Front (FPI).
"I think Anies-Sandiaga's victory cannot be disassociated from Muslims preferences," Arya told
The Jakarta Post on Wednesday. Part of the blame for Ahok's defeat in the poll was the overconfidence of the parties in his coalition with their political machinery, Arya said.
"Political parties in Ahok's coalition underestimated their rivals," Arya said.
Early on Wednesday, PDI-P secretary-general Hasto Kristiyanto expressed his optimism that Ahok could win the runoff election with at least 52 percent of the vote.
Soon after polls closed and pollsters began projecting a victory for Anies, Gerindra chief patron Prabowo Subianto said Anies' victory was owed much to the role played by Muslim clerics, whom he considered as having played greater roles in the election season, even more than professional politicians.
"Politicians always make too many calculations before declaring support, that's the difference between them and kyai [Muslim cleric]," Prabowo said, to the chanting of Allahuakbar (God is Great) from those who gathered at Gerindra headquarters in Ragunan, South Jakarta, on Wednesday.
Prabowo also called on his rivals to stop branding conservative clerics such as FPI leader Rizieq Shihab and Muslim People's Forum (FUI) leader Bachtiar Nasir as radicals who wanted to commit treason.
Leader of Anies' campaign team, Mardani Ali Sera, also praised Rizieq as an "important pillar" in Anies victory against Ahok.
Anies, however, said in his victory speech that he promised to begin reconciliation following a divisive and bitterly contested election.
Anies said he and Sandiaga were prepared to take on the job as the leaders of a city home to people with various religious and ethnic backgrounds.
"I assure you that I will be a good leader not just for our voters, or just the Muslim population. Anies and Sandiaga will serve all Jakarta residents," he said.
Anies went on to praise Ahok and Djarot as two of the country's finest citizens. "We will continue to be friends. They are two of the best citizens who have contributed to the nation," he said.
In his concession speech, Ahok said he would work harder for the remainder of his term to pave the way for Anies' administration.
"We still have six months. We will complete all our work and fulfill our promises. We hope Pak Anies and Pak Sandi will continue what we started," Ahok said.
(Haeril Halim and Calista Anggun Wijaya contribute to the story.)
Join the discussions