EEZ treaty ratification will support eradication of illegal fishing: Ministry
Marguerite Afra Sapiie

The Jakarta Post
Jakarta |

Fri, April 21, 2017

| 07:15 am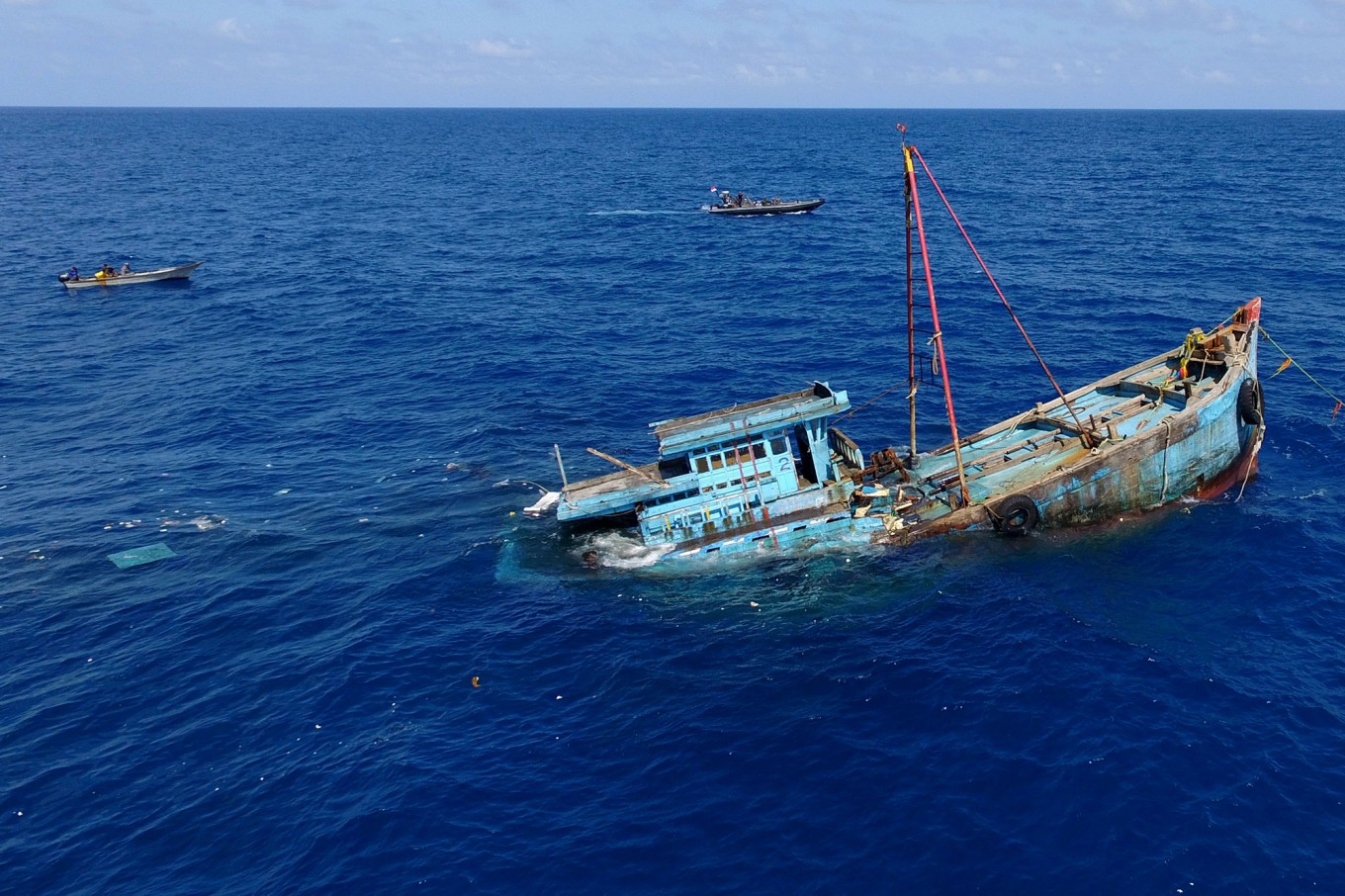 Boats involved in illegal fishing practices in Indonesian waters are sunk in the Natuna waters, Riau Islands province on Aug. 17, 2016. The Maritime Affairs and Fisheries Ministry has sunk hundreds of domestic and foreign vessels involved in illegal fishing to declare Indonesia's strong stance against the practice. (POOL/Dokumentasi KKP)
The government is hoping to combat illegal fishing and protect Indonesian fishermen with the ratification of a maritime agreement between Indonesia and the Philippines, a ministry official has said.
The ratification of the maritime agreement on an exclusive economic zone (EEZ) signed in 2014 would delineate clear boundaries between Indonesia and the Philippines in the Mindanao Sea and Celebes Sea, Reza Shah Pahlevi, the director of fisheries management at the Maritime Affairs and Fisheries Ministry said.
"Such a clear boundary will make it easier for us to take strict action when we find Filipino fishermen operating in our waters. It will also provide legal certainty for our fishermen, especially in determining the areas where they can operate," he said during a hearing with the House of Representatives' Commission I overseeing defense and foreign affairs on Tuesday.
In the hearing, the government and the House agreed to ratify the three-year-old agreement next week.
Citing 2015 data, Reza said at least 107,182 Indonesian fishermen and 152 Indonesian vessels with a capacity of 30 gross tons and above were operating in the waters off North Sulawesi, which had a diverse fisheries potential of 478 million tons per year that should be protected.
Up to April this year, the ministry's directorate general of marine resources supervision had reportedly arrested four vessels with a capacity of 1 to 2 gross tons belonging to Filipino fishermen who entered Indonesia's territory. (rin)
Join the discussions