Ahok did not defame Islam: Harvard alumni petition
News Desk

The Jakarta Post
Jakarta |

Wed, May 3, 2017

| 05:55 pm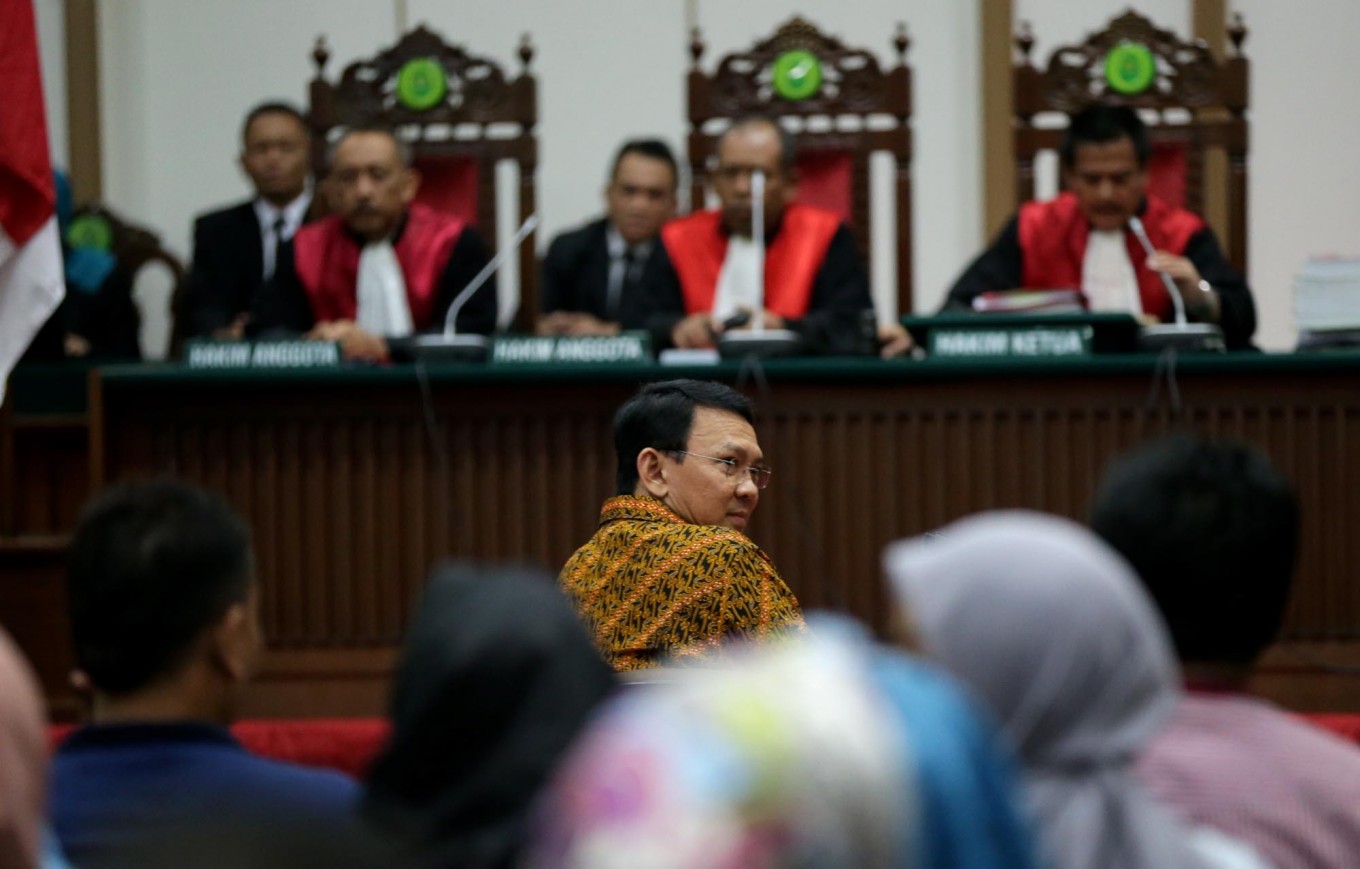 Jakarta Governor Basuki Tjahaja Purnama (center) during a hearing of his blasphemy trial at the North Jakarta District Court on March 25. (kompas images/POOL/Kristianto Purnomo via JP)
A group of Indonesian alumni of Harvard University and its fellowship programs has started an online petition, urging the judges of North Jakarta District Court to free Jakarta Governor Basuki "Ahok" Tjahaja Purnama from all blasphemy charges.
The petition from the graduates of the United States university has attracted more than 60,000 votes as of Wednesday, a week before the court plans to hand down its verdict against Ahok on May 9.
At the April 20 hearing, the pros­e­cu­tors de­manded the judges sen­tence Ahok to two years' pro­ba­tion if found guilty of vi­o­lat­ing Ar­ti­cle 156 of the Crim­i­nal Code (KUHP) on show­ing an­i­mos­ity to­ward oth­ers. They ad­mit­ted they could not prove Ahok had in­sulted Is­lam as a whole, but only in­di­vid­ual Mus­lims.
The Harvard alumni are of the opinion that Ahok's act did not qualify as a violation of any part of Article 156, namely hostility, hatred or contempt against an ethnicity, religion and race. The act in question is a speech he gave in Thousand Islands regency in September that quoted Surah Al Maidah 51, a Quranic verse of­ten used by cer­tain con­ser­va­tive Mus­lim groups to urge Mus­lims to vote only for po­lit­i­cal can­di­dates who share the same faith.
"… supremacy of law should be upheld. The courtroom should be a place where truth and justice are upheld, not a place for justification and legitimation of mobocracy," the petition stated.
The trial against Ahok started on Dec. 13 after a so-called anti-blasphemy movement drew more than a million Muslims to rallies to push the government to indict the governor based on an edited video of his September speech. (kuk)
Topics :
Join the discussions