Perppu may be issued to accelerate HTI disbandment
News Desk

The Jakarta Post
Jakarta |

Wed, May 17, 2017

| 06:06 pm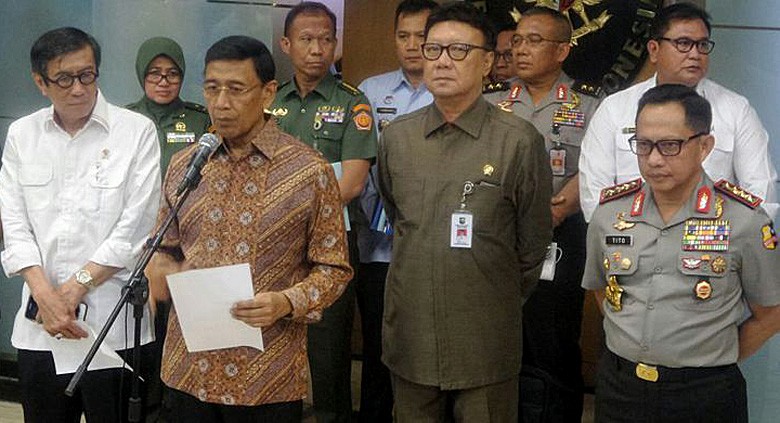 Coordinating Political, Legal and Security Affairs Minister Wiranto (center), accompanied by Home Affairs Minister Tjahjo Kumolo for a press conference on May 8, announces the government's decision to ban hard-line Islamic organization Hizbut Tahrir Indonesia (HTI). (Kompas.com/File)
The Attorney General's Office (AGO) has reportedly suggested the government issue a regulation in lieu of law (Perppu) on mass organizations to accelerate the planned disbandment of hard-line Islamist group Hizbut Tahrir Indonesia (HTI).
Home Minister Tjahjo Kumolo said that, in accordance with the 2013 Law on Mass Organizations, the process of disbanding a legally registered mass organization took four to five months.
"The House of Representatives will hold a plenary meeting to discuss [the issuance of a Perppu]. We will see which way will be more suitable in terms of principles," Tjahjo said on Tuesday, as quoted by tribunnews.com.
The House was scheduled to discuss the government's proposal for the issuance of a Perppu at its plenary meeting on Thursday, he added.
The minister went on that, even though the government respected the freedom of association, every mass organization in the country should adhere to the state ideology of Pancasila.
"Pancasila as the sole principle should be embodied in every political party and mass organization. Every citizen has the freedom to associate, if [the association] upholds only Pancasila principles," Tjahjo said.
The 2013 Law on Mass Organizations allows the government to disband organizations it considers to be in violation of the state ideology, but the government must follow certain procedures. The law requires that administrative measures, such as issuing warning letters, initiating a dialogue and suspending activities, precede the request for a court permit for disbandment. (afr)
Topics :
Join the discussions