'Kamisan' protest continues to be met with silence
News Desk

The Jakarta Post
Jakarta |

Fri, July 28, 2017

| 09:19 am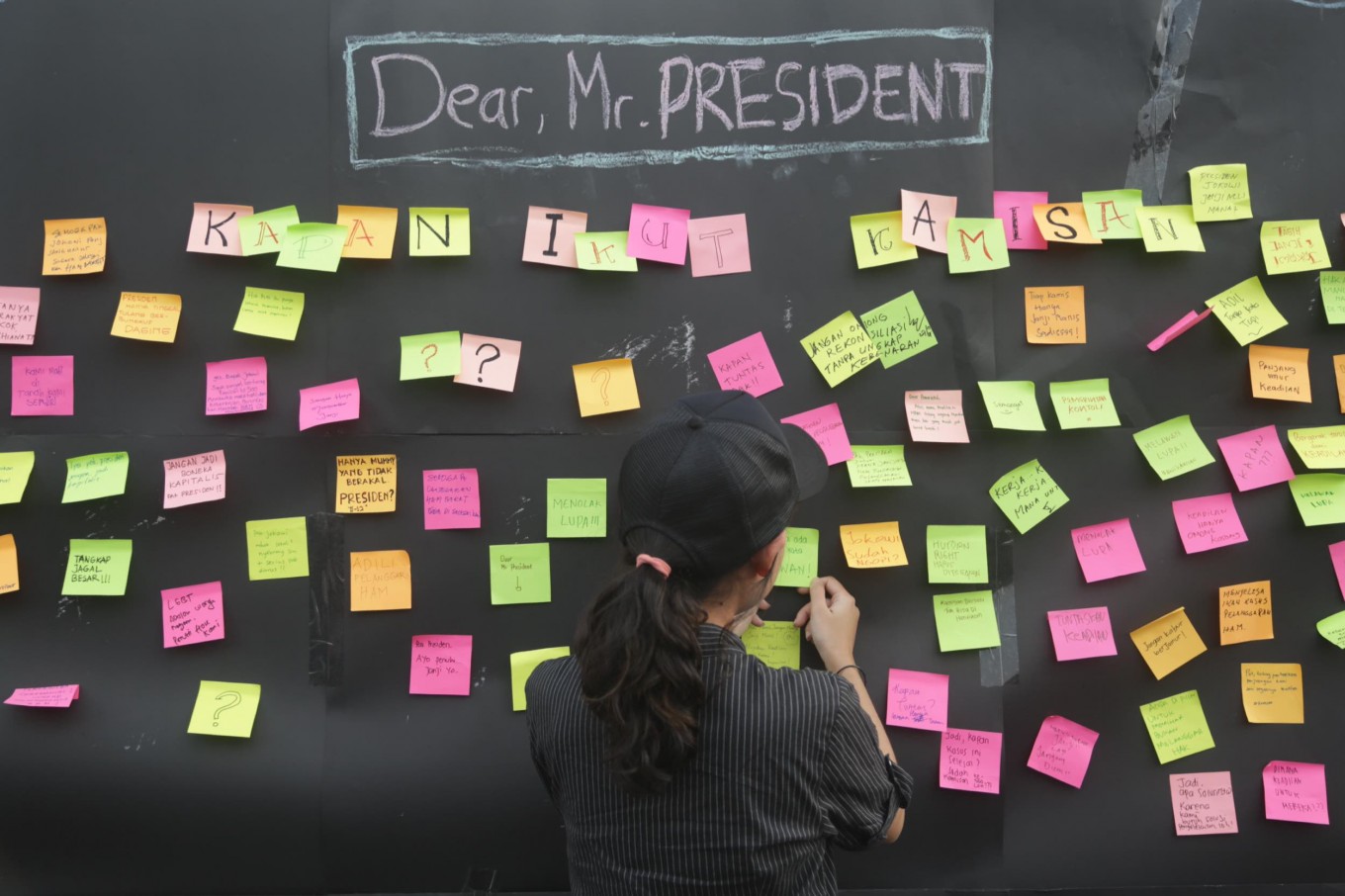 The 500th 'Kamisan' rally in front of the State Palace in Jakarta on Thursday. (The Jakarta Post/Wendra Ajistyatama)
For anyone who took part in the Kamisan protest in front of the State Palace on Thursday, a frequently quoted statement by Czech author Milan Kundera could not have been more appropriate:
"The struggle of man against power is the struggle of memory against forgetting."
On Thursday, victims of human rights abuses, their families, activists, scholars and artists held the weekly Kamisan rally for the 500th time, reminding the government once again of its obligation to resolve past human rights abuses.
Among those in attendance were Catholic priest and philosopher Franz Magnis Suseno and respected indie band Efek Rumah Kaca.
Yet, the protest, which saw a bigger number of participants than usual, was met with silence.
Despite his campaign promises, President Joko "Jokowi" Widodo has yet to make any significant moves to bring those responsible for past abuses to justice.
"Our wounds won't heal if the victims are forgotten," Franz said.
Kamisan, from Kamis (Thursday), has been held every Thursday since Jan. 18, 2007.
At the time, it was put on mainly by families of the victims of human rights abuses that took place before, during and after the downfall of Soeharto in 1998.
Today, Kamisan has become a symbol of the national struggle against impunity, with young people becoming its main driving force.
"Honestly, I'm tired of the government's response. However, whenever I look at the young people who join us every week, I become optimistic again," said Maria Catarina Sumarsih, one of the first Kamisan protesters whose son was shot dead during the Semanggi I incident in November 1998. (kuk/ary)
Topics :
Join the discussions