Gerindra deputy chair reported to police for calling PDI-P 'communist': PDI-P
News Desk

The Jakarta Post
Jakarta |

Thu, August 3, 2017

| 11:55 am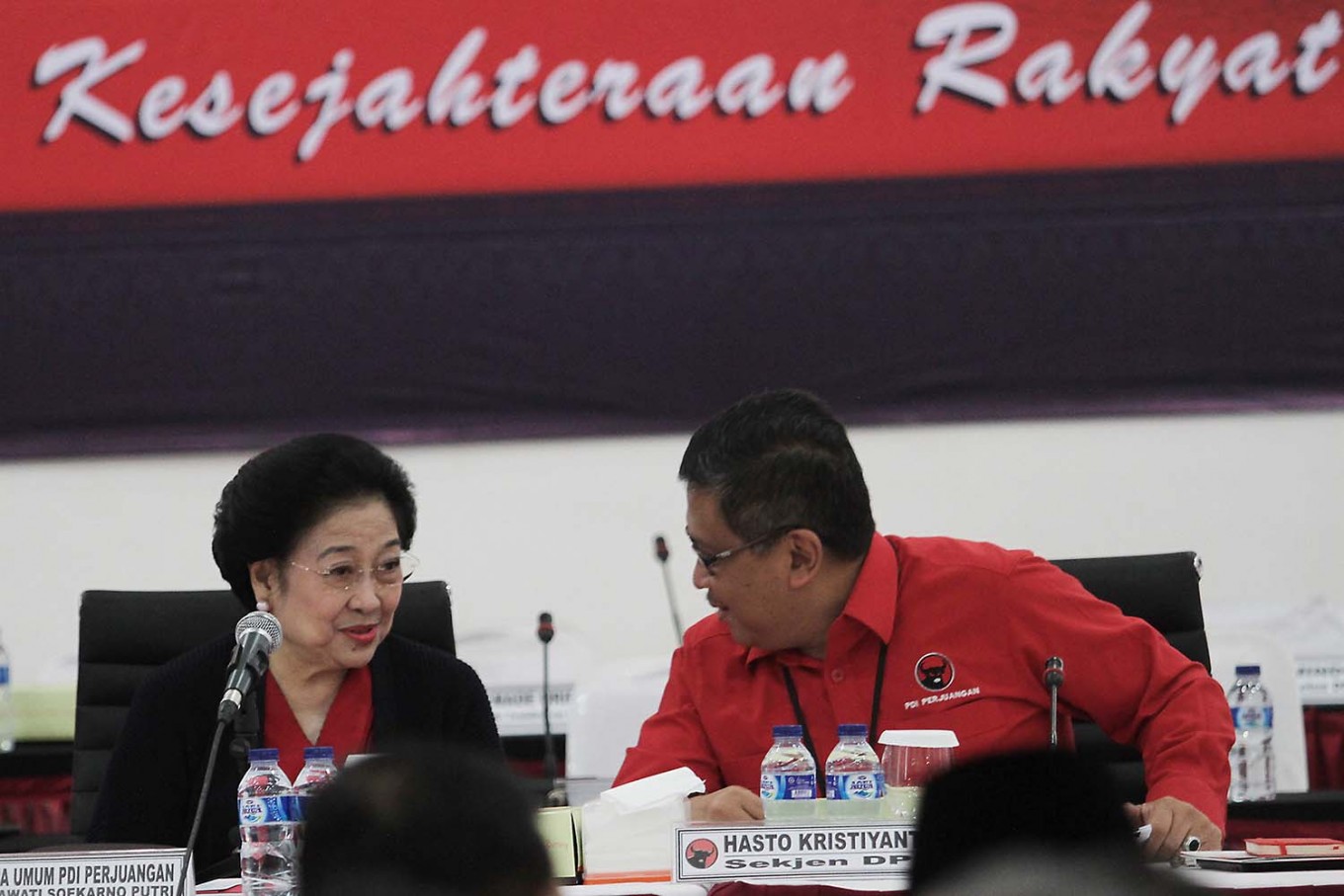 Defamed: PDI-P chairwoman Megawati Soekarnoputri (left) talks to the party's secretary-general Hasto Kristiyanto during a meeting in the party's headquarters in Jakarta on Feb. 21, 2017. (JP/Dhoni Setiawan)
Gerindra Party's deputy chairman, Arief Payuono, has been reported to the Jakarta Police for allegedly defaming the Indonesian Democratic Party of Struggle (PDI-P) by equating the ruling party with the now-defunct Indonesian Communist Party (PKI), a PDI-P official said on Wednesday.
Arief was reported by PDI-P legal head Fajri Syafi'i on Wednesday, although he had sent a letter of apology to the party's chairwoman, Megawati Soekarno Putri, a former Indonesian president.
"He [Arief] considers PDI-P to be a deceiver like the Indonesian Communist Party. How we were likened to communists was the basis of our report," Fajri said on Wednesday as quoted by tribunnews.com.
Arief made the comparison when criticizing the PDI-P and President Joko Widodo for supporting the presidential threshold in the newly issued election law. In the comparison, Arief said: "It is understandable that the PDI-P has always been equated with the PKI. It always makes political jokes and deceives the people."
The presidential threshold is the minimum support required for political parties or a coalition of parties to be able to nominate a presidential candidate.
Some political parties, including Gerindra, had wanted to scrap the presidential threshold.
Despite Arief's apology, in which he clarified that he did "not mean to equate the PDI-P with the PKI", Fajri said the Gerindra politician should be held accountable according to law. Fajri reported Arief to police by submitting as evidence copies of published news in which Arief was quoted making the statement. (Saf)
Join the discussions