Police urged to stop investigation into Papua governor for alleged graft
Nethy Dharma Somba

The Jakarta Post
Jayapura, Papua |

Sat, September 9, 2017

| 04:43 pm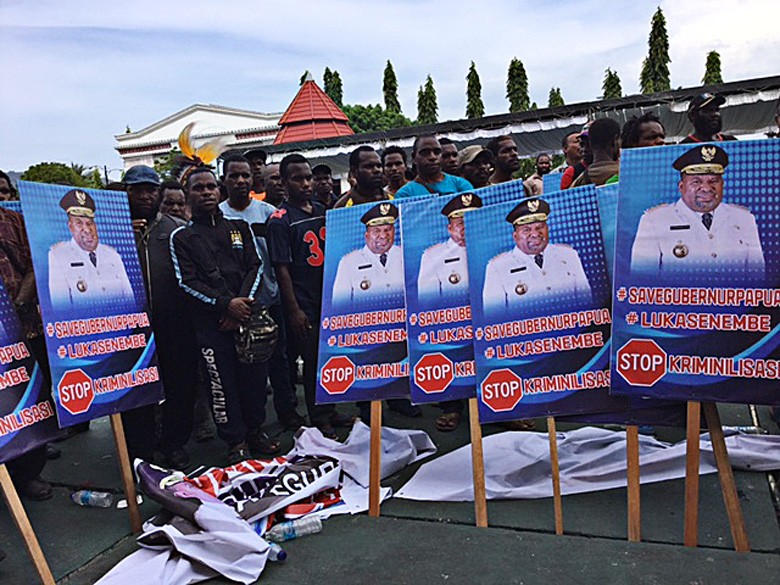 An act of solidarity: Around 500 members of the Care for Papua's Development Movement (GRP3) stage a rally in Jayapura on Sept. 8 to call for an end to the National Police's investigation into Papua Governor Lukas Enembe. (JP/Nethy Dharma Somba)
Around 500 supporters of the Care for Papua's Development Movement ( GRP3 ) have called on the National Police's Criminal Investigation Unit (Bareskrim) to cease their investigation into a graft case implicating Papua Governor Lukas Enembe.
The group also demanded that the police return the governor, who is now in Jakarta for questioning, to Jayapura.
"We see the investigation of Pak Enembe as just an effort to taint his image and to undermine his position in the eyes of the Papuan people. This is because [the people] really love Pak Enembe," said Benyamin Gurik, the coordinator of a mass rally held in front of the Papua Governor's Office in Jayapura on Friday.
"We recorded that this year, there have been three attempts to force Pak Enembe's involvement in legal problems. However, no evidence has proven his involvement in the three cases. Hence, we think the investigation should be stopped and he should immediately be returned to Papua."
(Read also: Papua governor skips police questioning, again)
Benyamin said the Papuan people fully supported the legal process being conducted by the police on the alleged misuse of 2016 scholarship funds, which implicated the governor, but they now wanted investigators to release the names of other suspects in the case.
"Please announce the suspects in this case. With the questioning of the governor, it seems to us that [the National Police] have raised the status of this case to a full investigation, which gives people the impression that the Papuan governor is involved," said Gurik. (ebf)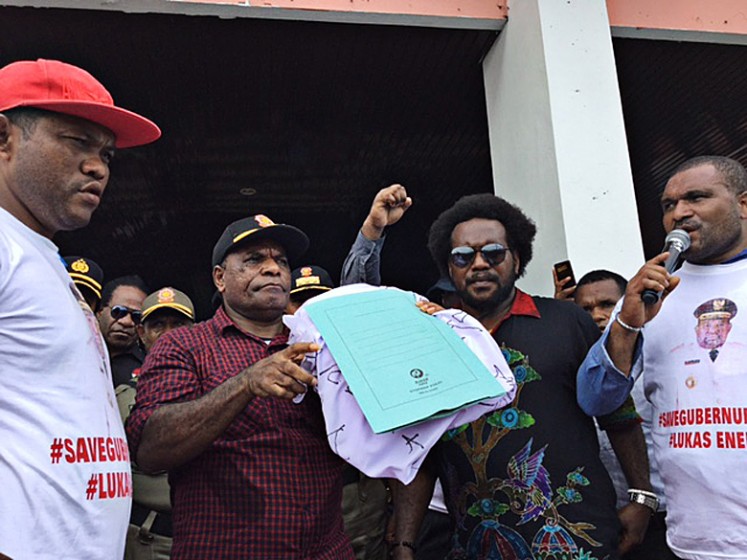 Showing support: Activist Benyamin Gurik (second right) reads out a statement in a rally on Sept. 8 to call for and end to the National Police's investigation into Papua Governor Lukas Enembe. (JP/Nethy Dharma Somba)
Join the discussions