Antigraft activists to file intervention application in remission case
News Desk

The Jakarta Post
Jakarta |

Tue, September 12, 2017

| 04:51 pm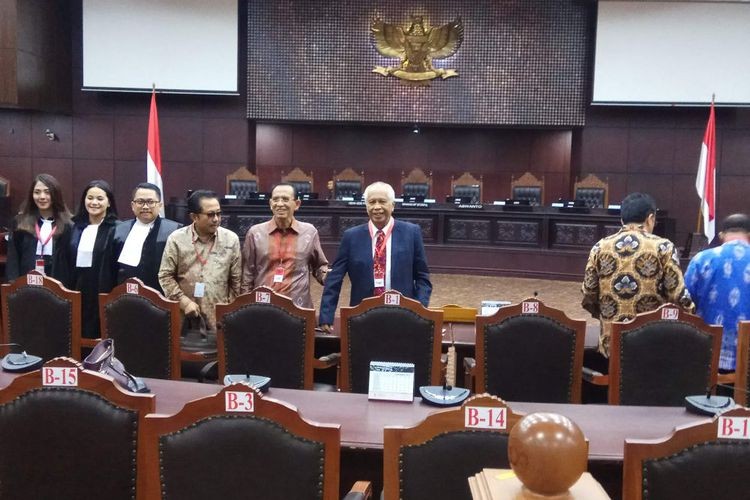 Three graft convicts, former high-ranking official at the energy ministry Waryono Karno (left), former religious affairs minister Suryadharma Ali (center) and former lawyer OC Kaligis (right), attend a judicial review hearing at the Constitutional Court on Monday, in a case challenging a provision on sentence cuts. (kompas.com/Fachri Fachrudin)
Five high-profile graft convicts appeared at the Constitutional Court on Monday, asking the bench to rule that all convicts are entitled to sentence cuts without discrimination, in a judicial review case that has raised the concerns of anticorruption activists.
In a bid to have the appeal dismissed, activists plan to lodge a third-party intervention application in the judicial review centering on a provision in the 1995 Correctional System Law, said Erwin Natosmal from watchdog Indonesian Legal Roundtable (ILR).
"The provision, in fact, allows convicts to file sentence cut requests if they meet certain conditions. It far from hinders the rights of convicts," Erwin told The Jakarta Post on Tuesday. "Bear in mind that convicts have a right to request remissions, but not an absolute right to one."
In the petition, the five graft convicts, among whom is former religious affairs minister Suryadharma Ali, are demanding the court rule that, regardless of the crime, all convicts serving less than life sentences are entitled to sentence cuts if they have served at least six months in prison and have behaved well while behind bars.
Such requirements are regulated in an implementing regulation to the 1995 law. However, the policy denies those guilty of extraordinary crimes, such as corruption and drug trafficking, and instead sets tougher conditions for them, including requiring them to act as whistle-blowers.
Representing the petitioners, lawyer Muhammad Rullyani told the bench that the provision violated the human rights principle of universality. (ipa)
Join the discussions