East Nusa Tenggara fishermen rescue stranded whale
Djemi Amnifu

The Jakarta Post
Kupang, East Nusa Tenggara |

Thu, September 21, 2017

| 04:28 pm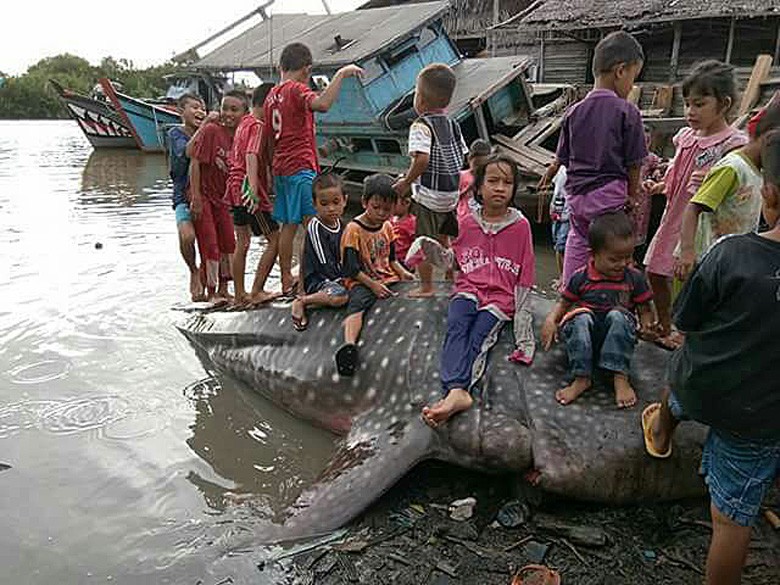 Playground: Children sit on the back of a whale shark caught in a trawl in Selakau waters, Sambas regency, West Kalimantan. (Courtesy of Facebook/File)
Local fishermen have saved a stranded whale at Oka Kea beach, Nggodimeda village, Central Rote district, Rote Ndao regency, East Nusa Tenggara province.
The 4.4 meter whale was found stranded around the marine compressed natural gas (CNG)-fired power plant (PLTMG) in that village.
"The whale had been stranded since Wednesday at 4 p.m. on Oka Kea beach. There were eight cuts around its body," Kupang National Marine Conservation Bureau (BKKPN) chief Ikram Sangadji told reporters on Thursday.
Ikram said that the BKKPN team had gone to Rote to see exactly what type of whale was stranded in the most southern part of Indonesia.
He added that when the locals found it on the beach, the whale was still alive, although it was very weak and did not move. It was believed that the whale was stranded due to the cuts on its body.
"From its morphology, the stranded whale is possibly a finned pilot whale, 4.4 meters in length and 1.5 meters in width," Ikram said.
(Read also: East Nusa Tenggara to lure tourists with whales)
From Wednesday to Thursday, Nggodimeda and Central Manoholok Rote sea turtle conservation groups, and the marine police and village supervisory non-commissioned military officers (Babinsa) kept up efforts to save the whale by keeping its body wet with sea water.
Ikram said that on Wednesday at 10.40 p.m. the whale, which had gotten stranded on the coral at Oka Kea beach, was released into the sea during high tide, but showed no sign of life. The whale did not move from the sea shore.
Join the discussions